Holiday in far north of Scotland near Caithness
Caithness getaways and rural retreats
Rugged coastline, open peat lands, historical ruins and an ancient heritage make Caithness a perfect place for a self catering holiday. The most northerly county of Scotland, Caithness extends around 30 miles of coast, stretching from Dunnet Head in the north to the Ord of Caithness in the south. Large towns, harbour communities, remote villages and stand-alone farm buildings characterise the sweeping landscape. Explore the archaeological sites that draw crowds of tourists year on year, many renting a holiday cottage in Caithness.
From town houses to bothies, Caithness self catering accommodation comes in a variety of forms. Backpackers can enjoy the convenience and price of several bunk houses and hostels. For a more comfortable stay try renting a property in one of the local towns such as Thurso or Wick or in the surrounding countryside. The climate is directly affected by exposure to the coast and weather is prone to changing rapidly throughout the day so be sure to bring waterproof clothing.
John O'Groats is an iconic village in Scotland because it is thought to be the most northerly point of the UK - in fact this is Dunnet Head, 11 miles away. The Last House Museum is a celebration of its grographical location and exhibits artefacts from life in this isolated area. Holborn Head Lighthouse is a great attraction for families and those looking for a unique panorama. Delve into the Seadrift Centre in Dunnet and investigate the fascinating historical records at Castletown's Heritage Centre - there is lots to explore if you are staying near John O'Groats.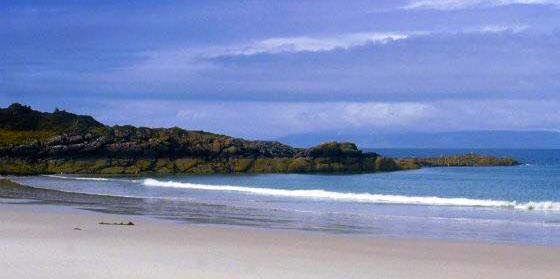 Highland holiday cottages to rent year round
Known once as the Herring Capital of the World, Wick is the largest town in Caithness and a royal burgh. Thurso is a close second in size and has great amenities if you are on holiday in Caithness . Wick harbour still plays an active commercial role with links across the North Sea to Scandinavian ports. Visitors to Wick can browse the local shops and markets or sail out of the marina on a diving, angling or bird watching boat. On dry land, settle down in front of an open fireplace in one of the town's traditional pubs where you can sample local life and perhaps enjoy some life music.
The natural beauty of Caithness can be found all around. Moorland and scattered settlements including Watten, Sibster, Reay, Halkirk and Berriedale can be reached by car on a rough gravelled track. The people of these small areas are very hospitable and welcome visitors with warm smiles and tales of old. Caithness is also abundant with wildlife; particularly marine and bird life. The RSPB Forsinard Flows Nature Reserve is a great place to see rare birds in one of the world's rarest habitat. Watch the waves for seals popping up to the surface; otters frequent the small flowing burns throughout the countryside. Follow the Forsinain Trail, one of Caithness's popular hiking routes and crosses the peat bogs of the Flow Country.
Whatever you want to see or do on your self-catering holiday in Caithness you will find plenty to occupy you in this stunning northernmost part of Scotland.