Scottish Islands accommodation guide - self-catering on Uist.
Uist
For a remote self catering holiday, Uist is the perfect Scottish location with quaint farmhouses and traditional cottages offering views out over the sweeping landscape. Bothys are available off the beaten track and lure the more adventurous rambler. Escape from it all and get back to nature with open fireplaces, kilns and wood burning stoves. The islands of Uist are grouped centrally within the Outer Hebrides. Choose a self catering holiday in Uist for panoramic scenery, a white shell coastline and lush grassland. Hike the moors and crags in the east or gather firewood along the windswept beaches of the west. A road travels straight through the centre from the north to the south and is the main thoroughfare for all vehicles - look out for the post van making its solitary journey along the road. Walk the ancient stone causeway from Benbecula and Grimsay to see more of the outlying areas.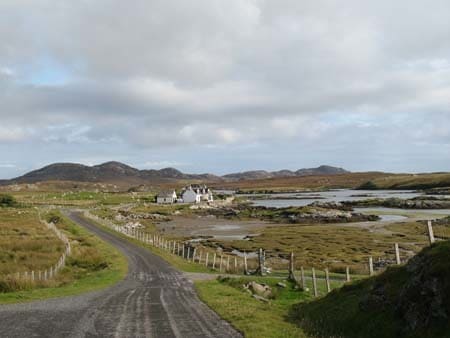 Make the journey to Uist by air or sea. The small island of Benbecula is home to its own airport and British Airways offer routes from Glasgow, Barra and Inverness. Highland Airways operate an 18-seater charter flight between Inverness and Benbecula and is known jokingly as the commuter route! The local coach service is something of a rarity so hire a bicycle and follow the gentle route between Lochmaddy and Lochboisdale to see the best Uist has to offer. For those arriving by car, vehicle ferries sailing from neighbouring Skye take 1 hour and 40 minutes and 6 hours from the mainland. Watch for seals and other marine life amongst the waves - a magical sight.

Staying in Uist differs from most self catering holidays in that local amenities are few and far between. Food supplies to the island depend on what can be delivered by boat so be sure to stock up. Immerse yourself in the ancient culture of crofting which is still practised on the island to this day. Visitors can watch farmers harvest crops of oats and rye using old fashioned binders. Agriculture has been essential to protecting this unspoilt territory and as a result rare plant and bird life flourish here. Set up camp in one of the small huts at The Loch Druidibeg Nature Reserve to spot wildlife such as a heron or sandpiper. Learn about the way of life for the people of Uist and how they pride themselves on preserving their history. Take a walk through one of several blackhouse villages and learn from the locals about peat cutting and wool dying. July is peak season for activity on the island due to The North & South Uist Highland Games and is a popular time to visit Uist - though a self-catering holiday on Uist is wonderful whatever time of year.