Self-catering cottages in the Trossachs and Loch Lomond
Loch Lomond could be described as one of Scotland's more famous 'musical' locations, having, as it does, its own dedicated world-famous song 'Loch Lomon' dedicated to it. The Loch Lomond Golf Club was also recently host to the Scottish Open.
Aside from having its own song, Loch Lomond, now part of Scotland's first National Park, has become one of Scotland's, if not the world's, most spectacular and internationally recognised Scottish Highland locations.
Things to do when visiting the Trossachs
The Trossachs are in the centre of Scotland, so renting a Trossachs holiday cottage will give you easy access to much of Scotland so you can explore all that this special part of Scotland has to offer. The Trossachs are a wonderful combination of lochs, woods, glens and hills, and are an exceptionally beautiful part of Scotland. This was the home of the Picts and there are signs of their habitation still to be seen; whilst the Antonine Wall to the south reminds you of the Roman period in Scotland.
Loch Lomond
The Loch itself is situated between the Scottish Highlands and Lowlands. At 39 km long and 8 km wide at its widest point, it is the largest freshwater lake in Scotland. It is acknowledged as one of Scotland's best Lochs for salmon, sea trout and pike fishing.
There is an array of self-catering log cabins and chalets throughout the area, all offering spectacular highland views or views over the loch. There's even self-catering available on Inchmurrin Island, the largest island on the Loch, for those wanting a more unusual self-catering experience. The island is famed for its forty nine archaeological sites and the remains of Lennox Castle dating back to the fourteenth century.
There is so much to see and do in the area surrounding Loch Lomond that the visitor certainly won't be bored. They will certainly welcome the freedom afforded by a self-catering chalet or cottage.
Self-catering cottages to rent in the Trossachs and Loch Lomond
While it offers something for everyone, from exciting outdoor activities such as mountain and quad biking, diving, boating, canoeing, sailing, wind surfing, water skiing, fishing and climbing, Loch Lomond also offers relaxing cycle and foot paths on the flat and more.
Those seeking less participatory activities will find no shortage of parks, museums, restaurants and an excellent array of shops. Or perhaps either a leisurely cruise on the Loch, a less-leisurely speedboat tour or even a seaplane tour might take your fancy! There is also the Motoring Heritage Centre, the Mansefield Ceramics Studios, the 150 year-old Glengoyne Distillery and the Trossachs and Kilmahog Wollen Mills, all worthy of a visit.
Loch Lomond is also a great central location from which explore the sights and attractions of Scotland's two major cities Glasgow (an hour away) and Edinburgh (ninety minutes away), as well being the perfect gateway to central Scotland. The Trossachs and Rob Roy country are only a 30 mile drive, while the city of Sterling, with its wonderful castle can be reached in well under a hour by car.
Callander is a busy holiday centre in the summer, situated in the shadow of Ben Ledi and on the edge of the Trossachs it has much to offer the holidaymaker. You can walk up to the Bracklinn Falls where Sir Walter Scott jumped his horse over for a bet. The Trossachs are famous for beautiful scenery and are best explored on foot - there are so many places to walk, both on and off marked routes. It is a great place for autumn or spring breaks in Scotland as it is less busy and the colours in the countryside are fantastic. Walking holidays in the Trossachs are easy to arrange and can include high peaks as well as gentle lowland walks on easy footpaths.
Loch Katrine is the setting for Sir Walter Scott's 'Lady of the Lake' and from May to September you can take a trip along the loch on a Victorian steam boat - a very popular excursion with adults as well as children on holiday in the Trossachs. Loch Katrine is also a great place to hire bikes and cycle off-road around the lake. Aberfoyle is another popular place for renting self-catering holiday cottages in the Trossachs. The Queen Elizabeth Forest Park is to the north and has an excellent cafe and shop, as well as lots of information and exhibitions on the trees and wildlife in the area.
There is an excellent network of cycle paths here - many are not on roads so great if you want a cycling holiday in Scotland with children. There are also plenty of riding stables in the Trossachs - pony-trekking through the beautiful Scottish countryside is idyllic. If staying near Lake of Monteith then take the boat to Inchmahome Priory - a lovely Augustinian ruin on an island in the loch and a stunning place for a picnic. The newly-formed Loch Lomond and The Trossachs National Park will help preserve this unique landscape for the benefit of everyone.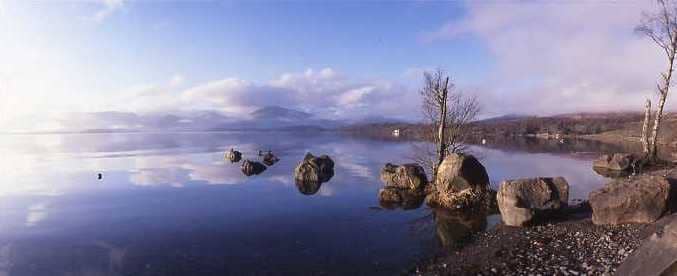 Balquhidder is situated on Loch Voil, north of Callander and this is where Rob Roy Macgregor lived, died and is buried. There are plenty of Rob Roy tourist attractions here, as well as his grave. Balquhidder Church also has lovely musical evenings on Sundays during the summer - fabulous music in a beautiful setting. Lochearnhead is popular as there are so many water sports that you can do on Loch Earn - sailing, waterskiing and canoeing in particular. You can also hire jet skis, banana boats and donuts - in fact nearly all kinds of water sports are available on Loch Earn!
Loch Lomond is to the west of the Trossachs and is probably the most popular loch in Scotland, as well as one of the most beautiful. If you can visit Loch Lomond in the early morning and see the sun rise over Ben Lomond then you will have an unforgettable sight. It is a busy part of Scotland and holiday-makers are well catered for - plenty of tartan and woollen mills, as well as more individual Scottish craft shops. There are a number of cruise boats that can take you on trips on the loch, or you can hire a boat from the many marinas and water-sport centres on Loch Lomond. Self-catering cottages by Loch Lomond are ideally placed in the centre of Scotland so you can explore Argyll and the west coast easily as well as visit Glasgow, Edinburgh and Stirling for the sights of the cities!
FAQ about visiting the Trossachs and Loch Lomond National Park which vacation activities to do and where to go?
Isn't the Trossachs just a famous mountain range in Scotland that comedians make jokes about?
No, not at all. The Trossachs has become the generic name for the national park there that also includes among many lochs the very famous Loch Lomond and its 'bonnie, bonnie banks'. It is in essence a mini' Scottish Highlands.
What type of a national park is The Trossachs?
You'll find the lovely and quite substantial Loch Lomond at the heart of it, complete with 30 islands, plenty of 'mini' lochs, plenty of easy-to-explore hills, forests, delightful landscapes, and extremely welcoming villages. The actual fault line that separates the Highlands from the Lowlands runs right across the National Park.
What is there to do besides seeing lovely scenery in The Trossachs?
There's so much to see and do in The Trossachs. On Loch Lomond you'll find every manner of watercraft you can think of, from lake cruiser to wind-surf board, fishing, cycling, walking and everything in between. At the south end of the Loch is the Loch Lomond Shores, a beautiful shopping centre in stunning surroundings. You'll also find the famous Steamship Sir Walter Scott trips across Loch Katrine. You'll be following in the footsteps – and it is superb country for walkers - of Sir Walter Scott, Wordsworth and Coleridge.
What self-catering holiday accommodation can i find in the Trossachs?
There is a large range of self-catering holiday cottages available in the Trossachs. In fairness, as a national park, it is certainly not over-saturated, so it is best to book as early as you can. Large holiday homes and cottages for couples in the Trossachs are extremely popular. Our top picks for 2020 are:
Luxury cottage for 4 in Crianlarich, Trossachs
5 star chalets at Portnellan Estate, Crianlarich
5 star chalets at Portnellan Estate, Crianlarich
Rural cottage sleeps 6 near Dunfermline
6 people exploring Loch Lomond and Trossachs National Park
Cottage with free fishing and boats
Is it easy to drive to The Trossachs?
You can get to the Trossachs by train, car and bus. Driving to the Trossachs is via the A82 to the west, the A85 in the north and the A84 to the east with connecting B roads to the south forming a ring around the area. Edinburgh is about 60 miles by road.