Holiday cottages in Argyll and west coast of Scotland
Argyllshire and West Coast Scotland.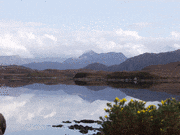 Did your heart take a leap when you saw James Bond return to his Highland roots in 'Skyfall'? Or were you swept away by the sight of the Hogwart's Express chuffing through the magical landscape of the Harry Potter movies? Well, move over Hollywood because if you want to experience those fairytale landscapes for real then Argyll is where you are headed.

This ancient and magnificent area is a truly remarkable place to spend time. Renting a luxury self-catering holiday cottage in this part of the world will give you access to a huge range of activities from scaling Ben Nevis, Scotland's highest mountain, to exploring the area's spectacular sub-tropical gardens warmed by the Gulf Stream.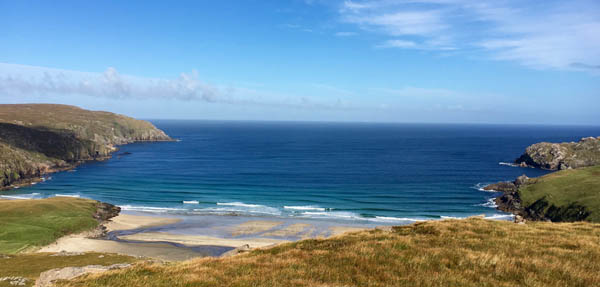 Whatever your fancy Argyll has some wonderful ways of fulfilling those passions.
The town of Fort William, which lies at the foot of Ben Nevis is a fitting gateway to many of these activities. Regarded as the outdoor capital of the UK, you can go walking, climbing, para-gliding, mountain biking, deer stalking, wild-swimming, sea kayaking, bird watching , skiing during the winter and white water rafting. Phew! And when you begin to tire, a warm welcome and a malt whisky or a traditional local ale is waiting in one of the nearby pubs.
Step aboard Harry Potter's 'Hogwart's Express' and you will be swept on a steam train through some of the most dramatic and beautiful scenery in the world. This famous rail journey shadows the equally celebrated 'Road to the Isles' and takes you to the busy port of Mallaig where it's possible to step aboard a whole host of ferries to the beautiful Western Isles.
Voted as Scotland's most romantic glen, Glencoe is as breathtaking as it is awe-inspiring. Part of the Lochaber Geopark, it was carved out centuries ago by icy glaciers and volcanic eruptions. Apart from being used as a location for two James Bond films, it has its own bloody history to tell, famed as the site of a brutal clan massacre involving the Macdonalds and the Campbells in 1692. We're not even going to discuss the ghost potential.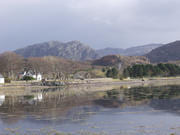 Oban, the second largest town in Argyll, is an even bigger ferry port than Mallaig serving the beautiful island of Mull and the Inner and Outer Hebrides (Western Isles).
The town's main landmark, McCaig's Tower, which was modelled on Rome's Coliseum, dominates the skyline and after a 15-minute climb you are rewarded with stunning sea views. There is always the chance to pet some animals at the Oban Rare Breeds Farm Park, not to mention a lovely woodland walk and a tasty scone.
Moving on, the stunning Cowal Peninsula is hugely popular with climbers, sailors and walkers. Travelling west from Tarbert through Glen Croe, is a spectacular drive on a twisting, old military road. You can stop at the well-named 'Rest and Be Thankful' beauty spot to admire the stunning views. If you're a Munro-bagger ( hills over 3000ft) then The Cobbler, Beinn Ime, Ben Van and Ben Vorlich are a spectacular challenge.
Meanwhile, if seafood and fine dining is your thing, then don't miss out on a visit to the Loch Fyne Oyster Bar. For the keen gardener this is azalea and rhododendron country and there are wonderful viewing opportunities at locations such as the, Benmore Botanic Garden near the head of Holy Loch.

Picture of Loch Fyne taken from Strachur by the cottage owner of Strathlachlan Lodge, Loch Fyne, Near Inveraray
The charming town of Inveraray is situated on the northwest shore of Loch Fyne and is a classic example of Scottish Georgian architecture. You'd better behave yourself though as Inverary Jail ( Now a museum fortunately!) will give you and your children a very entertaining and interactive view of a medieval court and prison. If it's spectacular grandeur you're after then majestic Inverary castle can provide that in spades. The seat of the Duke of Argyll since the 15th century, it houses a magnificent display of ancient weaponry including sporran and dirk handle of the Scottish hero, Rob Roy.
The Mull of Kintyre, immortalised by Paul McCartney and his band Wings, lies at the southern tip of the peninsula. Dramatic and wild, this part of the world was a secret haven for the McCartney family for decades and remains a beautiful and peaceful destination.
But don't forget the south west coast islands of Cumbrae, Arran, Bute, Gigha, Colonsay, Coll and Tiree. These are all very popular holiday destinations and all of the islands offer a wide choice of holiday accommodation.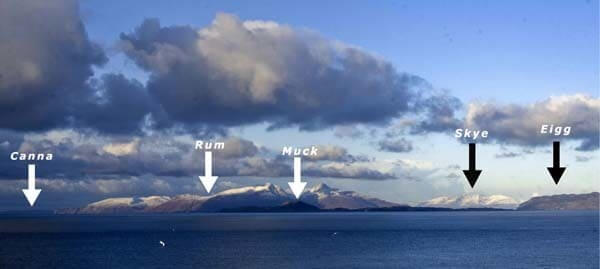 Picture from the Lighthouse at Ardnamurchan Point by the cottage owner of Meadow Lodge, Strontian, Acharacle.
The Ardnamurchan Peninsula is a keen destination for cyclists and hill-walkers. Accessed via the village of Strontian, where lazy sheep and deer roam freely, the area is bursting with beautiful forest tracks, unspoilt beaches to run and play on or taking fishing and kayaking adventures on the sheltered Loch Sunart.
Kerrerais the closest island to Oban, a tiny island only six miles long, with a population of approx fifty people. It is great day trip on a ferry from Oban, and many people on cycling or walking holidays build a day to Kerrera into their itinerary.
Lismoreis accessible by an hour's car ferry ride from Oban, and is another small Scottish island, just ten miles long. It provides an excellent day's cycling for those on holiday near Oban - you can hire bicycles on the island.
The Isle of Mullis only a 40 minute ferry journey from Oban, and is beautiful with a fantastic coastal shore 300 miles long. There are golf courses at Tobermory and Craignure. Mull's holiday accommodation is very popular and there is a good selection of Bed and Breakfast and self-catering holiday cottages for rent. Mull is very popular with fisherman, who enjoy excellent sport, and with children, looking for Balamory cottages in Tobermoray.
The Isle of Ionais now in the care of the National Trust for Scotland, it is a tiny holy island - a place of Christian pilgrimage and worship for over 1400 years. The abbey has been extensively rebuilt over time and is a very interesting, magical and spiritual place to visit on a day trip. Iona has lovely sandy beaches but gets quite busy with holiday-makers. There are no cars on Iona, but a horse drawn carriage can take you from the ferry pier to the Abbey.
Islay Islay is famous for its smokery malt whisky and there are seven whisky distilleries on the island, which welcome visitors. It is the most southerly of the Hebridean islands and is a popular holiday destination for bird watchers and walkers.
Isle of Jura is on the Whisky Trail - Isle of Jura Distillery in Craighouse produces a light malt whisky and they welcome visitors. The main tourist attractions on Jura are the superb wildlife - it is famous for its deer which can be seen in abundance. Hill walkers flock to the Paps of Jura and the climate can be very good. Sheltered bays even have tropical plants growing - amazing for a Scottish island. The Corryvreckan Whirlpool is in the strait between Jura and Scarba and is notorious with sailors - many boats have been sucked into it and lost.
Recommended holiday accommodation in Argyll