Holiday cottages in Argyll and west coast of Scotland
Argyllshire and West Coast Scotland.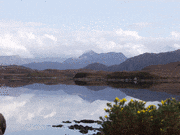 Argyll is a truly remarkable area in which to spend time exploring the magnificent scenery and offshore islands of Scotland. Take a self-catering holiday cottage for a break and enjoy all this area has to offer. The Gulf Stream means the area enjoys warm winters and lush sub-tropical scenery. In the summer months visitors can enjoy the area's spectacular gardens, which are home to many exotic plants, some of which were brought back to Scotland by Victorian Botanists.
Renting a holiday cottage near or in Fort William gives you access to much of the highlands of Scotland. It lies at the foot of Ben Nevis, Britain's highest mountain at 4405ft and well worth making the walk to the summit. Children will love seeing the Glenfinnan rail viaduct used by the Hogwarts Express (on the West Highland railway) and you can take a steam train from Fort William to Mallaig (following the famous 'Road to the Isles'). There is a daily service on the Jacobite Steam Train from Fort William - a wonderful day's excursion from your holiday house. Some of the other scenes in the Harry Potter films were shot in Glen Nevis, near Fort William, and in Lochaber. Much of the latest Harry Potter film is being shot near Glencoe - so you can show your children the highland scenery before they view the film. Fort William is a popular holiday centre with lots of luxury holiday cottages to rent.
Glencoe is a dramatic pass with high mountain peaks on either side. In fine weather Glencoe is very beautiful but when the mist is down it has an unmistakable air of gloom. In 1692 Macdonald of Glencoe gave hospitality to Campbell of Glenlyon and his soldiers for several days; then the Campbells (on English government orders) rose at dawn and massacred the Macdonalds as they slept. Glencoe has a thriving ski centre and this is a good location to rent a cottage for a skiing holiday in Scotland.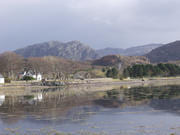 Oban, the second largest town in Argyll, is the largest ferry port on the West Coast of Scotland, serving Mull and the Inner and Outer Hebrides (Western Isles). Oban, is easily negotiated on foot and has many pubs, cafes and restaurants, most of which can be found along George Street or along the North Pier. The town's main landmark, McCaig's Tower, which was modelled on Rome's Coliseum, dominates the skyline and after a 15-minute climb one can enjoy stunning sea views from the walled garden.
Oban and its environs offer many children's attractions if you are spending a holiday here with your children:
The Scottish Sealife Sanctuary - a good place for children to learn about local sea life plus they must not miss the seals' feeding time!
Oban Rare Breeds Farm Park - Rare breeds of farm animals plus a children's interactive pets' corner, a woodland walk as well as a tea room. This farm is a Scottish Tourist Board 3 Star attraction.
Loch Etive Cruises - sail round this stunningly beautiful sea loch, which extends to the mountains of Glencoe and enjoy birdwatching as well as keeping and eye out for sea life.
Oban and the surrounding area are a truly great destination for a short-break, which the whole family can enjoy at any time of the year. The choice of holiday cottages is also as diverse as the attractions Oban has to offer, which make it a must for any family wishing to explore this part of Scotland.
The Cowal Peninsual is a very beautiful part of Argyll, popular with climbers, sailors and those looking for a holiday in Scotland in a remote part. Going west from Tarbert, through Glen Croe, is a spectacular drive on a twisting, old military road. Stop at 'Rest and Be Thankful' to admire the stunning views. There are excellent hills to climb in this area - The Cobbler, Beinn Ime, Ben Van and Ben Vorlich are all munros. The Cowal Peninsula stretches to the south, on either side are Loch Long and Loch Fyne. If you rent a holiday cottage at Loch Fyne you will be able to visit the famous Loch Fyne Oyster Bar and sample the delicious Scottish seafood in the restaurant. This is possibly the most beautiful part of Argyll and the Younger Botantic Gardens, near the head of Holy Loch, are fabulous in early summer with the spectacular azaleas and rhododendrons.

Picture of Loch Fyne taken from Strachur by the cottage owner of Strathlachlan Lodge, Loch Fyne, Near Inveraray
The main holiday town on the Cowal Peninsual is Dunoon. There is a great range of holiday accommodation here - from luxury self-catering cottages to caravan parks. Inveraray town is situated on the northwest shore of Loch Fyne and is a classic example of Scottish Georgian architecture, built by the Duke of Argyll in the eighteenth century. Situated on the banks of the Loch Fyne, it is fine setting, with the white buildings reflecting in the clear waters of the loch. Inverary has been the seat of the Duke of Argyll since the 15th century and houses a magnificent display of over 1,000 pieces of weaponry in the armoury hall, including Rob Roy's sporran and dirk handle. Inveraray Jail ceased to function as the town's jail in the 1930s but has been transformed into a very entertaining and informative museum depicting prison life from medieval times. You can also sit in the courthouse and hear the trial of a fraudster as well as experiencing life in the cells.
The Crinan Canal goes from Ardrishaig in Loch Gilp to Crinan on the west coast - built at the end of the 18th century and nine miles long with 15 locks, it cuts through the top of the Kintyre Peninsula.
Campbeltown is the main town on Kintyre and has lots of bed and breakfasts and self catering cottages if you want to explore this part of Argyll - as does Macrihanish. The Mull of Kintyre is the southern tip of the peninsula - a dramatic rocky extremity, made famous by Paul McCartney and Wings in the eponymous song.
The more southerly west coast islands include Cumbrae, Arran, Bute, and Gigha. Colonsay, Coll and Tiree are also very popular holiday destinations and all the islands offer a choice of holiday accommodation - from luxury cottages to simple isolated hideaways.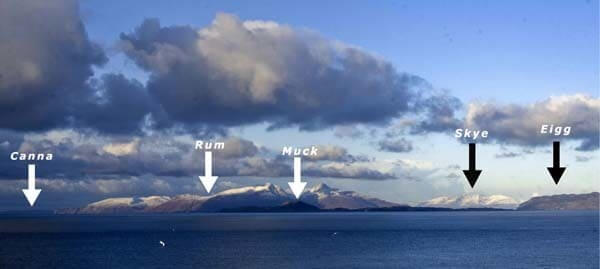 Picture from the Lighthouse at Ardnamurchan Point by the cottage owner of Meadow Lodge, Strontian, Acharacle.
Ardnamurchan Peninsula is accessed via the village of Strontian, where lazy sheep and deer roam freely, making this area ideal for cyclists and hill walkers along with the many forest tracks. Children will love the unspoilt beaches or taking fishing and kayaking adventures on the sheltered Loch Sunart. Expert fishing advice will place you in casting distance of skate, conger, spurdogs and thornback ray.
There are also great places to visit if you are on holiday in Argyll. Take a trip to Mull and/or Iona via the Lochaline or Kilchoan ferries or cruise Loch Shiel. From Arisaig visit the Small Isles where whales and dolphins may be spotted. Sit at the most westerly point on the British mainland, Ardnamurchan Lighthouse, which has the perfect vantage point for viewing the Western Isles.
The area is a birdwatcher's paradise - many species are either natives or visitors and you can expect to see oystercatchers, sandpipers, tawny owls and even a golden eagle. Outdoor pursuits are plentiful; walking, climbing, sailing, canoeing, kayaking, diving, skiing, mountain biking, fishing, shooting, horse-riding or paragliding are all available.
Kerrera
is the closest island to Oban, a tiny island only six miles long, with a population of approx fifty people. It is great day trip on a ferry from Oban, and many people on cycling or walking holidays build a day to Kerrera into their itinerary.
Lismore is accessible by an hour's car ferry ride from Oban, and is another small Scottish island, just ten miles long. It provides an excellent day's cycling for those on holiday near Oban - you can hire bicycles on the island.
The Isle of Mull is only a 40 minute ferry journey from Oban, and is beautiful with a fantastic coastal shore 300 miles long. There are golf courses at Tobermory and Craignure. Mull's holiday accommodation is very popular and there is a good selection of Bed and Breakfast and self-catering holiday cottages for rent. Mull is very popular with fisherman, who enjoy excellent sport, and with children, looking for Balamory cottages in Tobermoray.
The Isle of Iona is now in the care of the National Trust for Scotland, it is a tiny holy island - a place of Christian pilgrimage and worship for over 1400 years. The abbey has been extensively rebuilt over time and is a very interesting, magical and spiritual place to visit on a day trip. Iona has lovely sandy beaches but gets quite busy with holiday-makers. There are no cars on Iona, but a horse drawn carrage can take you from the ferry pier to the Abbey.
Islay is famous for its smokey malt whisky and there are seven whisky distilleries on the island, which welcome visitors. It is the most southerly of the Hebridean islands and is a popular holiday destination for bird watchers and walkers.
Isle of Jura is on the Whisky Trail - Isle of Jura Distillery in Craighouse produces a light malt whisky and they welcome visitors. The main tourist attractions on Jura are the suberb wildlife - it is famous for its deer which can be seen in abundance. Hill walkers flock to the Paps of Jura and the climate can be very good. Sheltered bays even have tropical plants growing - amazing for a Scottish island. The Corryvreckan Whirlpool is in the strait between Jura and Scarba and is notorious with sailors - many boats have been sucked into it and lost.