Self-catering holidays in Fife.
Fife is full of history and as it has the sea on three sides has a huge amount of superb coastline and beaches (many which have the coveted blue flag). If you are planning a vacation in Scotland then there is a wide choice of superb self-catering accommodation in Fife - cottage holidays by the sea are very popular with children!
Holidaying in East Neuk of Fife and St Andrews
East Neuk seaside villages have quaint harbors, wonderful cafes and delies, watersports and very friendly locals. You can find sport, golf and tennis too.
Culross has been restored by the National Trust for Scotland and visitors can now walk round an immaculate 16th and 17th century Scottish Royal Burgh. There are many wonderful buildings to explore - Culross Palace, the Tolbooth, Culross Abbey - as well as The Little Houses of Culross, some of which are available for holiday rentals through the National Trust for Scotland. Dunfermline was once the capital of Scotland and the town is dominated by the Abbey and magnificent ruined Palace. It is well-known as the birth place of Andrew Carnegie, who made his fortune in America in the late 19th century and was one of the biggest philanthopists ever. The cottage where he was born in Dunfermline is now a museum and open to the public. Rosyth is just south of Dumferline of the shores of the Firth of Forth. At North Queensferry you will find Deep Sea World - a must to visit if you are renting a cottage in Fife with children! If you are looking for a place to stay near Culross or Dunfermline for a vacation or short break then there are plenty of luxury Fife cottages available for holidays here.
Self-catering cottages to rent in the Fife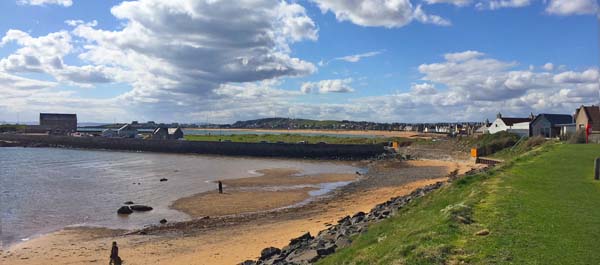 Inverkeithing, Dalgety Bay and Aberdour also have their attractions for holiday-makers in Fife. Inchcolm is a great outing if you are having a holiday in Fife - you take a boat to this fascinating island and visit the Abbey of St Columba. Kirkcaldy is north of Kinghorn and is famous for linoleum - you used to be able to smell it for miles around! Famous son's of Kirkcaldy are the architects Robert and James Adam, and Adam Smith, the philopher and author of Wealth of Nations, and of course Gordon Brown. Wemyss is well-known for its fabulous pottery (the famous pigs with clover leaves etc), and there is now a revived Wemyss pottery in Ceres, Fife.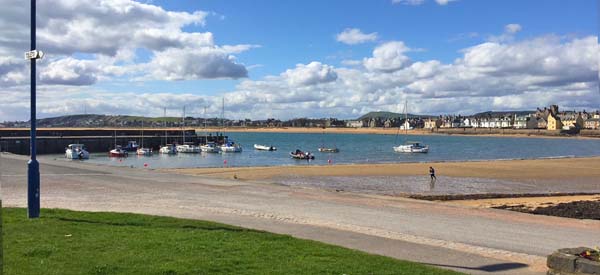 The East Neuk of Fife (Neuk is a Scots word which means corner) is a very popular part of Scotland for seaside self-catering holidays. The beaches are wonderful empty expanses of sand, and the fishing villages have charm and character, with picturesque harbours and crow-stepped holiday houses rising in steep terraces on winding cobbled streets. Elie is a popular Scottish holiday resort and for generations Edinburgh families have rented a holiday house in Elie. There are lots of top quality self-catering cottages to rent in St Monans and Pitenween, often near the harbour and with wonderful views of the sea. Nearby Kellie Castle is an impressive 16th century house restored by Lorimer in 1875 - open to the public and with the most beautiful gardens. Anstruther was once an important fishing centre and is now home of The Scottish Fisheries Museum and award-winning fish and chip shops! Further up the Fife coast is Crail, another well-restored Scottish fishing town with a very pretty harbour. The picturesque coloured houses and cobbled streets lead down to the harbour and there are a wealth of lovely holiday houses to rent in Crail.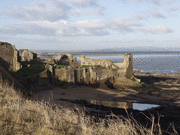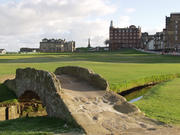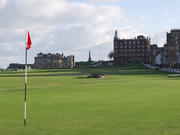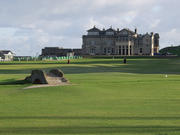 St Andrews is the jewel in Fife's crown - not only the home of golf and Scotland's oldest university, but a wonderful medieval town with lots of luxury holiday accommodation in St Andrews. St Andrew's Cathedral was founded in 1160 and was once the largest Scottish cathedral. Medieval pilgrims came here, as did Robert Bruce, James V and John Knox. It is one of the most magnificent ruins you can visit, and many of its stones built the houses in the oldest part of St Andrews. St Andrew's Castle is also now a ruin, and was built as the Bishop's Palace in the 12th century. There are many fine university buildings, including St Salvator's Church and St Mary's Quad. The West Sands are a fabulous stretch of golden, sandy beach, made famous when used in the film Chariots of Fire and also a popular location for sand-yachting.
The Royal and Ancient Golf Club is world-famous to golfers' as it determines the rules of golf. There are many golf courses in and around St Andrews, and if you want a golfing holiday in Scotland then this is the place to come - there are plenty of holiday cottages and houses to rent near golf courses. Scotland is synonymous with golf and there is no better place for a holiday cottage then St Andrews if you want to play golf on holiday.
The north coast of Fife is less popular then the East Neuk but has wonderful views over the Tay estuary and is a great place for bird-watching. Tentsmuir Forest is a great place for picnics on the beach and seals are frequently spotted on the sands. If you are renting a self-catering cottage in Fife then you will want to visit Falkland Palace - built in the 15th and 16th centuries as a hunting lodge for the Stuart kings, it is a superb example of early Renaissance architecture. Cupar is a Fife town with elegant 18th-century houses built of honey-coloured stone. The Scottish Deer Centre is nearby and offers plenty for the Scottish holiday maker to see and do - children love it! The house of Hill of Tarvit dates from 1696 and was remodelled by Robert Lorminer in 1906 - now owned by the National Trust for Scotland, the gardens and house are open to the public. Ceres is another very attractive Fife village near Pitlessie - with pantiled cottages surrounding a village green.
There is a wealth of self-catering accommodation in Fife to hire and many fabulous places to stay. There is so much to see and do in Fife and we have only been able to give you a few highlights - come yourself and enjoy it all!