Holiday accommodation in Galloway.
Self-catering holidays in Galloway
Galloway is a surprisingly unknown part of Scotland and is still remarkably unspoilt. It borders the northern shore of the Solway Firth, famous for migrating birds and empty, rocky coves and beaches. This is a fantastic area for cycling and walking holidays too - both along the coast and in the Galloway hills. There are miles of long-distance cycle tracks through Galloway and some superb off-road mountain bike tracks too. It is a bird-watchers paradise as the mild climate attracts numerous rare species, and the tidal marshes are wintering grounds for barnacle geese and many other waterfowl.

Dumfries and Galloway is the gateway to Scotland, and Dumfries itself was home to Robert Burns. The main tourist towns are Castle Douglas, Port Patrick, Newton Stewart, Kirkcudbright and Wigtown.
Cottages to rent for families, groups and couples in Dumfries and Galloway
Places to visit in Dumfries and Galloway
Kirkcudbright was an artists colony in the late 19th century and it is a picturesque place with brightly painted houses - this is one of the most enchanting towns in Scotland and is still home to many artists today. Wigtown is Scotland's book town - a great place for a self-catering holiday in Galloway if you enjoy rumaging in secondhand book shops. Stranraer, in the far west corner of the region, is the port for ferries to Ireland, and the famous village of Gretna Green lies at the border with England.
There are plenty of historical sights to explore and prehistoric stones abound: - Whithorn, where St Ninian landed, with its fascinating archeological site; Dundrennan Abbey, where Mary Queen of Scots stayed before setting sail to England; the medieval ruins of Caerlaverock Castle; Sweetheart Abbey, which is one of Scotland's most poignant monastic ruins.
With a mild climate the gardens of Dumfries and Galloway are wonderful places to visit on holiday. Castle Kennedy Gardens and Logan Botanic Gardens are a must for garden lovers - sub-tropical plants and tree-ferns flourish and you feel as though you are in an foreign land. It is Scotland's most exotic garden and the walled garden is a particular highlight of a visit. Threave Gardens, near Castle Douglas, owned by the National Trust for Scotland, is a beautiful Victorian garden, with a wonderful restored kitchen garden.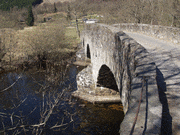 Country pursuits and family holiday activities in Dumfries and Galloway.
Outdoor family holiday activities: walking, cycling and riding are very popular in Dumfries and Galloway. The many holiday homes and restored farm cottages available for rent make the perfect self-catering base for your family's vacation activities in Scotland.
Drumlanrig Castle, north of Dumfries, is a gorgeous pink sandstone palace, set in the Lowther Hills. Home of the Duke of Buccleuch, this impressive house with stunning furniture and paintings, is a major tourist attraction in the area and definitely worth a visit if you are staying the the south west of Scotland.
Galloway Forest Park covers 250 sq miles of magnificent terrain - you can walk the many trails surrounded by exceptionally lovely scenery. Lonely moorland, peat bog, hills, lochs and rivers make this an unforgettable part of Galloway to spend your vacation. Galloway Forest Park is one of only four 'Dark Sky Parks' in the western world and the only one in the UK. The great wilderness of the park has the darkest sky in Europe and stargazers flock here to experience it. Free of any light pollution, it provides a rare opportunity to experience the amazing views of the milky way, stars and planets. If you are looking for accommodation near Galloway Dark Sky Park then there are plenty of excellent last minute cottages, hotels and bed & breakfasts available for your vacation in Galloway.
FAQ about visiting Dumfries and Galloway in South West Scotland which vacation activities to do and where to go?
Is Dumfries and Galloway as a good holiday destination?
Many people simply drive past Dumfries and Galloway on the way to or from Glasgow, or from Northern Ireland via the two ferry ports in Cairnryan, not realising that they are missing out on some wonderful Scottish countryside, some famous historical sites, some of the best holiday cottages and a location that is a delight for those seeking self-catering in the great outdoors with coastline and rural farmland.
What are the main tourist towns suitable to rent a holiday cottage in Dumfries and Galloway?
While there are large holiday houses sleeping 10 plus guests and rural cottages with 2-6 bedrooms for rent throughout Dumfries and Galloway, some towns worth considering as a tourist base for you and your family include Castle Douglas, Dumfries, Kirkcudbright, Langholm, Moffat, Wigtown and along the coast of the Solway Firth.
What is there for children to do on a family holiday in Dumfries and Galloway?
For children of all ages (from 5 to 95!), a visit to Moat Brae House and Garden museum in Dumfries is a must as the land where Peter Pan began as are the ruins of one of Scotland's great medieval fortresses, Caerlaverock Castle, where you can explore until your heart's content. There are also sandy beaches and rugged coastline as well as some fantastic wildlife to observe in its natural habitat.
In Dumfriesshire how is it best to travel around?
Dumfries and Galloway has a network of extremely picturesque minor yet accessible roads that are by and large uncrowded. Use your own car, or rent a car, or if you are feeling energetic, it's a great place to cycle around. The villages and towns are also very well served by buses. Tourists use Glasgow Prestwick Airport and slightly further afield Newcastle Airport, Edinburgh Airport and Glasgow Airport.
Why do you hear about people getting married in Gretna Green?
Young lovers run away to Gretna Green in Dumfriesshire to get married as it was the first village over the border in Scotland which had more relaxed marriage laws than England and Wales. You can get married legally at 16 in Scotland without parental consent. In England and Wales you need to be 18 years old unless you have consent of parents or guardians. There is no residency requirement required to get marry in Scotland, so English couples and citizens of any country can get can get married there at relatively short notice. This makes Dumfries and Galloway very popular for honeymoons and there are lost of romantic cottages to rent close to the sea and in beautiful countryside.