Holiday cottages in Speyside
Staying in holiday accommodation in Speyside
Speyside self-catering cottages are often in the stunning countryside, but there are many in the pretty towns and villages that make up Speyside. The north east of Scotland includes the towns of Banff, MacDuff and Elgin. Burghead (near Lossiemouth) is popular with Hogmanay visitors as it re-enacts the ancient New Year ceremony of 'Burning the Clavie' - a lighted tar barrel is carried through the streets on the old New Year's Eve, 11th January. Findhorn Bay is a large expanse of tidal flats and has a busy caravan site and is popular with sailors. Forres is a very historic town - Macbeth met the three witches nearby, and Sueno's Stone is an outstanding example of a Pictish standing stone. If you are renting a Speyside holiday cottage in the Moray Firth area then you will find a wealth of historic sites to visit including Pluscarden Abbey and Brodie Castle (National Trust for Scotland), which is famous for its daffodils - do visit if you are in the Moray area for an Easter break.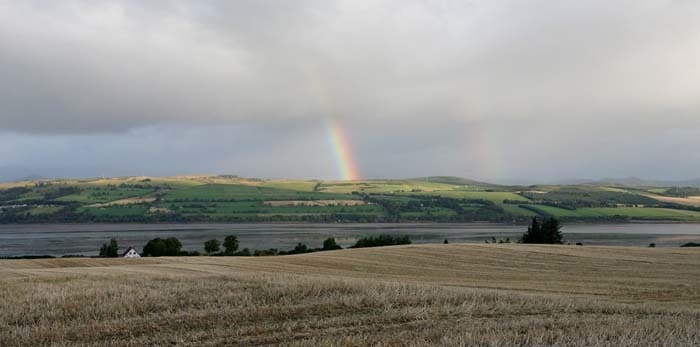 Farmland with rainbow - Black Isle, Invernesshire - by Richard of 360PIX
The River Spey starts above Loch Laggan and finally enters the sea near Buckie - the Spey is famous for its astonishing natural beauty and great fishing. Speyside is an idyllic location for a self-catering holiday cottage where you have the freedom to explore the heather hills and snow-capped mountains. Grantown-on-Spey is a Georgian holiday town and a great base for exploring this part of Scotland or taking part in all the outdoor activities popular in the area - riding, walking, skiing, and climbing. Loch Garten is well known for its breeding ospreys - there is also a great wealth of other wildlife to see in Speyside, including red squirrels and deer. At the mouth of the Spey, in the Moray Firth, you can watch dolphins which is a very memorable thing to see on a self-catering holiday in Speyside.
Speyside Whisky trail
This area is well known for its complex and elegant Scottish Whisky. Tours at Aberlour, Glenfiddich, and Balvenie Distilleries form a Speyside whisky trail. The Speyside Malt Whisky Trail forms the basis of many holidays and has the highest number of Distilleries than any other region in Scotland.