Self-catering cottages near Loch Ness
Visiting Loch Ness
There can be no doubt that when it comes to Scotland, there are few people in the world who haven't heard of Loch Ness and its alleged, yet non-the-less, world-renowned inhabitant. It has become a first-class destination for tourists.
Very much thought of as Scotland's own 'Lake District', the visitor can easily lose count of the number of lochs in this part of the country. Yet, with all the unspoilt and diverse scenery, undiscovered moors full of heather, delightful hills and a wilderness of outstanding natural beauty, it is within easy distance of the region's capital Inverness. Fort Augustus in the south and Daviot in the east are all within reach, with many small and welcoming communities dotted around Strathnairn.
Holiday accommodation for the visitor includes an array of self catering cottages, chalets and lodges. However, the visitor should bear in mind that the Loch Ness area is natural and untamed country that is thinly populated, so accommodation is spread similarly thinly across the area. However, there is nevertheless plenty of accommodation for tourists to suit all pockets and all tastes. Some fine accommodation can be found in Fort Augustus, Drumnadrochit, Lewiston and Glenurquhart.
The benefits of staying in a self-catering cottage, or holiday home mean your time is your own and you have extra freedom and much more privacy. Self catering, or, 'vacation rentals' have become more popular, to the extent that in many cases they have become the first choice option, and accordingly, the quality has increased dramatically.
Self-catering cottages to rent in the Scottish Highlands
Loch Ness is an area where there is so much to see and do that the only limit is either time or imagination. It is an area famous for those seeking outdoor activities. It is an especially excellent area for walking, with numerous professionally organised walking and wildlife tours, including Highland deer spotting, bird watching and even climbing tours. There is an abundance of other sports and activities, including fishing, golf on some first class courses, horse riding in the glen and water sports, including canoeing. And for those feeling really active, Scotland's finest ski resorts are only an hour's drive from Loch Ness.
And of course, no visit to Loch Ness would be complete without a Loch Ness cruise or tour to afford the visitor the opportunity to do some 'Nessie' spotting. Or, if you prefer, you can take a more leisurely trip around the permanent Loch Ness Monster Exhibition
For those wanting a less active break, there are the Scottish Highland art and painting experience sessions. It doesn't matter what your age or abilities are to take part in these activities, even if you are completely new to painting and need to learn the basics of watercolour. Just taking part is a great experience, and you'll have fond memories and a great talking point from your visit to Loch Ness when you hang your own painting of the Loch or landscape at home.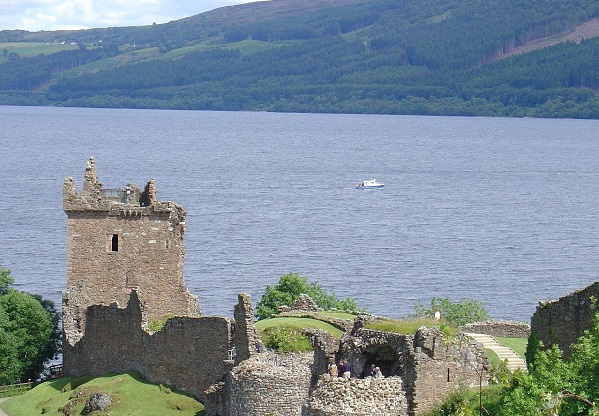 Staying in a holiday cottage near Loch Ness gives you an opportunity to explore much of the highlands. The River Ness flows through the heart of Inverness, converging with the start of the Caledonian Canal, constructed by Thomas Telford in the 19th century. This is a fantastic place to start a sailing holiday and you can rent cruisers from local marinas and sail down the Caledonian Canal. Passenger cruises operate in the summer and they are a very relaxing way to see the Scottish countryside and Loch Ness.
Culloden is east of Inverness and the site of the historic battle is cared for by the National Trust for Scotland, who have an excellent visitors' centre. The battlefield still has a haunted feel, with cairns marking the sites were clans fell. Cawdor Castle is nearby and is open to the public during the summer season - a fascinating place to visit and still the home of the Cawdor family. Nearby Fort George is the most unspoilt artillery fort in Europe - destroyed by Bonnie Prince Charlie in 1746, it was rebuilt shortly afterwards and was the home of the Seaforth Highlanders for generations of soldiers. Nairn is a seaside holiday town, which used to be known as Brighton of the North. It has fabulous sandy beaches along the Moray Firth, golf courses and plenty of sunshine!
The Great Glen starts at Loch Ness, famous throughout the world for Nessie, the Loch Ness Monster. Drumnadroichit, on the west side of the loch, has exhibitions and a centre devoted to the Loch Ness Monster. Whilst we can't guarantee a sighting of Nessie you will be able to find a choice of luxury holiday cottages near Loch Ness! Urquhart Castle is a popular tourist attraction as is Fort Augustus, at the southern end of Loch Ness. Fort Augustus is a busy place in the summer and you can watch the boats coming through the canal locks. Visitors to Spean Bridge, on Loch Lochy, often come to admire the Commando Memorial and the magnificent views towards Lochaber and Ben Nevis. The Loch Ness area is a wonderful place to rent holiday accommodation and explore the Scottish highlands.
FAQ about staying near Loch Ness.
Can we stay near Loch Ness?
Yes there is holiday cottages, bed and Breakfasts, hotels, lodges and self-catering accommodation in the towns of Fort Augustus, Drumnadrochit and Foyers and the area around Loch Ness. We feature two adjacent cottages sleeping 5 and 4 guests, which together sleep 9 (for a large group) that are walking distance from Loch Ness. A lochside cottage that sleeps 5 and Sleeps 4 with private Trout fishing Near Loch Ness and other cottages in the highlands of Scotland.
Can you swim in Loch Ness?
Loch Ness is huge - it's largest, deepest, freshwater loch in the Scottish Highlands, 23 miles long. Very cold and very deep - 750ft (228 metres) deep. People are known to have gone swimming in Loch Ness - I imagine they are always wondering if they will be eaten by the Loch Ness monster! Wild swimming would be refreshing to say the least - the water temperature is around 5°C. Research and consult a local as there are a number of small lochs locally that are ideal for wild swimming near Loch Ness.
How can I get to Loch Ness?
Hiring a car is a fantastic way to tour the highlands, but not the only way to travel. If you are arriving by air - Inverness Airport is approx 21 miles from Loch Ness. From there, Bus, taxi or rental cars can be booked to take you to Loch Ness. For traveling around Loch Ness - Bicycles may be hired, local tours, cruise boats or private taxi hire. If you are traveling by rail - then take the train to Inverness.
Scottish castles places and historical interest.