Holiday in Wick - visit the very north of Scotland.
Originally a Viking settlement, and once the busiest herring port in Europe, influences of Wick's rich history can be seen everywhere.
Wick is the perfect location for a Caithness self-catering holiday
Explore the spectacular scenery and many attractions of the far north of Scotland. Visit the award-winning Wick Heritage Centre for an insight into the town's fascinating past; a beautifully-restored 19th century fishing boat is among the unique artefacts on display and there is also an amazing collection of photographs of Wick from 1863 onwards.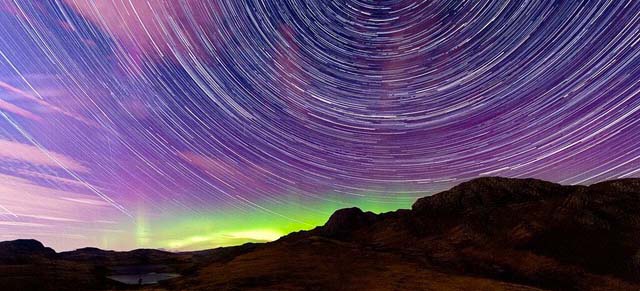 See The Northern Lights from Wick
The fascinating norther lights are electric currents that flow through the tops of the earths atmosphere. To see the northern lights you need to look to the northern horizon in a dark sky free from any cloud cover and away from all light polution - Wick is a great place to look for the dazzling auroral colours.
Take time to discover the dramatic ruins of the 15th and 17th century castles of Sinclair and Girnigoe, 3 miles north of Wick. Enjoy a stunning cliff-top walk to the castles from the nearby fishing village of Staxigoe, stopping at the beautiful Sinclair Bay beach along the way, a popular spot for windsurfing and sand-yachting enthusiasts. Be sure to look out for the host of seabirds that call Caithness home; lucky visitors may get a glimpse of the area's resident puffins along the cliffs. The impressive and picturesque Castle of Mey - former home of the late Queen Mother - is another hugely popular day out and is located around 2 miles from Wick. It is a 5-star visitor attraction with a wealth of delights to discover: walk through the magnificent gardens, or enjoy the castle's animal centre, a firm favourite with children.
Explore Wick's bustling harbour and look out for the world's shortest street - Ebenezer Place measures just 2 yards and 9 inches! The famous Old Pulteney Whisky Distillery is an unmissable treat for single-malt lovers, while golfers can play a round at the Royal Dornoch Championship Course. With an abundance of natural beauty, craggy cliffs, archaeological treasures, unspoilt beaches and wild moorland to be explored around the town, Wick is a fantastic base from which to enjoy an unforgettable Caithness holiday.