Argyll Self-catering Cottages
Holiday in Argyllshire on West Coast Scotland.
Argyll has breathtaking landscapes, empty beaches and beautiful hills and glens. The southern peninsula of Kintyre is a memorable place for a self-catering holiday in Argyll. It's quiet and unspoilt and you feel that you've gone back in time. The sea is warmed by the Gulf Stream and the empty sandy beaches are perfect for picnics and sandcastles. If you are an experienced surfer the the west coast is a popular destination. Skipness, on the east coast of Kintyre, is well worth a visit to see the ruined 13th century Skipness castle and chapel. You can explore inside the former Clan MacSween castle (now in the care of Historic Scotland) and it's open all year round. In the south of the peninsula is Campbeltown which has three whisky distilleries. South of Campbeltown is the Mull of Kintyre, made famous by the Paul McCartney song. The Kintyre Way is a popular 85 mile walk and is a great way to explore this remote part of Scotland. If you are a golfer then playing on the 18 hole links course at Machrihanish is a must - one of the finest in Scotland. At the southern end of Kintyre was where St Columba landed in Scotland in 563AD and you can see St Columba's Chapel and Well here. Argyll has many megalithic monuments and Ballochroy Standing Stones are in a spectacular site overlooking Jura. The Tarbert Seafood Festival, Campbeltown Malts Festival and the Mull of Kintyre Music Festival are all very popular weekend festivals so if you are attending them you'll need to book your holiday cottages early!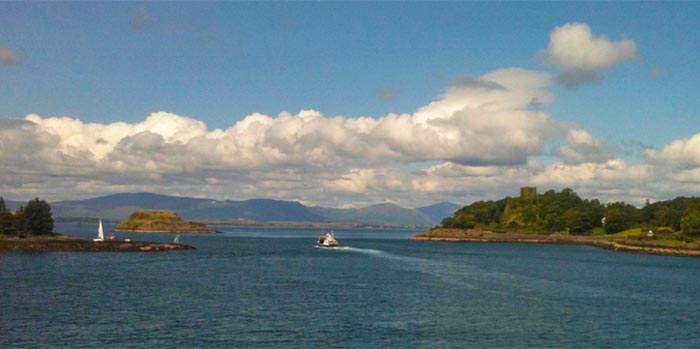 Knapdale, 7 miles west of Lochgilphead, has become well known recently as the location of the controversial reintroduction of beavers to Scotland. A visit to the Scottish Beaver Trial in Knapdale Forest is a fascinating day out for all the family. You'll be very lucky to spot a beaver as they're shy and most active at night but you will see signs of felled trees and beaver canals. Kilmartin Glen is in the heart of Argyll and has the most important prehistoric and bronze age remains in Scotland - they include standing stones, cists, burial cairns and a henge monument. A visit to the Kilmartin Museum is a must to see some of the artifacts found in the area and to learn more about the archeological discoveries and the amazing concentration of ancient monuments nearby.
The Crinan Canal was opened in 1801 to provide a short cut for commercial vessels to travel from the Glasgow are to the West highlands and islands without going round the Kintyre peninsula. It is 14km long and starts at Ardrishaig on Loch Gilp and ends at Crinan on the west. Thomas Telford improved the locks and redesigned the swing bridges, and in 1847 Queen Victoria travelled along the canal to Crinan. Subsequent to her visit the Crinan canal became a tourist attraction and steamer boats from Glasgow brought many visitors in the 19th century on the 'Royal Route'. The towpath is popular with walkers and cyclists and is part of the National Cycle Route 78, linking Campbeltown to Inverness. Nowadays many yachts and fishing boats pass through the canal to reach the west coast of Scotland from the Firth of Clyde. There are some lovely holiday cottages on the Crinan canal, particularly at the locks of Cairnbaan and Dunardry.
Inverary is a classical Georgian planned town on the shores of Loch Fyne. The town was founded by the 3rd Duke of Argyll in 1745 along with his new house, Inveraray Castle. Renting a self-catering cottage near Inveraray gives you access to mountains, castles, national parks and beaches. The impressive Inveraray Castle is a short walk from the town and is open to the public between April and October. A Loch Fyne holiday is popular for fishing and diving as well as excellent walking in the surrounding hills and glens. Otters, seals and dolphins are frequently seen in Loch Fyne and the birdlife is superb too. Loch Fyne oysters are well reknowned and many holidaymakers visit the original Loch Fyne Oyster Bar at Clachan near Cairndow, on the banks of Loch Fyne.
Loch Melfort, just south of Oban, is a great place to stay in Argyll - the beautiful sea loch is great for discovering marine wildlife and there is superb walking, horse riding and cycling in the area. There are a lot of holiday cottages at Loch Melfort and an excellent hotel too. Arduaine Garden is cared for by the National Trust for Scotland and has impressive sea views over the Sound of Jura and is famous for its collection of rhododendrons, magnolias and blue poppies - it's a stunning garden throughout the year and definitely worth visiting if you are on holiday in Argyll. The seaside villages of Ardfern and Craobh Haven are very popular with yachtsmen and woman from around the world who anchor in their marinas and explore the beautiful Argyll coast and the Inner Hebrides. Lochgilphead is another good place to stay to visit the Argyll coast - it was a planned 18th century town and has excellent facilities for visitors.
The mountains of Lorn sweep down to Oban, a busy fishing port and the main town in the western highlands. Oban is a popular holiday destination and is a busy place with great bars and cafes. Its known as 'Scotland's Seafood Capital' for a reason - there are lots of excellent places to enjoy seafood straight off the boats and there are superb fish and chips shops too. The Caledonian MacBrayne ferries leave for the islands from Oban and the ferry port is a bustling place, full of tourists starting a Hebridean holiday or taking a day trip to the closer islands. Oban Distillery is a small historic distillery overlooking Oban - it offers fascinating distillery tours and tastings of their classic malt whisky. Oban makes a great centre for an Argyll holiday and there's lots to see and do here - climb up to McCaig's Tower to see the spectacular views over Oban and the islands - the tower was built by a local banker as a philantropic gesture to give work to local stonemasons. There are many boats trips you can take from Oban to explore the islands and spot wildlife on a marine safari - also fishing trips and diving trips leave from here too. Oban has a wealth of holiday accommodation - from top quality hotels to simple bed and breakfasts and lots of self-catering cottages too. Oban Sea Life Sanctuary is very popular with children and you can watch the seals and otters being fed and learn all about their conservation work. North of Oban is the pretty fishing village of Port Appin, with stunning views over Loch Linnhe to Mull and nearby Castle Stalker.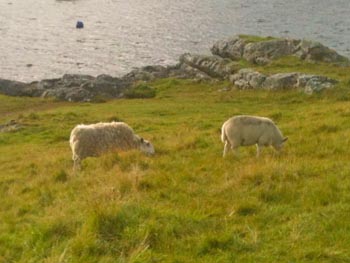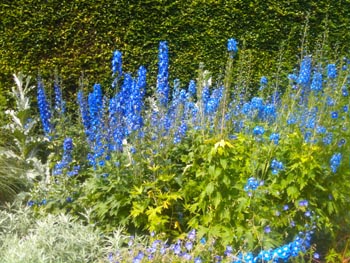 The Cowal Peninsula used to be full of Glaswegian holidaymakers who came 'doon the water' by paddle steamer. The crowds are gone now but the last sea-going paddle steamer (the Waverley) still plies its trade along the coast. There are lots of festivals held on the Cowal Peninsula throughout the year including the Loch Fyne Food Fair in May and the world-famous Cowal Highland Gathering held in Dunoon on the last weekend in August. If you are attending either of them then make sure you booking your holiday accommodation early as the best places to stay are often booked a year ahead. There are a lot of artists and crafts people in Argyll and the Cowal Open Studios in September is a great opportunity to meet artists in their homes and studios and see their work. The Cowalfest Walking and Arts Festival in October is one of the largest walking festivals in Scotland and attracts visitors from throughout the British Isles and beyond. Benmore Botanic Gardens are 11 km north of Dunoon and it features some of the tallest trees in the UK. There is a ferry service from Dunoon to Gourock which makes it more accessible, and the views over the Clyde estuary and Holy Loch to the Kilmun hills and beyond are exceptional. Dunoon offers relaxed seaside breaks with great walking, kayaking, cycling and fishing. Tighnabruaich is in the south west corner of Cowal and has miles of stunning white sandy beaches with ancient forests inland - known as Argyll's Secret Coast.
Sea kayaking is one of the best ways to explore the Argyll coast - its sheltered sea lochs are perfect for all levels of paddlers. The Argyll Sea Kayak Trail goes from Ganavan near Oban to Helensburgh and is split into several parts. Following the Argyll coast south to Arduaine, then going through the Crinan Canal, then to the southern end of Loch Fyne before going round Inner Kintyre and round the Kyles of Bute. The wildlife you are likely to see include grey and common seals, herons, otters, ducks, porpoises and dolphins and the scenery is spectacular.
Accommodation near Lochs
Staying near Loch Awe offers a great centre for an Argyll holiday. There are a wealth of outdoor activities to do and places to explore. Glen Nant, 3 miles south of Taynuilt, is a beautiful nature reserve with lovely woodland walks. If you are on a holiday near Loch Awe then do visit St Conan's Kirk, nestling on the banks of the loch, and Cruachan Power Station, hidden deep inside Ben Cruachan on the northern shores of Loch Awe. Kilchurn Castle has a dramatic position at the head of Loch Awe and is now in the care of Historic Scotland - the view over Loch Awe from the battlements gives you an understanding of Clan Campbell's strength in Argyll. Taynuilt is a pretty village located between Loch Etive and Loch Awe and one of its popular tourist attractions is the Bonawe Iron Furnace. Dalmally is a good place to stop off on your way to the Argyll coast - there are some good inns, cafes and restaurants here and in nearby Tyndrum. A holiday at Loch Awe is an angler's paradise - there are many burns feeding into the loch and fish thrive there. Many record breaking brown trout have been caught in the 24 mile long, narrow loch and there is fishing from the shore as well as by boat.
The Isle of Arran is often called 'Scotland in Miniature' and it's easy to see why - there are lochs, mountains, beaches, golf courses, wildlife and castles to explore. The choice of accommodation on Arran is plentiful - hotels, guest houses and self-catering cottages abound. It is the largest island in the Firth of Clyde and served by CalMac ferry from Ardrossan to Brodick and from Lochranzain the north of Arran to Tarbert. Scotland is a great place to take your dog on holiday and there are many pet friendly cottages on Arran where you can enjoy the fabulous walking on the island. Arran is also well known for superb local food producers and is a foodie paradise - locally made chees, oatcakes, chocolates, chutney, jams and icecream proliferate and if you are holidaying on this beautiful Scottish island be sure to sample some of them and visit their producers.
in the far reaches of Lochaber is the Ardnarmurchan Peninsular - 50 square miles of unspoilt countryside with stunning sandy beaches. A holiday on Ardnarmurchan appeals to those looking for a highland retreat on the west coast of Scotland. Driving from Salen on Loch Sunart on the single track road to the lighthouse at end of Ardnarmuchan is the start of an adventurous Scottish holiday. This remote part of Argyll is very special. Ardmarmurchan Point is the most westerly part of the UK mainland - walk or cycle from Kilchoan and climb to the top of the lighthouse to be rewarded with stunning views. Glenborrowdale, Salen and Acharacle are a seaside villages on Loch Sunart on the south of Ardnarmurchan - all offer ideal places to stay in Ardnarmuchan and there is ample opportunity to spot eagles, otters, seals and porpoises if you are holidaying in this remote corner of Argyll.