Scottish fishing holidays with accommodation
Rent a fishing lodge or a holiday home and stay close to rivers with fishing permits in Scotland
Self-catering fishing holiday in Scotland.
A fishing holiday in Scotland is the ultimate for many fishermen, and it is perhaps the most tranquil of all fishing spots on the globe. Whether a seasoned fisherman, or a weekend sportsman (or woman), you will surely be seduced by the breathtaking, yet unruffled serenity of the Scottish lochs, streams, and ethereal beauty of its landscapes. But before you book your tickets, consider what you will require to make this a lifetime fishing experience. Firstly, you will need somewhere to stay. There are many hotels, cottages, and self-catering establishments to choose from near all the major Scottish rivers - providing a choice for your fishing holiday, ranging from luxury 5 star to cheaper accommodation.
Editors choice Scottish self-catering fishing lodges
Salmon fishing
For salmon fishing, within casting distance of Glasgow, for example you might choose fishing accommodation in Ayrshire, with four salmon-fishing rivers: the Ayr and Doon in the north, the Girvan in the central area, and the Stinchar in the south. Fly rods of 14- to 16-feet are about right for such rivers, but smaller ones may be used in the summer months. Fly choice is a very individual thing, so bring plenty of your own with you and have fun experimenting! A lifejacket is almost mandatory, whether wading or boating. Many beats supply the jackets on site, so lugging one around in your luggage may not be at all necessary. A sturdy wading stick is also needed, so make sure it is weighted and has a rubber end to reduce noise levels underwater.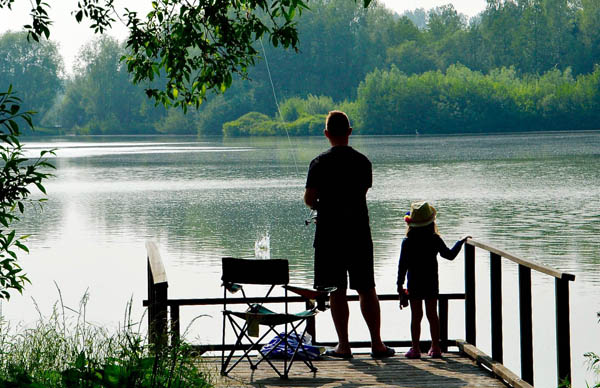 Fish for sea trout, wild trout or stocked trout
You may prefer to fish for sea trout, wild trout or stocked trout - which are mostly rainbows. There is also the famous brown trout to be had in Loch Leven, south of Perth. Grayling are caught in the summer months on a dry fly, and the best rivers for these are the Tay, Nith, Clyde, Annan and Ayr, as well as the Tweed and Teviot. There are tiny highland lochs which can offer exciting wild trout fishing too. The choice of holiday cottages for a fishing holiday is huge - many have open fires which is lovely to return to after a day on the river or loch. There are also large holiday houses suitable for big fishing parties - and some can be catered too if you don't want to do self-catering on your fishing holiday.
Fly fishing lessons in Scotland
Fly fishing lessons are available from beginners' level to advanced casting, including Roll and Spey casting. The River Tay, the Spey and the Deveron are some of the top salmon rivers and fishing them offers an experience of tranquility to compare with heaven itself. The rivers in Caithness and Sutherland offer some of the finest wild trout and salmon fishing in the UK and are an amazing place for a Scottish fishing holiday.