Holiday houses for sale in Scotland UPDATED May 2020
Holiday cottage owners who are selling their properties and wish to generate enquiries directly are welcome to list their houses for sale on this page - there is no charge, it is free to do so. When cottages change hands we have always been grateful for the onward referral for bookings and are happy to help in any way.
This 7 bedroom holiday house sleeping up to 12 is for sale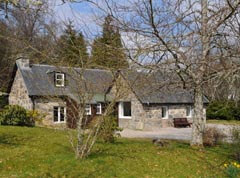 OFFERS OVER £280,000 Bedrooms: 7 (5 double/twin, 1 single, 1 single/child's twin). Sleeps: 12. Dingwall 20 mins. Pets allowed. Weekend and short breaks available.
Coul House has been fully refurbished to provide luxury accommodation for up to 12 people in the beautiful glen of Strathconon. Set in its own garden with fabulous views, the house is an ideal location for exploring the northern Highlands. There are great opportunities for enjoying the outdoors and shooting, stalking and fishing can all be arranged in the surrounding area. When you return from an active day out on the hills Coul House is the perfect place to relax and unwind - drying room and boot room, roll top baths and comfortable sofas in front of a large log fire.
View house details and contact the owner direct
Property on the market for sale
Holiday houses are often sold as going concerns for a variety of reasons - usually because the owners are retiring or moving away from the area and are no longer in a position to run their self-catering property. When Which Cottage advertisers tell us that they are putting their holiday accommodation on the market for sale then we list it here free of charge. If you are looking to buy a holiday cottage then do check back here to see what's for sale - these very successful holiday cottages often have full forward bookings and the owners are able to show you past bookings so you can see the yearly income.
Running a holiday cottage isn't always easy but it can be very rewarding and profitable. Providing you are prepared to put the effort in, or find suitable local people to clean, meet and greet, and maintain the property and garden, then it can be a very good income source and an enjoyable business to run. Finding the right property for sale is essential - an area which is popular with holiday-makers or accommodation with special features or near a major attraction are good starting points. If you want to sell your holiday cottage and advertise it for free then please contact us and we'll list it here as for sale.