Rent a house in Scotland for longer term rental.
An idyllic cottage, virtually on the sea shore, available for longer term lets of 6 months or longer. Ideal for those needing to get away from it all. Excellent broadband speeds.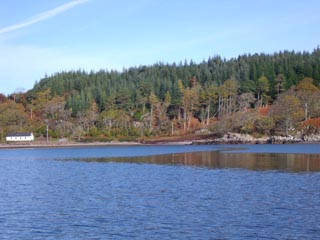 Sleeps 2. Open plan (1 kingsized bed). Strathcarron. No pets. No short breaks.
Longer-term tenant for minimum 6 months from October 2023
The Meeting House is only a few yards from the sea, with Kishorn Island and Skye in the distance. Originally built as a school, the building was completely renovated in 2018 to a very high standard of comfort and facilities. Applecross (via the famous Bealach na Bar), Skye, Shieldaig and the Torridon hills are all under an hour away. Kishorn Seafood Bar is within easy walking distance, and the NC500 route passes 1/2 mile away. Small boats / kayaks can be launched in front of the house, walking / birdwatching / photography opportunities are everywhere and the area is an artist's paradise.
View property details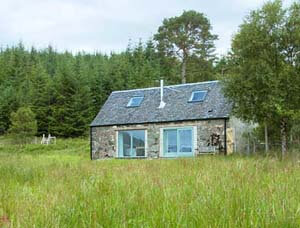 Bedrooms: open plan design incorporating super king bed. Sleeps: 2. Loch Kishorn. Short breaks. No pets.
Ardoch Bothy is available from Autumn 2023 for at least 6 months.

Ardoch Bothy is secluded but not remote. Inverness Airport is only 1½ hours' drive and there are several particularly good places to eat nearby. Recently converted, and equipped to a very high standard, the spacious open-plan design provides a cosy and pretty interior and large windows to take full advantage of the outstanding outlook to Skye and the Applecross hills across Loch Kishorn. The sea shore is only a couple of minutes' walk away. This is a stunning property.
View 6 month + rental details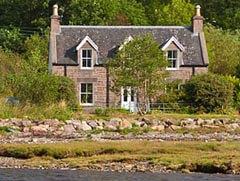 Sleeps 2. Open plan (1 kingsized bed). Strathcarron. No pets. No short breaks.
Longer-term lets - currently only available for 6 month plus rentals.

Gracie's Cottage is a beautiful old traditional cottage, virtually on the sea shore. All the main rooms look out over Loch Kishorn to the Applecross hills. Renovated about ten years ago, Gracie's is warm and very comfortable and is in an idyllic part of the west coast; beautiful scenery and sparsely populated but with a seafood cafe within walking distance, and several other good eateries within easy driving distance. Walkers can walk for miles straight from Gracie's, which is also ideally situated as a base from which to explore Applecross, the Torridon hills, Plockton and the Isle of Skye. Children can play safely on the beach in front of the cottage.
View property details
There are lots of houses and flats to rent for 6 months or longer throughout Scotland but it can be difficult to find rental properties that suit all your requirements. If you are looking for a house to rent then there are many things to consider. The main ones for most people are of course location and price - but if you have pets (particularly cats or dogs) then it can be hard to find houses available to rent that allow pets. However they do exist so don't despair! Rented accommodation varies considerably but there are some excellent country houses to rent in rural Scotland and quality family houses to rent too. Many people chose to rent a house before they buy, particularly if they are relocating to Scotland and don't know exactly where they want to live - renting is a very good option so you don't rush into buying a house in the wrong location.
Buy-to-let property has been a very popular form of investment in recent years and for renters this was good as the market became saturated with letting properties and hence the cost of renting came down. Things have of course changed with the recession and many of these rental properties have now been sold or are on the market. Most houses to rent in Scotland are let through a 6 month assured tenancy but of course many property owners are happy to rent for 12 months or longer to a good tenant and will just renew the tenancy agreement every 6 months. There are many legal requirements and responsibilities if you are a landlord and if you are renting your house for the first time make sure that you are familiar with them. Tenants need to ensure that they understand the Tenancy Agreement that they will have to sign before moving into the rented accommodation - it is always advisable to take legal advice.
One of our former self-catering cottages is now available on a long let. It is a 3 bedroomed, isolated cottage on the shores of Loch Lomond - you have to walk the last mile and a half to the property so not suitable for everyone! If you want total peace and quiet, perhaps to write a book or paint a masterpiece, then this is a perfect long term rental house.