Easter holiday breaks in Scotland 2022 - 2023
Scottish holiday cottages, lodges and big holiday houses are available for rent for Easter breaks, which means a three or four day long weekend for many people.
The Easter season in the UK is 40 days of lent and Holy week culminating in Easter Sunday – Scotland has different Bank Holidays - there is still time to book a quality self-catering cottage for an Easter break. There are a great variety of holiday cottages still available for Easter in all parts of Scotland. The Easter holidays are a great time to visit Scotland - it is still quiet, spring is on the way and the daffodils are flowering, trees are beginning to turn green and renting a Scottish country cottage will give you great freedom to explore it all. The school holidays for Easter vary and if you are looking for a last minute bargain (in March, April or May) then you are still in time to rent a holiday cottage for Easter in Scotland. There are plenty of traditional pastimes and activities to find in Scotland at Easter - this was traditionally a more important holiday then Christmas although we are in more secular times rolling Easter eggs and other Easter traditions are still celebrated. If you want a short break for Easter or a self-catering holiday cottage in Scotland for Easter then you will find some perfect cottages, castles and rental houses still available here. Come and enjoy this wonderful country of lochs, castles, glens and mountains.
When is Easter 2022?
Good Friday (bank holiday) is on April 15th 2022
Easter Day is on Sunday, April 17, 2022
Easter Monday (bank holiday UK *except Scotland) is on April 18th 2022
When is Easter 2023?
Good Friday (bank holiday) is on April 6th 2023
Easter Day is on Sunday, April 09, 2023
Easter Monday (bank holiday UK *except Scotland) is on April 10th 2023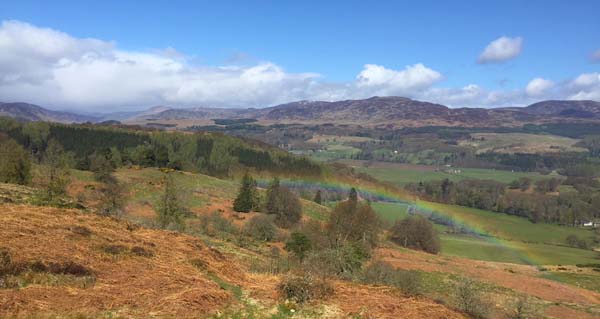 We have cottages for you for skiing, downhill and Cross country skiing are popular, as well as walking holiday breaks at Easter in Scotland. Many of the highland cottages have late availability or last minute availability at Easter, simply select a cottage and enquire directly to the property owner - you will soon be on your way to a great Easter vacation in Scotland. City breaks in Edinburgh and Glasgow accommodate tourists year round, but Easter is a fabulous time to stay in the capital city of Scotland.

If you want to advertise your holiday cottage for Easter on the site then go to
Holiday help information guides