Staying on the West Coast of Scotland - visit the Isle of Kerrera
Isle of Kerrera is reached by a short ferry ride leaving from just south of Oban - or of course arrive by sailing boat! Very popular for a day trip for walkers and people renting holiday cottages on the mainland to explore Scotland's West Coast.
Isle of Kerrera - Scottish Inner Hebrides.
Kerrara is lovely small island just off Oban, 6 miles long and 2 miles wide so easy to explore. It's a popular day trip for visitors as the foot ferry only takes 10 minutes from the mainland and there are some great walks, views and a castle too. A very tranquil and peaceful island - lots of sheep but very few people (the resident population is under 50). You can walk on marked trails in the north or south of the island or if you are wearing proper footwear then explore further afield in the rolling hills.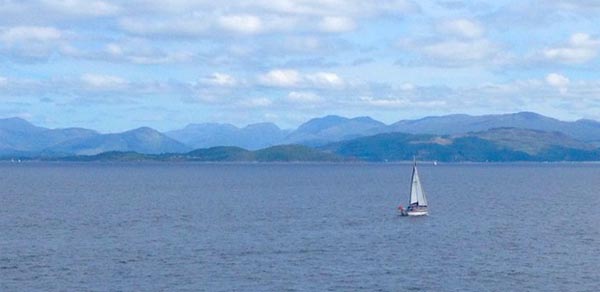 The Garden Tearoom makes for a perfect stop for lunch or tea - it is closed in the winter though and there are no other facilities on the island so don't forget to bring your sandwiches! Gylen Castle was built in the 16th century and is now a picturesque ruin which is open to the public following recent restoration - there are great views to Colonsay, Mull and Jura from the tower. If you're lucky you'll spot seals and otters, and Kerrera is a good place for birdwatching too.
Recommended holiday homes on Scottish Islands