St Andrews self-catering accommodation for golfing holidays or family vacations.
Stay in St Andrews
Think of St Andrews and 'the home of golf' probably comes to mind - or perhaps the famous university. Founded in 1410-11, St Andrews boasts the third oldest university in the UK, but there's much more to the town than that. St Andrews has a special place in Scotland's heart, for it was here that the relics of the Apostle were brought and why St Andrew is the country's patron saint. The town's ancient past is preserved in the layout of its streets. Follow in the footsteps of the thousands of mediaeval pilgrims who once came to the town's cathedral, which was consecrated in 1318 in the presence of Robert the Bruce. Now a ruin, the views from its tower are nonetheless breathtaking.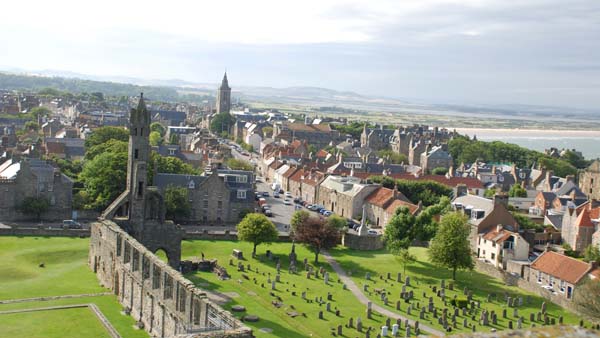 View from Catherdral Tower across St Andrews town, towards West Sands Beach.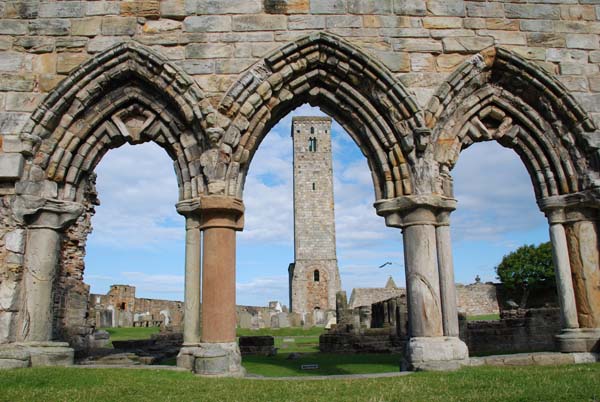 St Andrews West sands beach
Like the pilgrims, you'll need somewhere to stay and there's plenty of good quality self-catering accommodation in St Andrews. Spacious holiday houses overlooking the sea offer large groups of friends or families some stunning views; private gardens leading to the beach also make them an ideal place for children. Well-proportioned flats, conveniently located in St Andrews town centre, are the perfect places from which to explore the rest of what the town has to offer, not least the Byre Theatre, Scotland's only five-star arts attraction. From a range of luxury apartments, St Andrews self-catering houses and cottages - most with wireless internet access - you can visit the town's museum, the golf museum, the Botanic Garden and Town Hall, home to Fife Contemporary Art and Craft. The Craigtoun Country Park is an ideal attraction for families, with caravan and holiday accommodation available nearby. Just outside St Andrews, Scandinavian lodges set in acres of woodland offer you an idyllic retreat, or, if you're a golfer, the perfect place to relax after a hard day's driving on one of the town's 11 premier golf courses. Staying in St Andrews self-catering accommodation is very convenient and good value for money if you are coming on a golfing holiday in St Andrews.