Location of
Steading Cottage, Crieff, Perthshire
Bedrooms: 2. Sleeps: 4 (reduction for 2 people). Crieff 1 mile. Pets welcome. Short breaks.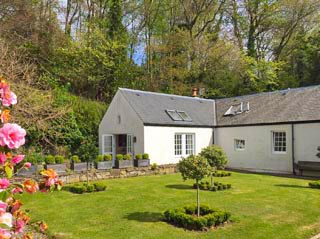 Use the controls on the left of the map to zoom in and out.
You can also drag the picture about with your mouse.
Holiday activities near Crieff and things to see around Perthshire
Visiting Crieff
Take a tour of The Famous Grouse Experience at Glenturret Distillery, Scotland's oldest traditional distillery. The Distillery is under a mile away from Crieff and is a five star visitor attraction, with an award winning cafe and restaurant run by Wilde Thyme serving local Scottish produce in a great atmosphere. There are plenty more distilleries within easy reach.

If you want to walk off your lunch - drive five minutes to Loch Turret and you will start your walk from a point that would have taken several hours to walk to! If you're feeling energetic, hike up the mountain for a great view - this is a very special place - our family favourite!

2 miles away, visit Innerpeffray Library Scotland's oldest library founded in 1680, the first free public lending library in Scotland.

Drummond Castle Gardens - the castle is not open to the public however the Gardens are among the finest formal gardens in Europe, they have featured in many films and adverts including Rob Roy. Just a mile form Crieff, the gardens back to the 17th Century. There are ancient yew hedges and the remaining beech tree planted by Queen Victoria, commemorating her visit in 1842. Children friendly - you can loose yourself for hours walking around the gardens with the peacocks roaming. A visit to the kitchen gardens and green houses is a must!

Fishermen can find tout and salmon fishing on lochs and rivers close by.

Go birdwatching all around! or at Loch of the Lowes Nature Reserve near Dunkeld - a freshwater loch where breeding ospreys nest close to the hide. Wildlife spotting is easy - Deer are commonly seen around the Steading, pony trekking is available in Crieff. Equestrian enthusiasts will love Gleneagles equestrian centre and Blair Atholl Horse trials.

Visit Comrie, just six miles away, a quaint town famously sitting on a major fault line, one of the oldest measuring sites is Earthquake House in the village. At Comrie Croft, a well established bike rental centre, there are trails for mountain bikers and a skills park, breathtaking views and rides to keep all ages happy all day long.

2 miles away Muthill has a golf course that almost guarantees you no waiting time. 6 miles away, Comrie has a very beautiful 9 hole golf course The Glen and river Lednock have a circular walk from Comrie village, with great views, and the dramatic Deils Cauldron waterfall.

An hours drive will take you to Glasgow, Edinburgh, St Andrew's (amazing beaches and of course famous for golf) or for Scottish retail to The House of Bruar at Blair Atholl, (visit Blair castle and gardens). For culture, Pitlochry Festival Theatre, Stirling Castle, Historic Scone Palace, combined with a visit to Dunkeld Cathedral and The Hermitage, a National Trust property, will keep you busy! There are lots of Gardens to visit in Perthshire.

Glenshee Ski Resort in the Cairngorms National Park is also an hour away, and Glencoe is about the same in the other direction. Great skiing in the winter months and a chairlift in the summer for hikers and those wanting incredible views.

Watersports are available on Loch Earn - sailing, windsurfing, water skiing - wet suits available!

There are artisan shops and art galleries to visit near by. Cafes and coffee shops, wine bars, pubs serving food. and restaurants, you will be spoilt for choice.

Tennis enthusiasts will love the use of the floodlit all weather tennis court in the grounds, and also the indoor tennis centre at Gleneagles (pay and play bookable a week in advance), just ten minutes away. Andy Murray's Hotel Cromlix is well worth a visit for afternoon tea - or dinner as a special treat!