Self-catering availability enquiries for
The Steading Cottage, Broich, Crieff
Bedrooms: 2. Sleeps: 4 (reduction for 2 people). Crieff 1 mile. Pets welcome. Short breaks.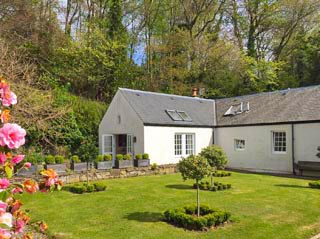 Special offers:
1st Week in December 2019 pre-Christmas break :-)
30 Nov 2019 - 07 Dec 2019
Was £560 Now £500
12% Discount given to 2 guests staying and requiring use of only one bedroom.

Minimum 3 night short stays

January, February £560 per week.
March, April and May £690 per week.
July and August £740 per week.
September and October £690 per week.
November and December £560 per week, except Christmas and New Year (Hogmanay) weeks

Rentals are normally from 4 pm to 10 am. Weekend and short breaks are often available.
There are no extra charges - electricity, linen, logs, welcome pack etc are all included in the price.

Interactive online booking is available for this property - Click Book online

What people say:

We had a wonderful stay at Steading Cottage, a spacious, immaculate cottage, we felt spoilt from the moment we walked in to the warm and welcoming cottage. Everything was there for us - even show shoes for our car :-).

We hope to return and would love to rent a classic MG in the summer - what a fabulous thing to offer.

We feel truly blessed, you have become our Scottish family and Steading Cottage is our Scottish retreat, a place that we long to return to. The wildlife was amazing and the courtyard so quiet and such a sun trap, we love the long evenings relaxing there.

I feel that we have discovered a 'jewel' in Scotland. The setting is perfect for us and the accommodation is totally great! Thanks for your hospitality. I hope we meet again.

Spacious and sumptuous, a very special place to stay. Thank you, we hope to return very soon.

We want to stay longer - we would if it was empty next week. Delightful owners, and a wonderful cottage with everything you could possibly need. First class accommodation - we will certainly revisit.

So nice that we were welcomed as a couple to this large holiday cottage - very suitable for a family or a couple, the web page does not do it justice - it is wonderful.

Thank you for the use of your lovely cottage, it was everything you said it was and more, and yes, you were right, the pictures do not do justice. You have decorated it beautifully, and made it very welcoming and homely, (the cake just blew us away) I do hope we get the chance to return sometime, and I would happily recommend it to anyone we know.
Perfect holiday in the perfect place - thank you for the happy memories.

This is our fifth stay at Steading Cottage - it has everything ... and more!

The most relaxing holiday - an oasis of calm with so much to offer. Everything is within easy reach and a week was not long enough. The cottage was very well appointed - many extra touches, very comfortable and very clean with freshly ironed cotton bed-linen and flowers in every room. Wonderful views form the sun soaked patio - we will never forget that mountain view. Very much hope to return and would recommend without hesitation to anyone looking for a holiday cottage in Scotland.
Read more
Interactive calendar - this facility is not available for every property
Select number of nights - Hover over dates for prices - Click date to book online!