Fort William tourist information
Fort William sits on Scotland's beautiful west coast and is considered to be the largest town in the Highlands and the self-styled outdoor capital of the UK. Stunning beaches, glens, mountains, forests and lochs are all in easy - or perhaps not so easy - reach. Whether you're going to climb Ben Nevis, hike along the West Highland Way, visit the mountain resort of Glencoe or simply relax in the local surroundings, there's more than enough for you to do and places for you to stay. Fort William gets very busy in summer and has always been popular, and numbers of visitors have swelled even further in the wake of films such as Braveheart, Rob Roy and Harry Potter. Mountain biking in particular is a very popular pastime, and self-catering accommodation is available close to Fort William's downhill mountain biking tracks at Nevis Range.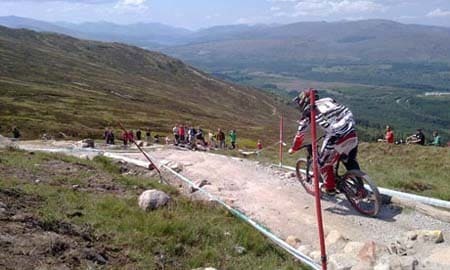 Outdoor activities near Fort William.
Accommodation in Fort William includes quality chalet which are quiet and secluded; perfect for active or restful holidays. Converted croft byres (small stone houses) mix tradition and luxury, with real log fires and underfloor heating - perfect after a day's whitewater rafting, canoeing, kayaking, quad biking or even ice-climbing in this outdoor capital of Scotland! Fort William self-catering accommodation with room enough for 8 or more offer convenience and stunning views of Loch Linnhe, around which chalets, caravans and four-star lodges immerse you comfortably in the wild and rugged landscape. A few miles from the town centre, the not-so-wild gardens of a quiet highland holiday cottage can also be yours to enjoy and for those looking for a truly natural experience, camping sites along Loch Linnheare available with free fishing should you want to catch your own dinner. Alternatively, there are numerous places to eat and drink, from traditional pub fare to takeaways you can enjoy in the comfort of your self-catering cottage near Fort William.