Self-catering accommodation in Castle Douglas.
Holiday activities when staying in Castle Douglas
The quiet market Galloway town of Castle Douglas is now Dumfries and Galloway's 'Food Town'. It is an unspoilt historic market town which is situated in the heart of rural Galloway, in the south west of Scotland. If you are staying in or renting a holiday cottage in Castle Douglas then you are spoilt for choice for food shopping - wonderful delicatessens, butchers, fishmongers and bakers offer a great range of local food and speciality produce. There are also excellent restaurants and cafes - great if you are selfcatering and don't want to cook. It is a charming town with a superb range of independent shops (not just selling food!) and the Castle Douglas Food Festival is a great event and well worth visiting if you are on a self-catering holiday in Galloway.
Cottages to rent in Dumfries and Galloway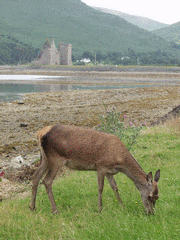 Castle Douglas is a perfect centre for a Scottish break - it is 6 miles from Dalbeattie, 15 miles from New Galloway, 14 miles from Gatehouse of Fleet and 9 miles from Kirkcudbright. Its central location make it a great base for a holiday where you can explore all that Galloway has to offer. There are some excellent holiday cottages near Castle Douglas suitable for family self-catering holidays and also for romantic weekend getaways! Nearby Threave Gardens (run by the National Trust for Scotland) are fascinating to visit and the restored kitchen garden is wonderful - also Threave Castle (long associated with the Black Douglas) is a fascinating historical site - the rowing boat trip to get there is usually a great hit with children! Castle Douglas is in many ways how Scottish towns were in bygone years - small shops, a strong farming community, local food producers and friendly people. Renting a Castle Douglas self-catering cottage means you can enjoy this relaxing way of life, whilst being close to hand to lots of wonderful things to see and do.

If you are staying near Castle Douglas on self-catering holiday then this part of Galloway has a wealth of outdoor activities - sailing on the Solway Firth, all manner of watersports at Loch Ken, and great walking and cycling everywhere! There is a wildlife conservation park at Kircudbright where you can see Scottish animals such as wildcates and other non-native species; and the Galloway Kite Trail offers amazing opportunities to see magnificent red kites. There are lots of riding stables in the Castle Douglas area and trekking is a great way to see the stunning countryside. Cream o' Galloway Visitor Centre is very popular with children and the karts and woodland adventure playground are bound to be a hit - older holidaymakers will enjoy the delicious icecream which is made there! Staying in a Castle Douglas holiday cottage in this unspoilt part of Scotland offers a great holiday location for all ages.