Large houses to rent close to the historic spa town of Moffat
Big places to stay in Dumfries and Galloway, South West Scotland
This property entry is no longer available in this collection and this entry due to expire - please try a property above
A large exclusive-use Georgian mansion set within the secluded privacy of a Dumfries-shire country estate in the southern uplands of Scotland, easily accessed from north and south. Many activities can be provided on estate grounds by fully qualified instructors. These activities must be booked in advance and include archery, picnics with Alpacas and mini Highland Games Events - lots of fun for all ages!
Dumcrieff House is now available for Small Intimate Weddings for up to 20 guests. Contact us for our day rate for "Weddings Only" or including our "Exclusive Private Chef." Midweek Discounts available. Rolls Royce Phantom collection from home service by arrangement.
Dumcrieff House is a stunning Georgian mansion set within the secluded privacy of a country estate surrounded by beautiful countryside, away from noisy roads. In the southern uplands of Scotland, the location is easily accessed from north and south. Only five minutes' drive from the historic spa town of Moffat, which has many good shops, pubs and restaurants.
The surrounding area offers some great opportunities for walking. The Southern Upland Way, a 212 mile footpath between Portpatrick on the Galloway coast and Cockburnspath on the east coast of Scotland, runs through the outer edge of the estate's own woodland on the east side of Moffat Water. There are also some great country walks in Craigieburn Forest which is about a mile from Dumcrieff. Cyclists will be happy too. There are many local cycle routes both on the 'all purpose road' alongside the M74 between Lockerbie and Abington, as well as the quiet country roads around the estate and Moffat. 7stanes - Ae Mountain Biking Trails – is nearby and a great draw for mountain bike enthusiasts.
Dumfriesshire has about 30 golf courses and Moffat Golf Club, which is 3 miles away, welcomes visitors and fishing can be booked on the Upper Annan just half a mile downstream from Dumcrieff House.
There are a host of activities which can be provided on estate grounds by fully qualified instructors. These activities must be booked in advance and include picnicking with Alpacas laser quest, kayaking, archery and Mini Highland Games Events. Croquet can set up on the front lawn during the summer months - lots of fun for all ages!
Alternatively you may wish to just put your feet up and watch a movie, take a gentle walk through the estate grounds, breathe the fresh air and enjoy the privacy, peace and tranquillity.
Sleeps - 18
Bedrooms - 9
(7 elegantly appointed doubles, 2 spacious twins)
Bathrooms – 6 bath/shower rooms
2 dishwashers
Utility room with washer and tumble dryer
American fridge/freezer and larder fridge
Everhot cooker and microwave oven
Large flat screen TVs in kitchen,
games room and drawing room
Large selection of DVDs
Free Wifi
Sky Cinema & Sky Sports
Snooker room with full sized table
Reception hall with baby–grand piano
Small games room with air football and table
hockey
Central heating
Wood burning stoves in the drawing room
and reception hall
Cot and high chair available
Private garden
Large charcoal barbecue and outdoor furniture
Additional services available including catering,
private chef, butler, housekeeper, Scottish piper,
magician, casino nights, murder mystery event
No pets
Minimum stay 2 nights
Moffat – 2 miles
Glasgow and Edinburgh airports are each just
over an hour's drive
Lockerbie Station – 12 miles
M74 Motorway J15 is just 4 miles from Dumcrieff
Pubs and restaurants in Moffat – 2 miles
Golf – Moffat Golf Club - 3 miles,
30 courses to choose from in Dumfriesshire
Walking
Cycling
Mountain biking
Picnics with Alpacas
Fishing
Axe throwing, archery and airgun sessions
Kayaking
Archery
Mini Highland Games events
Bushcraft Skills Taster sessions
Flying lessons – Carlisle Airport
Accommodation:
Dumcrieff House is a luxurious mansion set in stunning private grounds near Moffat in Dumfries and Galloway. It accommodates up to 18 guests and can be enjoyed partly or fully staffed or self-catering.
The mansion is tastefully and stylishly decorated throughout with period furniture, beautiful fabrics and great attention to detail. The main reception rooms are all extremely well appointed. The reception hall has a baby-grand piano and the drawing room is spacious and elegant. The dining room can comfortably seat 18 guests. There's a small Games Room with table football and air hockey. Additionally the Snooker Room has a full size table with snooker and pool balls.
The kitchen has two large fridges, a larder fridge, freezer, two dishwashers, a microwave and an Everhot cooker. However, if you prefer, staff can be provided and you can enjoy the services of bespoke catering, a private chef, butler, housekeeper plus a range of additional services such as a florist, chauffeur, magician and even a Scottish piper.
In total there are nine bedrooms: seven elegantly appointed double bedrooms, some with four poster beds, and two spacious twin bedrooms. Luxury linen and towels are included in the rental price. Altogether there are six bathrooms including: four shower rooms, one with bath only and one with a shower and a bath.
There's a TV and DVD player in the drawing room with SKY. The games room and kitchen also have TVs and free WiFi is available in the main rooms. There is 4G throughout and Vodafone and O2 work very well. Most other networks have partial reception. The property is centrally heated and during winter, wood burning stoves in the reception hall and the drawing room provide additional warmth.
Outside the grounds include woodland, lawns, fields and the adjacent river. Relax and enjoy alfresco dining during the summer months with a BBQ and garden furniture. Or maybe you would like a game of croquet on the lawn. Other outdoor activities can be pre-arranged. There is ample parking for guests' cars on the gravelled drive, next to the house.
Directions:
Dumcrieff is 2 miles from Moffat, 4 miles from J15 on the M74 – full directions provided on booking.
What's included:
Electricity, oil central heating and logs for the stove.
Linen and towels
Unlimited Broadband, SKY TV
Caretaker on call 24hrs
Cost and availability:
Change over day is flexible
Check in time is 4pm and check out time is 12 noon
Minimum stay 2 nights
To book this exclusive-use country mansion in southern Scotland, please click the enquiry button below to see availability and prices.
Dumcrieff House, Moffat, Dumfries and Galloway, DG10 9QW Scotland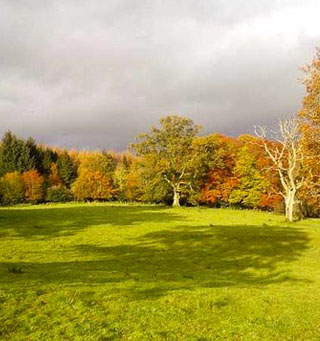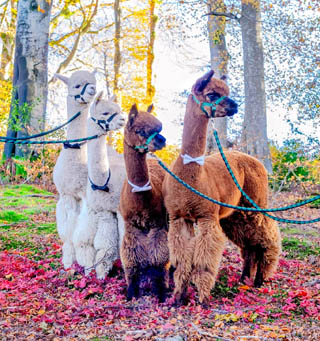 Exclusive-use Scottish mansion
This stunning Scottish mansion house is located on a small estate in beautiful Dumfries-shire countryside. It's perfect for a celebration with friends or family - a spacious and elegant house with beautiful rooms and staff can be provided if you don't want to self-cater!
TESTIMONIALS
80th Birthday Celebrations
5/5 Left on Oct 15, 2019 for a stay in Oct 2019
An amazing house in a beautiful location. The memories we made on our Mum's 80th birthday will last a lifetime and we will never forget our stay at Dumcrieff house. Bedrooms & bathrooms are all unique and a good size, dining room perfect for our large party. Would stay again without any hesitation.
Perfect weekend away for large groups
Left on Sep 23, 2019 for a stay in Sep 2019
Great place for large groups. Beautiful surroundings, with river running nearby. Rooms are lovely, large and feel luxurious.
Hen party at Dumcrieff House
Rented Dumcrieff House for 2 nights for my sister's hen party. We also booked gin tasting and a murder mystery night through the owner, Philip. The whole weekend was so much fun! Everyone was so impressed with the beautiful property and grounds. The owners were lovely, efficient and on hand any time (even though we didn't need to contact them). The gin tasting was a great way for us all to get to know each other and the murder mystery was really fun and hilarious! None of us wanted to leave! Thank you so much, Lindsey 06/23/2019 at 7:32 PM
Left on May 16, 2019 for a stay in May 2019
We had a two night stay for a henny weekend. We found the house very clean and the size of the house perfect for our 18 guests. Dumcrieff House is in a wonderful setting which was all the more enjoyable for us as the weather was beautiful. The bedrooms were large and the beds very comfortable and made up with lovely linen. The towels were also luxurious. We had the butler service for the Saturday which was great .... saved us doing all the washing and tidying up. We also had a chef come in on the Sat evening to cook dinner which everyone enjoyed. All in all it was a great weekend.
65th Birthday Celebration
House is stunning as are the rooms. Tranquil location in a lovely part of the country beside Moffat Water and within easy reach of the town. Butler and chef enhanced our weekend beyond all expectations. Highly recommended.
21/04/2019 at 6:48 PM
Fantastic house, relaxing and spacious
We had a wonderful short stay at Dumcrief House to celebrate a family birthday. 13 guests ranging in age from 7 to 76. The house is absolutely beautiful in a tranquil spot just outside Moffat. Kitted out with everything you could possibly need including a snooker table, table football, piano and plenty of DVDs. Wood burners gave a real cosy feel. We are already trying to find time for a repeat visit. Definitely recommend this house.
03/04/2019 at 7:31 PM
A wonderful and relaxing weekend with family
By Sharon M. 7-Dec-2018
We booked Dumcrieff House for a surprise 70th Birthday weekend for my Dad. He was blown away as were we all by the house and it's surroundings. The kitchen was very well equipped, every bedroom was gorgeous and the beds all very comfortable. There was so much to entertain ourselves with. A full sized snooker table, a games room, a massive dining room and cosy sitting rooms with wood-burning stoves all made the perfect family getaway...just wish we could have stayed longer! Will definitely book again.
Amazing House, all you could need, very well kept. 10/10
By Dave McGeachan on 19-Jul-2018
Really great two nights to celebrate my 50th Birthday. The house has everything you require, plenty of utensils etc, and only 30 min walk into Moffat. Lovely and perfect place to spend some time with friends and family.
A beautiful period home which was grand and comfortable for our family celebrations By Janet P on 1-Oct-2018
From the early planning to the actual weekend, Philip took so much care of us to ensure we had a family celebration to remember for my parents' diamond anniversary.
The house was perfect and furnished with amazing antiques while retaining a comfortable home feeling. Every room was well equipped though we brought many of our own kitchen equipment with us.
We stayed just after Storm Ali had passed through which downed trees, temporarily blocking the drive before we arrived and bringing down the phone lines meaning no wifi until Sunday afternoon. But Philip dealt with clearing access and kept us posted about the internet and we enjoyed having no distractions.
We booked a butler for one day and he was fantastic. Duncan quietly kept everything running smoothly and having someone to deal with washing dishes and glasses was well worth it so we could relax after meals. There was plenty storage in the kitchen and pantry, necessary as we chose to bring everything for all meals and drinks with us for the long weekend. There is a small co-op and a range of individual shops in Moffat or a 30 min drive to Dumfries where you can find a range of larger supermarkets and specialist food shops to choose from.
We enjoyed walks around the grounds and along the Southern Upland Way which passes near the estate and watched deer on the front lawn in the evening. Due to the earlier weather we couldn't play croquet and the fallen trees stopped games on the lower lawn but the billiards, table football and air hockey provided plenty of entertainment in the evenings after dinner. There are plenty TVs around the house with Sky but we never switched them on.
The location is ideal, close to the motorway but far enough not to hear or see traffic. This house is made for family celebrations or get-togethers and we will certainly consider staying here again.
Family Party For A 50th
By Mike S on 20-Feb-2018
An absolutely fabulous weekend was had with 3 generations of the family all equally wowed by the surroundings. The property managed to be both grand in size but cosy in feel. The kitchen was well equipped with sufficient fridge space to house the food mountain we brought with us. The level of cleanliness was exceptional throughout and the towels and linen were of a high standard. The pictures don't really do the space justice, each bedroom is huge and offered amazing views over the trees in their autumnal glory. The bench outside was used for afternoon tea with the noise of the river in the background adding to the calming nature of the place. The owner Philip was very helpful with the pre-party arrangements putting us in touch with local kennels, chefs and cleaners. All in all a brilliant weekend and a fabulous property for a party.
Magical Find
By Claire S on 13-Feb-2018
Having booked Dumcrieff House for my sisters hen do, this place and Philip surpassed all expectations ! Philip was excellent at communicating throughout my booking and on arrival, making us feel welcome and explaining everything thoroughly. Now onto the house, words cannot describe how impressive it is! All our guests could not believe the size and quality of all the rooms in the house. We also booked the outdoor activities and the chef, both services I would highly recommend. Overall this place is a total one off, and I can't wait to go back again in the future!
Stunning Property And Great Hospitality
By Matthew J on 07-Sep-2017
From start to finish we had a fantastic 4 day stay at Dumcrieff House. Philip was an incredible host, supporting us with our holiday planning and making introductions to local experts to help us with various activities we were looking for over the weekend, from fly fishing lessons on the Annan to a whisky tasting at the property. We were delayed on arrival due to traffic so Philip and his wife went to the property to let in our grocery deliveries and packed everything away for us so all was in order when we arrived - such incredible service and warm hospitality! We had 17 staying but there is so much room you always had your own space. The facilities are fantastic and we had everything we needed. What better way to spend a Summer evening in Scotland than barbecuing local angus steaks outside the snooker room on the Dumcrieff House terrace, surrounded by woods and pasture with the River Annan running by. Many thanks again Philip for your hospitality, I can't recommend Dumcrieff House enough.
Opulence Galore
By Gill W on 12-Jun-2017
This venue is just amazing. I only wish I could give it 10 stars. It is huge, the rooms are large and well decorated and the bathrooms are fully modernised and luxurious. Everything you need is there and in our case that included the weather which meant we could enjoy the beautiful outside spaces. I would highly recommend.
Brilliant Weekend
By Tauty on 06-Jun-2017
We are a group of 8 couples approaching retirement age. We have stayed at Drumcrieff mansion for a long weekend for the last 5 years. Wonderful house with everything you need for a fabulous break. The house is immaculate and the owners make sure there is everything you need for a wonderful break with family and friends. We will be returning again in 2018 for our 6th visit can,t wait xx
Special Birthday Celebration
By Ian S on 31-Jan-2017
We have just spent THE MOST enjoyable, memorable and luxurious weekend of our lives. We booked Dumcrieff House to celebrate my wife's 50th birthday with our close friends and family - our expectations of the weekend were surpassed in every way possible. Philip and Ian helped with planning the weekend in great detail and helped me to make this such a wonderful experience for my wife. The house, food, rooms, welcome, surroundings, planning and the warmth and support of Ian and his wife - nothing could have been better or improved, everything was just perfect. Thank you also to everyone who came, what a wonderful weekend and amazing memories to cherish. No hesitation in rating this wonderful house and our stay as excellent.