Self-catering availability enquiries for
Dunskiag Farmhouse, Aberfeldy, Perthshire
Bedrooms: 4 - king 1, double 1, twin 1, single 1. Sleeps: 7/9. Short breaks. 1 dog welcome.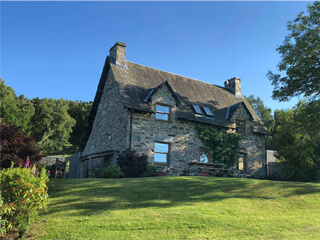 Please scroll to under prices for TESTIMONIALS

PRICES to rent Dunskiag Farmhouse per week:

Jan-04 to Feb-14 £910
Feb-15 to Feb-21 £1,187
Feb-22 to Mar-28 £910
Mar-29 to Apr-25 £1187
Apr-26 to May-16 £910
May-17 to May-30 £1,187
May-31 to Jun-20 £910
Jun-21 to Jul-11 £1,187
Jul-12 to Aug-22 £1,353
Aug-23 to Aug-29 £1,187
Aug-30 to Oct-03 £910
Oct-04 to Oct-24 £1187
Oct-25 to Dec-19 £910


Christmas £1929
New Year £2036

SHORT BREAKS NORMALLY FRI-SUN (3 nights) OR MON-THURS (4 nights) @75% COST OF RELAVENT WEEK, PLEASE CONTACT US FOR AVAILABILITY AND TO DISCUSS LAST MINUTE DISCOUNTS (!!), THANKS.

Unedited feedback from the visitor's book since 2007 (all echo the same enthusiasm):

"wonderful holiday – thanks" MP: Kenilworth, Warks

"fantastic house, with beautiful views. We really enjoyed our stay. Thanks! PS we really enjoyed the fresh eggs. B will miss the chickens – not sure they will miss him." DP, St Albans, Herts

"Everyone enjoyed the house. The views, the walks and the hospitality. Thanks" JL, Berkeley, Glos.

"Stunning farmhouse with fantastic views. Enjoyed the hot tub, the chickens and the mountain biking. Worth visiting the butchers, the falls, the Watermill" JD, Manchester

"Stunning, fantastic – words fail me. Very welcoming and perfect for all the family. I cannot recommend the cottage highly enough" S Mellieha, Malta

"Excellent, will come again! Go off road driving – brilliant fun even in the rain!" IL, Ipswich

"Absolute perfection!" ML, Kilmun, Scotland

"Fab house, Stunning views!! Hot tub was great about dusk time: Excellent holiday for all the family with plenty to do and great to come back and relax in comfort" CK, Wychwood Park, Cheshire

"Great family home – plenty of space. Has everything you need. Stunning views. Hot tub was fantastic. Good time had by all. We'd recommend to others and we'll be back soon. Thanks a lot!" PP, Glasgow

"Fantastic Holiday, lovely house & views. Thank you" (SB )

"Perfect in every way. Thank you so much! The memories will linger as we travel elsewhere." (E&E )

"What a Christmas, we all loved this place. A wee tip...next time not so much snow (18 inches!) Thanks so much for the dig out!! Although we would not have grumbled if you'd said we could stay!! The fireworks & bonfire were a bonus and so much appreciated. we will be back!"

"Such a wonderful place we were tempted to almost not go out! Except to the hot-tub. Congratulations on keeping such a great resting place." (AP)

"Everything exceeded our expectations" house, grounds, location, hospitality! The personal touches (welcome pack, eggs, rolls etc) were the icing on the cake. We would love to come back again. Thank you!!" (NR)

"Thanks for a truley wonderful week in a beautiful house, in a great part of the world. Your hospitality was wonderful." (JM)

etc etc etc !!!!!
Read more