Location of
Tigh Beg Croft, Oban, Oban
Bedrooms: 3 - 1 double, 2 twins. Sleeps: 6. Oban. No Pets.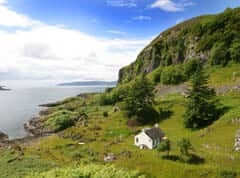 Use the controls on the left of the map to zoom in and out.
You can also drag the picture about with your mouse.
Holiday activities near Oban and things to see around Oban
Top Things to Do at Tigh Beg: -

1. Nothing. That's the idea. It is the most remote cottage on the Western Shores of Oban and away from everything which is why it's so popular

2. Fishing. Guests of Tigh Beg have fishing rights from the shore of Loch Feochan. Equipment can be bought or hired from the Anglers Corner in Oban

3. Golf. Glencruitten Golf Course. An incredibly well kept 18-hole inland course 6 miles away. A short hilly course with a lot of par threes and blind holes so quite tricky but with incredible views

4. Tigh Beg has its very own pebble beach, but for a sandy one - Ganavan Sands - 8 miles north of the croft

5. Cycling - with an abundance of cycle paths from forest to coastal, what is not to enjoy? Ganavan Beach to Dunstaffnage - a nice short and swift ride, or, continue on to Fort William on cycle tracks the whole way.

6. Horse Riding. Teang-Bhuidhe Riding Centre (yep, you try and pronounce it!), Glencruitten, Oban

7. Kayaking. On the shore of Loch Feochan, it would be rude not to.

8. Nature Watching. Eagles. Sea Eagles. Otters. Seals. Deer and sheep .... what's not to love?

9. Boat Trips - Coastal Connection. Based in the Glen, the boys know these waters like the back of their hands. Excellent Value. Contact Information in the Croft

10. The Seafood Temple - very small and intimate family run restaurant (booking essential) serving seafood caught that day and cooked in front of your own eyes set against the most breathtaking backdrop. If you are lucky enough to experience the sunset here - your life is complete.