Location of
Rannawa Cottage, Portessie , Moray
Bedrooms: 1. Sleeps: 2/4. Pets welcome. Short breaks.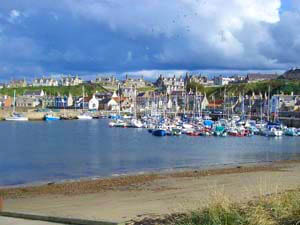 Use the controls on the left of the map to zoom in and out.
You can also drag the picture about with your mouse.
Holiday activities near Portessie and things to see around Moray
Rannawa Cottage owners personal top recommendations when visiting Portessie
Visit the nearby Dolphin Centre in Spey Bay - and hopefully catch sight of them or take a dolphin-watching boat trip into the Moray Firth.

Walking - great coastal walks from the doorstep and lots of country and hill walks close to the cottage.
Excellent places for off road cycling or on quiet country roads.

Golf - 5 superb golf courses within a 5 mile radius.

Visit some of the distilleries on the Malt Whisky Trail running through the beautiful Spey valley. It's also fascinating to visit the cooperage near Aberlour and watch them make barrels for the whisky in time honoured fashion.

Fishing - sea fishing as well as on lochs and rivers (with the nearby River Spey one of the top salmon rivers in the world).