Location of
Neidpath Castle, Peebles , Scottish Borders
Bedrooms: 3 - double 1, twin 1, single plus extra pull out bed 1. Sleeps: 5 +1. Pets. Short breaks available.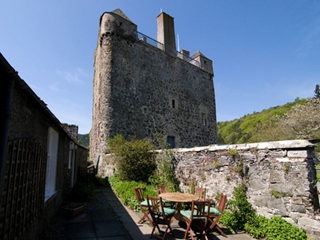 Use the controls on the left of the map to zoom in and out.
You can also drag the picture about with your mouse.
Holiday activities near Peebles and things to see around Scottish Borders
Owners top things to do when staying at Neidpath Castle Cottage
1. Arrange an exclusive tour of Neidpath Castle, with the caretaker.
2. Walk the 'Tweed Walk' - an idyllic 7 mile circuit path from Neidpath, beside the river.
3. Stroll down to Peebles to 'Cocoa Black' - for award winning chocolates and cakes.
4. Have lunch or supper at the delicious deli, 'Coltmans'
5. Book a spa treatment at Stobo Castle.
6. Visit the Parthenon Frieze, in the Tweedale Museum.
7. Get lost in the maze at Traquair House, and come home with bottles of Real Ale, brewed there.