Self-catering availability enquiries for
Fiddle Hill Cottage, Priestrig Croft, by Hawick
Bedrooms 2 (superking, 1 bunks). Sleeps: 4. Near Hawick. Short breaks. Dogs welcome.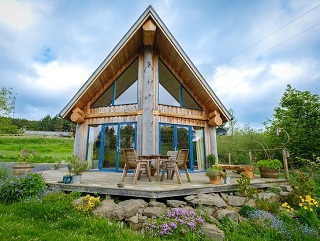 Fiddle Hill Cottage holiday rental prices: July and August weekend 3 nights from Friday £450, mid week 4 nights from Monday £400 week from Friday £735. Christmas £805, New Year £805.
April - June and Sept./Oct. weekend 3 nights from Friday £360, mid week 4 nights from Monday £360, week £600.
Nov-March weekend 3 nights from Friday £360, 4 nights mid week from Monday £300, week £500.

'How lovely to wake up in a tree house with the sound of birds and sheep. A truly magical place, at one with nature. Every detail has been thought of, Bill and Sukie have created a very special place'. Simon and Liz June 2018.

'We have arrived and all I can say is wow we've fallen in love. You've made a beautiful job of it all. Looking forward to our weekend now, although it's not going to be long enough'. Sue and Neil (who have already booked 2 more stays) May 2018.

'We fell in love the moment we arrived, such a lovely warm friendly welcome from Bill and Sukie. We got to taste Sukie's delicious baking and cooking - we would recommend trying the natural, local produce - the smoked salmon is to die for. Such a beautiful place, with all the fine little details. It is the most comfortable bed we have ever slept in and I wish we could take it home with us'. :) 5 star Felicity and Stephen April 2018

'Fiddle Hill Cottage - WOW!! The attention to detail is wonderful and certainly makes you feel that you are somewhere 'special'. The feature bed is spectacular. We will be back'. Dawn and Chas April 2018.