Self-catering availability enquiries for
Fiddle Hill Cottage, Priestrig Croft, by Hawick
Bedrooms 2 (superking, 1 bunks). Sleeps: 4. Near Hawick. Short breaks. Dogs welcome.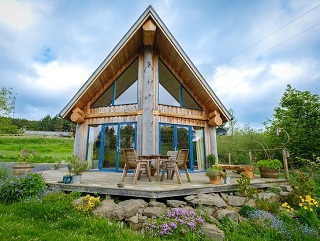 Special offers:
£50 discount off any stay in June.
11 Jun 2018 - 29 Jun 2018
Was £360 mid week, £550 Now £310 mid week, £510
Fiddle Hill Cottage holiday rental prices: April - June and Sept./Oct. Weekend 3 nights from Friday £360 mid week 4 nights from Monday £360, week £550.
July and August week from Friday £735. Christmas £805 New Year £805.
Nov-March weekend 3 nights from Friday £360, 4 nights mid week from Monday £300, week £450.

We fell in love the moment we arrived, such a lovely warm friendly welcome from Bill and Sukie. We got to taste Sukie's delicious baking and cooking - we would recommend trying the natural, local produce - the smoked salmon is to die for. Such a beautiful place, with all the fine little details. It is the most comfortable bed we have ever slept in and I wish we could take it home with us. :) 5 star Felicity and Stephen

We've felt very privileged to be your first guests at this amazing 5 star place. The views from the huge windows, the warmth of the log burner and the enormous bed, books and board games, we had everything we needed right here, enjoying great days out walking and to the top of Fiddle Hill to admire the views and fly kites. Steve Katie and family.

We have arrived and all I can say is wow we've fallen in love. You've made a beautiful job of it all. Looking forward to our weekend now, although it's not going to be long enough. Sue and Neil who have already booked 2 more stays!