Self-catering availability enquiries for
Brachkashie, Whitebridge, Nr Loch Ness, Inverness-shire
Sleeps 5: 3 bedrooms - 1 kingsized/twins, 1 twin, 1 single. Fort Augustus. Sorry - no pets.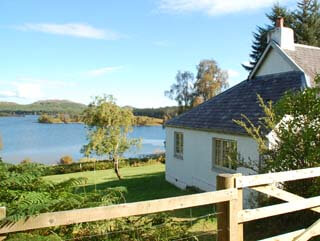 Brachkashie Cottage Self-catering rental rates:

2019 Prices
£1150.00 per week - Low season
£1250.00 per week - High season July & August
£875.00 3 nights (min stay) during low season.
£1295.00 Christmas & New Year (weekly rate).

Brachkashie Cottage has just been awarded a 'Certificate of Excellence' on Trip Advisor.

Testimonials

Beautiful, peaceful, stylish.
Joe Still & family 11/07/2015

Brachkashie Cottage is even more beautiful than the photos suggest. Everything was as described, and better. The surrounding area is so beautiful and tranquil. Inside the cottage the design and little touches made all the difference; very stylish, clean and welcoming.
Catherine made the whole booking process very easy and was so helpful. I would highly recommend this cottage to those looking for a peaceful retreat.
Loch Knockie itself is wonderful and the famous Loch Ness is a short drive away, through beautiful scenery. It is also walking distance for those needing fresh air and exercise.
We hope to return one day.
Ian Cameron and family. 03/06/2014

Superb Cottage in an awesome (remote) location.
The Dale family. 26/07/2014

We had a really great stay at the cottage. Remote and tranquil it was the perfect place to relax and chill out. The cottage is well appointed and the owners were super friendly and helpful.
Being right on the Loch was tops and we will definitely be headed back there in the future.
Sue Blake 28/08/14

On arrival the cottage looks traditional and unassuming, but on walking through the door you are welcomed by a newly renovated and contemporary, yet cosy interior. The furnishings are comfortable and stylish and the kitchen is well stocked with all the necessary appliances for modern living and cooking. The most memorable part of our holiday was found beyond the cottage, which is stunningly situated on the edge of its own private loch. The trips out in the boats onto the water were the highlight of our stay. I think you could visit at any time of the year and enjoy this special location.
Marlowe Family, Hove, Sussex
November 2015

What a very special place…tremendous views over Loch Knockie at the end of your garden.
With a feeling of remoteness & yet accessible, this beautifully furnished bijou house sits perfectly overlooking the loch at the end of the garden. Great layout with all the mod cons - beds are sumptuous with amazing pillows, bags of hot water & seasoned wood to feed the hugely efficient wood burner, what more could you want! Walks and bicycle trails on the doorstep & nature everywhere - make sure you bring some binoculars! The visitors book read like something from the United Nations so visit now before it becomes too popular!
J Molseley, Hampshire
November 2016

Very enjoyable stay of a week and looking forward to our next visit (which is already booked). Wonderful setting overlooking Loch Knockie and use of rowing boat an added bonus. Excellent facilities in the house; warm and comfortable.
Chris Convine - Stayed October 2016

I visited the property with my husband and 5 year old son. Absolutely loved the property, we had an amazing stay. The property sits on a plot with a near identical cottage next door sharing a beautiful garden and private Loch - we would love to return one day with another family for the perfect group holiday. Can't recommend it enough. Hosts were brilliant throughout.
Thank you for having us!
Nicola Wyatt / London - Stayed 2nd - 8th April 2017

Date of Stay
22 Jul 2017
Catherine's place was perfect for our week-long family getaway to Scotland. While staying at Brachkachie we did not need to drive long distances in order to explore Scotland. At Brachkachie, everything is right at your doorsteps. We (a family of 4, two boys, 8 and 10 years old). We would usually go for a little hike, paddle on Loch Knockie, do some fishing right from the shore or from the rowing boat provided... we also loved the picknicks on the small island just a couple hundred yards away from the shore. The cottage is perfectly equipped - from the kettle to the Nespresso coffee machine to the huge stove to the fireplace. The tech savvy even finds a bluetooth speaker to play the sounds stored on his cell phone... That's about the standard that Catherine sets at Brachkachie. We absolutely loved the interior of Brachkachie - everything is so nicely renovated and the whole cottage is just like one genuine piece of art. Oh, and by the way: the hot water bottles are even matching the pillows! We will be back - cannot wait to open that door again, step into the building, go 8 steps down, open the door to the patio and - am blown away by the stunning view of Loch Knockie. Catherine, once again thank you so much for sharing Brachkachie with us. It was absolutely wonderful!
Pascal Lorenzini & family.
Read more
Brachkashie
Sleeps 5: 3 bedrooms - 1 kingsized/twins, 1 twin, 1 single. Fort Augustus. Sorry - no pets.