Cottages near Glenelg, on West coast Scotland.
Renting a self-catering cottage near Glenelg - the village and its surrounds boast some of the most spectacular scenery in the world from the spiritual grandeur of Loch Hourn and Britain's last great wilderness Knoydart, to the legendary hikers' challenge of the Five Sisters of Kintail and of course the majestic Cuillins.
Take a look at these holiday homes in Highlands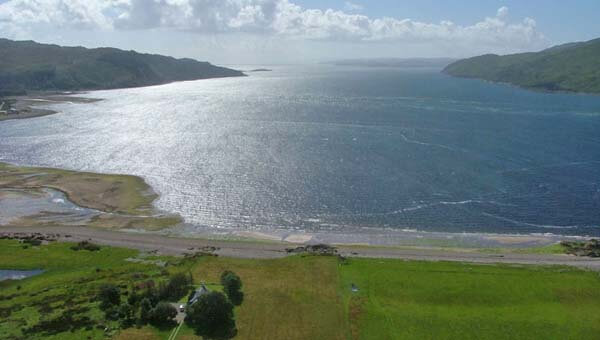 The village of Glenelg, has some of the most spectacularly positioned houses on the entire north western seaboard. Views from the top of the Sound of Sleite (Gaelic for smooth or even), you can look down the Sound with breathtaking views of Skye, Gavin Maxwell's Sandaig, Eigg, Rhum and Ardnamurchan point - there are spectacular vistas from many holiday homes in htis village.
The area is rich in wildlife. Dolphins, porpoises, basking sharks, otters, golden eagles and many seals are commonplace.
The ferry to Skye runs in season and you can be there in minutes for a day's walking, climbing, cycling or sightseeing. But you may however prefer to stay in Glenelg. It's the sort of place people fall in love with. Bing Crosby stayed in the house while on a golfing tour in 1947!
Inverness airport -
an hour and a half away by car
Local station is Kyle -
about 45 mins away by car
Sleeper train from
London to Inverness
Glenelg Inn
Walking, Cycling
Gavin Maxwell's Sandaig
Boat trips
Beaches, Wildlife spotting
Golf courses on Skye - 30/40 miles
Seal spotting - Kyle 20 miles
and Plockton 30 miles
Glenelg village has a well-stocked
shop and a health centre
Getting to Glenelg - directions:
From the A87 heading towards Skye and Kyle you will pass Loch Cluanie on your left. Round the corner from Sheil Bridge is the left turn signed Glenelg. Take the road over the mountain (Mam Rattagan). It is single track in some places and can be dangerous in the winter. As you come to the bottom of the Mam you will pass a sign for Moyle on your left then about half a mile on the road forks. Take the right fork, signposted Galltair and Ferry. Pass a wooden bridge on your left.
There is idyllic self catering houses with views over the Sound of Sleite, to be rented.
Glenelg, Kyle, Ross-shire IV Scotland