Cottages near Gartymore, Helmsdale, Sutherland, Highlands of Scotland
Gartymore is a beautifully untouched area of east Sutherland. The area is largely croft land currently owned by Sutherland estate, and was one of the crofting townships that received tenants during the notorious Highland Clearances. The area is rich in heritage, and residents of Gartymore were instrumental in the land league movement the led to the formation of the crofting commission, their achievements are commemorated by the monument, and Timespan Heritage centre in Helmsdale has archives that are open for investigating. There is also a great deal of archaeology, the most widely known being the Cairn 'o Liath, which can be clearly seen as you travel north from Golspie towards Brora, and also the Camster Cairns which are outside Lybster - these are only a couple of many brochs, cairns and standing stones which can be found within easy travelling distance.
The surrounding area is rich in wildlife: deer, buzzards, golden eagles, dolphins, lizards and slow worms have all been seen from the garden of the croft, and the open hillside is quite literally on the other side of the door. There are otters, pine martins, and a wealth of birds to spot and photograph in the surrounding area if you are lucky, even if you don't get a picture of an eagle there are plenty of beautiful views to photograph instead.
A little further afield are the flows at Forsinard, where the RSPB's beautiful observatory tower enables you to see for miles across the heather. The nearest sandy beaches are at Loth, Brora, Golspie and Dornoch but there are plenty to explore further north as well.
Gartymore is only 1 1/2 hours from John'O Groats, where you can book on a day tour of the Orkney Isles, or a boat trip around the islands to see the seals and the birds (puffins are most likely to be seen at the end of May, beginning of June). Dunrobin Castle, just outside Golspie (about 15 miles), has gardens open to the public year round and the house is open Easter - September, with regular falconry displays which are an absolute must. The Castle of Mey, near Thurso, is also worth a visit; it is an enjoyable day for all the family and has a small petting zoo.
There is much to offer in terms of sporting activities, with fishing being a major attraction. The river Helmsdale has public waters that can be fished on a day permit using flies and there are lochs and sea fishing available within easy travelling distance. There are mountain bike trails in Golspie and the Kyle of Sutherland, and several golf courses, including the world renowned Royal Dornoch only a short distance away. Also there are lots of lovely walks and some more challenging ones a little further afield.
After a busy day it is great to return to the croft, sit outside and listen to the sea (and the sheep), or curl up in front of the stove with a good book and a glass of wine. It feels like you are a million miles from anywhere!
Highland holiday cottages to rent year round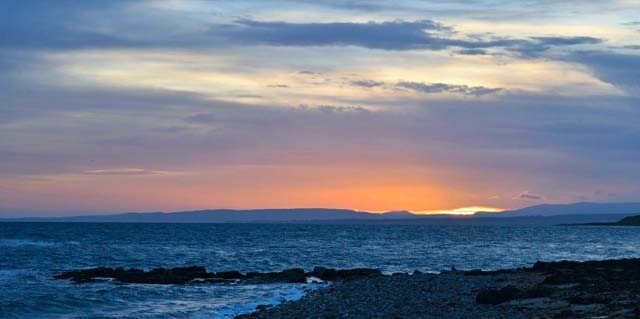 Helmsdale - 1.5 miles, Wick - 40 miles,
Tain - 45 miles
Nearest airport - Inverness (70 miles)
Nearest station - Helmsdale (1.5 miles)
Pubs/restaurants - Helmsdale has a
fish & chip shop that does sit in,
a small cafe/restaurant that is excellent,
a pub that does bar meals, and a hotel
that does meals and cream teas
Short breaks
Golf - Helmsdale (2 miles),
Brora (11 miles), Golspie (16 miles),
Dornoch (30 miles)
Mountain bike trails: Golspie (16 miles)
Fishing: Helmsdale (2 miles)
and various estates within 20 miles
Surfing: Thurso (40 miles)
Timespan Heritage Centre
and Art Gallery - Helmsdale