The Cottage@Mackays
Durness, Sutherland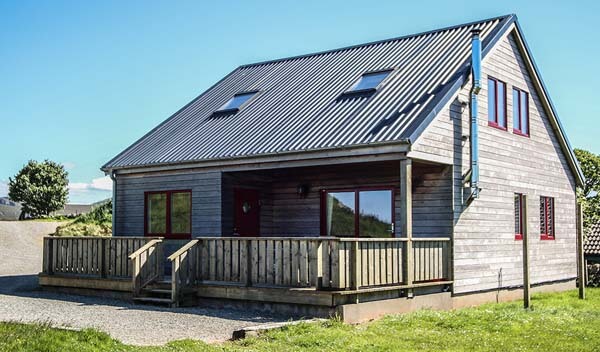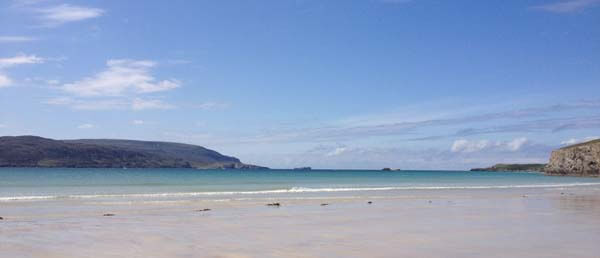 Durness lies in the county of Sutherland on the north west tip of Great Britain in the wild, remote and beautiful expanse of Cape Wrath and enjoys one of the most dramatic landscapes in Europe. A combination of spectacular natural features, not least the stunning coastline of towering cliffs, golden beaches backed by rugged mountains and barren moorland. The abundance of wildlife and vast open space, the sheer scale of which can be overwhelming, then add to this some of the best walking country in the world and you're left with an endlessly fascinating environment, made for exploring.
Some of the main attractions in Durness are Smoo Cave, a conjoined sea cave and freshwater cave with a small river running through it and a dramatic waterfall inside. Boat trips are available in the summer months. Fantastic white unspoilt beaches backed by cliffs, and the local sea birds, seals, porpoises and minke whale, are amongst the best in the world. Sandwood Bay, apparently Europe's most isolated beach, is a popular choice for romantics. The surrounding coastline is some of Europe's most isolated and spectacular, with the nearby Clo Mor Cliffs being the highest on the British mainland, at some 281m (921 ft) high. In the substantial sand dunes to the north of the village, a large colony of puffins can be approached to within less than 10 metres, offering superb opportunity for wildlife photography. Rock pipits also live on the beach.
Another tourist spot is the local Balnakeil Craft Village, a rather picturesque old Royal Air Force (RAF) radar base from the Cold War era. The villagers mainly live sustainably and there is a community ethos, with some rather wonderful and eccentric characters selling arts and crafts goods and providing an interesting stop for visitors. A fantastic local golf course is well represented and often featured in articles and brochures due to its idyllic and unique location. Fishing on the limestone lochs is now more accessible than historically and permits can be purchased locally. A few miles east of Durness lies Loch Eriboll, known for its otters and minke whales. During World War II it was used to station naval troops, and the island in its centre was used as a bombing target as it resembles a battleship. The loch is sometimes used as a safe harbour by large ships during stormy weather.
There is so much to do in the area and because of its geographical location the landscape is full of historical and natural attractions.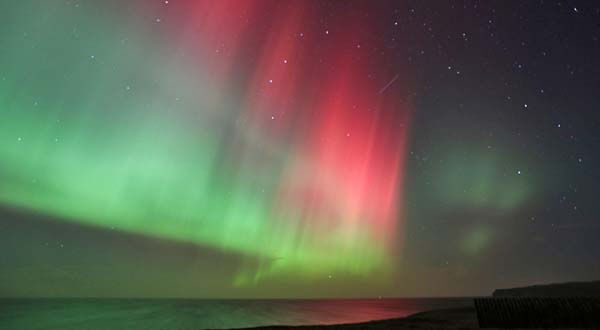 Sleeps - 6
Bedrooms - 3 (2 superkings, 1 twin)
Bathrooms - 2
Dishwasher
Washing machine and tumble drier
Microwave
State of the art multi-fuel stove
Underfloor heating
Very large wall mounted Flatscreen TV,
full Sky package, DVD
I-pod docking station
Cot and highchair available
Roofed deck
Garden with garden furniture and barbeque
Dogs welcome
1 1/2 hours from John O'Groats and Ullapool
Inverness Airport - 110 miles
Lairg station - 56 miles
Restaurant - 50 meters away
Fantastic golf course 1 mile
Surrounded by beaches and mountains
Hill walking
World class loch and river fishing
Local adventure school provides more extreme activities
Smoo Cave, Cape Wrath, Sandwood Bay, Handa Island
Balnakeil Craft Village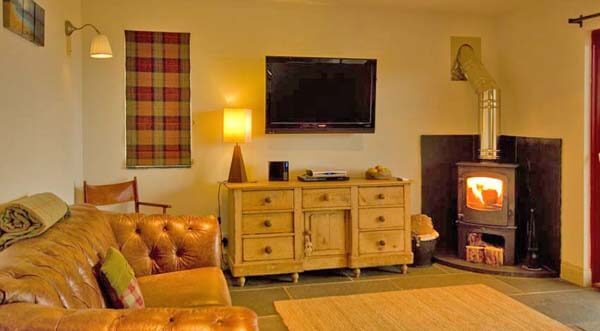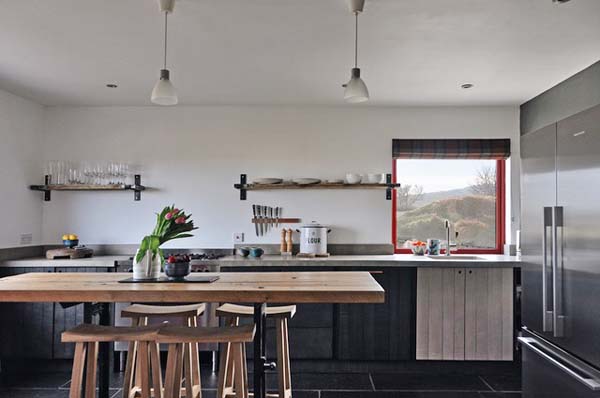 Accommodation:
This high quality, self contained, three bedroomed cottage offers stunning accommodation for up to six people. The luxury, warmth and comfort at The Cottage@Mackays is a first class experience.
The ground floor has an open plan layout, with heated stone floor throughout. The kitchen is very well equipped with a large Smeg range, American fridge-freezer and all the equipment one would expect and more is provided. The living room is a delight: oversized sofas, television and gadgets are supplied.
Large patio doors open out onto the roofed deck with views out over the wild North Atlantic ocean. There is one double bedroom dressed in the finest linens downstairs and one bathroom with oversized double shower. The separate utility room with washer and dryer is perfect for muddy boots and wet clothes etc.
Upstairs the very large, light filled master bedroom with huge feather topped bed, affords views over the small village. There is a smaller twin bedded room with traditional Scottish cot beds and an upstairs bathroom with oversized cast iron bath and powerful shower. The decor is simple and honest. Solid oak floors and handmade tweed blinds with the exquisite attention to detail deliver modern highland style.
Directions:
The nearest airport is Inverness, which offers daily flights from the south. From Inverness take the A9 north to the Tore roundabout.
You may now choose the east coast or the west coast route to continue your journey, both are through stunning scenery but the east coast route is about 30 minutes shorter.
What's included:
Heating is included and also the first bucket of fuel for the stove.
Dogs are welcome, there are restrictions and an extra cleaning charge applies.
The finest bed linen and towels are provided.
There are no hidden costs. If you have any special requirements the owners will do their best to provide whatever is requested.
Cost and availability:
The cottage is rented out throughout the year. Saturday is the ususal changeover day. Departure by 10.30 am, check in after 4pm.
Weekend/short breaks are available during the winter months.
To book this individually designed and tastefully decorated cottage in Sutherland, click the enquiry button below and see availability and prices.