Self-catering availability enquiries for
Torsa Island Farmhouse, Cullipool, By Oban, Argyll
Bedrooms 3: 1 double, 1 twin, 1 bunk. Sleeps: 6. Pets welcome. Short breaks. Motor boat with lifejackets and tuition included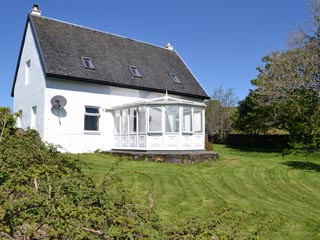 Special offers:
We offer a 10% low occupancy discount throughout our Season, the price below is an example for a week in May.
08 Mar 2019 - 01 Nov 2019
Was £1,120.00 Now £980.00
Our Season runs from late March to October with prices ranging from £980 to £1,550 per week. We do not open for Christmas and New Year.

We offer a low occupancy discounts of 10% per week and dogs are welcome for a small charge of £35 for your first dog and £25 per additional dog.

Towels and bed linen are provided with all beds made up for your arrival.

Logs and kindling available for the log burner.

Recent Trip Advisor review - 5/5

Torsa is the perfect private island for those who love the unspoilt beauty of Scotland's west coast.

Torsa Farmhouse is very well equipped and furnished – squeaky clean with fluffy white towels and bright white bed linen. We arrived with very little food – the car was full with wetsuits and walking, snorkelling and kayaking gear. The lack of supplies wasn't a problem. We had an excellent dinner of local langoustines at The Atlantic Centre at Cullipool (Saturdays only at present). The Oyster Brewery Bar in Ellenabeich was also well worth a visit – excellent beer and again, superb seafood. The shop on Luing (limited opening hours) sells essentials, local fresh food, beer, wine and wonderful bread, baked on the island. There is a bigger store at Balvicar on the Isle of Seil, also selling fresh bread and pastries baked in store. In all of these places, we were given a very warm welcome. A little plea - support local businesses!
We spent hours exploring Torsa, which has a variety of terrains and feels much bigger than its 0.44 square miles. Wildflowers are in abundance, including beautiful marsh orchids, ragged robin and yellow flag iris. We saw over 30 species of birds, more than 10 of those within the walled garden. Swallows and house martins were nesting in the eaves, and provided flying displays whilst we had breakfast, overlooking Loch Melfort. Around low tide, it's possible to walk round the island at sea level, if you don't mind a bit of scrambling. The east side has particularly clear water and was perfect for snorkelling. From high points on the island we watched glorious sunsets over Mull and then waited patiently by the rocky shoreline to see otters. We were not disappointed - on five evenings we saw a pair of otters playing in the sound and another that stayed by the rocky shore just metres away from us. The handsome Luing cattle are good weather indicators – if they're paddling in Ardanamir Bay in the morning, it's going to be warm.
We were very lucky with the weather – five warm, balmy days when we were outside all the time. When Storm Hector arrived, we were warm and cosy in front of the log burning stove. The RIB 'Cutty' behaved perfectly all week and enabled us to shadow the sea kayakers in our party as far as the Bridge over the Atlantic. The Gator buggy was extremely useful and gave no problems.
It would be easy to stay on the island for your whole stay – the stunning surroundings and ever-changing light makes it a photographer's paradise. We went a bit further afield and did circular walks on Luing and the Isle of Seil. We also did a 5 hour wildlife and whale search via the Gulf of Corryvreckan, with Sealife Adventures on Seil. Please see separate 5* review. Yes, we saw a whale breaching.
Torsa is a truly beautiful, tranquil place but its rough terrain is boggy in places and has some steep drops. You will need wellies , sturdy footwear and (probably) full waterproofs. You might get splattered with cow poo if the person driving the Gator buggy doesn't look where they're going but so what? Lots of adventures to be had, not least reversing off the three-car Cuan ferry …..
Booking and communication with Mike was efficient and easy. Thanks to him and Jenn for their warm welcome at the Cuan ferry and all their helpful advice.

AND

Fantastic weeks holiday on our own island!

Our family of 2 adults, 2 children (aged 8 and 10) and 1 dog (aged 3) have just returned from an amazing week on the island of Torsa. Helped in part by the best weather Scotland has seen in years we had a fantastic time walking round the island, cruising round the mill pond calm sea lochs in Cutty or just relaxing in the conservatory with it's incredible views.

Everything was exactly as advertised; lovely spacious house equipped with everything you will need for your holiday including all kitchen equipment, bedding, towels, washing up liquid, bin bags, loo roll etc, etc. Aside from your food and drink you don't need to take any other supplies with you. The lounge was well stocked with books, games and local information leaflets, as well as TV and DVDS but to be honest we spent most of our evenings on the beach or just sitting in the conservatory enjoying the sunshine till 10 at night!
The EGator worked perfectly the whole holiday as did the boat which gives you an amazing amount of freedom to visit all the nearby islands in search of wildlife or spooky deserted castles if you go to Shuna!
The lane down to the parking area on Luing is a little pot-holed but perfectly driveable and there was no sign of any overgrown hedges as mentioned in a previous review.

Not a lot else to say really. The peace and tranquillity of the island is amazing but with the boat you have ability to visit the small shop on Luing or the mainland should you wish.
Highly recommended and compared to other Scottish Island holidays its very good value for money.
Read more