Location of
The Lodge, Lochgilphead, Argyllshire
Bedrooms: 3 (1 double, 2 twin). Sleeps: 6. Lochgilphead. Pets welcome. Short breaks.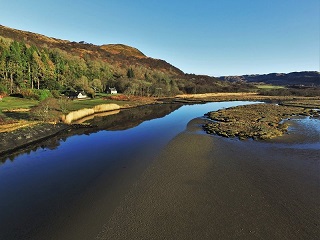 Use the controls on the left of the map to zoom in and out.
You can also drag the picture about with your mouse.
Holiday activities near Lochgilphead and things to see around Argyllshire
Owners top tips!
- Visit Castle Sween, and Rafters Restaurant beside the castle - guest at Ellary have exclusive use of our private hill road over the peninsula to the Castle Sween side. With stunning views, the picturesque route takes you through the hills, past the infamous 'Lily Lochs' (a must-see if you're staying at Ellary!), and drops you off at the top of the hill which follows Loch Sween along to the Castle. Early evening is a good time to go, as sunsets on that side of the peninsula are regularly spectacular.

- Have a picnic at the Salmon Pool - come up to the office and we will point you in the right direction! A quiet, sandy beach with a newly-added picnic bench. Perfect for those long summer afternoons!

- Visit Kilmory beach - the largest sandy beach for miles, it also sits on the Castle Sween side of the peninsula. Make a day of it, and incorporate it with a visit to Kilmory Chapel, and to Castle Sween/Rafters.

- Watch the otters - whilst we can't guarantee that you will see them, chances are pretty good if you know where to look and aren't in a hurry! Seals can also be seen most days sitting on the rocks at Chapel Bay. All within walking distance of your cottage!

- Try your hand at fishing - late summer has been a very successful time for guests catching mackerel the last few years (with people regularly catching large bags full). For those more patient/experienced at fishing, permits are available to fish the hill lochs/Lochead Burn for salmon and sea trout. Great way to relax!