Self-catering availability enquiries for
Deerstalker, Portnellan, Glen Dochart, Crianlarich, Stirlingshire
Bedrooms: 1 king ensuite. Sleeps: 2. Stirling. Pets by prior arrangement. Short breaks.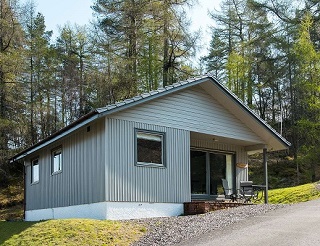 Deerstalker weekly holiday rentals.

Short stays are welcome all year round and are calculated as follows.

2 nights: 60% of the weekly rate
3 nights: 75% of the weekly rate
4 nights: 85% of the weekly rate
5 nights: 90% of the weekly rate
6 nights: 95% of the weekly rate

Winter: 03/01/18 - 09/02/18: £500.00

February Half Term: 10/02/18 - 20/02/18: £600.00

Winter: 21/02/18 - 28/03/18: £500.00

Spring: 29/03/18 - 25/05/18: £650.00

Spring Bank Holiday: 26/05/18 - 02/06/18: £850.00

Early Summer: 03/06/18 - 20/07/18: £725.00

Summer: 21/07/18 - 24/08/18: £850.00

Late Summer: 25/08/18 - 07/09/18: £725.00

Autumn: 08/09/18 - 02/11/18: £650.00

Winter: 03/11/18 - 19/12/18: £500.00

Christmas: 20/12/18 - 26/12/18: £650.00

Hogmanay: 27/12/18 - 02/01/19: £900.00

"A really great base for exploring this beautiful part of Scotland, and lots to keep the family occupied, from canoes and bikes, to games and dvd's. Lodge very clean, well maintained and equipped, and with plenty of its own space. The loch and mountain views, the peace and restfulness of the place, even the purity of the tap water, all make you want to stay. Review posted 13th August."

"My daughter rented two cottages at Portnellan for the celebration of her 21st birthday. We had no idea what to expect before we arrived, and we had travelled from the United States to attend her birthday. The magic of Portnellan added to the magic of seeing my daughter turn 21. What a beautiful location, and the cottages were lovely vacation homes with everything we could need."

"Everyone had a terrific time, the young ones and us old-timers! Thank you to the gracious staff (namely Cameron's family.) You made us feel welcome and made her celebration a delight!"

"I highly recommend these cottages for anyone who loves a magical place to sleep and roam in one of the most magical places I've ever been! Review posted 14th August."

"Outstanding as usual. A warm welcome from Cameron and family. Spotlessly clean lodge , stunning scenery and great touring base. Would recommend this to anyone looking for luxury self catering in Scotland. Review posted 12th August"