Location of
The Barn, Aberfeldy , Perthshire
Bedrooms: 3 double. Sleeps: 6. Aberfeldy. No pets. Short breaks.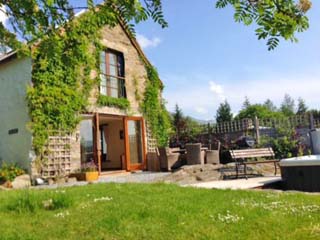 Use the controls on the left of the map to zoom in and out.
You can also drag the picture about with your mouse.
Holiday activities near Aberfeldy and things to see around Perthshire
The owners top recommendations for during your stay:

Eating out
Lawers, 1 mile
Ben Lawers Hotel, telephone: 01567 820 436
(Directions: turn right out of Craggantoul and continue for one mile)

Killin, 7 miles (west of Craggantoul)
Killin Hotel, telephone: 01567 820 296
Bridge of Lochay Hotel, telephone: 01567 820 272
Capercaillie Restaurant, telephone: 01567 820 355
The Old Smiddy, telephone: 01567 820 619
The Falls of Dochart Inn, telephone: 01567 820 270


Kenmore, 10 miles (east of Craggantoul)
Courtyard Restaurant, telephone: 01887 830 763
Kenmore Hotel, telephone: 01887 830 205

Other restaurants in the vicinity of Craggantoul
Fortingall Hotel, Fortingall, 10 miles, telephone: 01887 830 367
(Directions: turn right out of Craggantoul, turn left at Fearnan and continue for 5 miles)
Ardeonaig Hotel, Ardeonaig, South Loch Tay, 15 miles, telephone: 01567 820 400
(Directions: this restaurant is opposite Craggantoul on the south side of the loch, so approach either from Killin on the south loch road or from Kenmore on the south loch road)

Local attractions and must do activities
Scottish Crannog Centre
Visit the ancient loch-dwelling at Loch Tay

Dewars World of Whisky
The home of the single malt, at the heart of the award winning Dewar's White Label in nearby Aberfeldy

Castles
13th century Blair Castle, the ancient seat of the Dukes and Earls of Atholl is a wonderful day out for the whole family Castle Menzies, an outstanding example of 16th century 'Z' plan fortified house.

Explore Aberfeldy
The area's local tourism association

Splash White Water Rafting
White water rafting and canyoning tours based out of nearby Aberfeldy

Cycling
'Off' and 'on' road cycling routes in Highland Perthshire Bikes hire from the outdoor shop in Killin

Golfing
Craggantoul is situated within a few miles of three golf courses in Killin, Kenmore and Aberfeldy, with courses for all levels of golfers amidst beautiful scenery! killin golfclub taymouth castle golf club aberfeldy golf club

Highland Safaris
Operating within 250,000 acres of Highland Perthshire Estate, Highland Safaris offer a unique range of safari adventures

Fishing
Craggantoul has fishing rights for trout all year round from our shoreline

Walking
There is an abundance of fantastic walks, amidst the splendid scenery of Loch Tay, Glen Lyon and the district of Aberfeldy, not least Ben Lawers mountain, which sits above Craggantoul

Dunolly Adventure Outdoors
An outdoor activity centre offering outdoor adventures for adults and children including white water rafting, gorge ascents, kayaking, high ropes challenges and climbing wall, archery and off-road biking

Blair Drummond Safari Park
Safari, wildlife animal reserves and adventure park for the family, open March until October.

House of Bruar
Situated in rural Perthshire, 10 miles north of Pitlochry, the House of Bruar boasts some of Scotland's finest food produce, clothing and artwork and is locally known as 'The Harrods of the north'

Bolfracks Estate and gardens
A 4000 acre Highland estate with some superb gardens with an impressive collection of rare and unusual plants.