Self-catering availability enquiries for
Saraig Cottage, Ratagan, Glenshiel, Ross-shire, IV40 8HP
Bedrooms: 3 - 2 king, 1 twin. Sleeps: 6. Glenshiel. Pets welcome.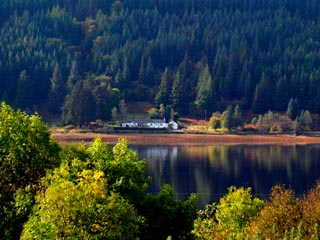 Low Season £590 per week
Mid Season £790 per week
High Season £930 per week

Christmas and New Year £990 per week

SOME GUEST COMMENTS FROM 2018

* Whole family enjoyed the peace & quiet, views amazing, wild life amazing, cottage lovely. would move here in an instant.

* We have just had the most wonderful week at Saraig and are bereft that we can no longer see those amazing views outside our windows...

* Stayed at Saraig in April and had great weather all week. On the first night the resident Pine Marten came onto the kitchen window for his nut supper which the children loved. We did some kayaking on the loch and pony trekking up at the centre 3mins up the road. Nearly killed myself walking the 5 Sisters of Kintail! Not to be taken lightly but a really nice walk is the Corbett opposite the cottage accessed by the village of Morvich.

We had a fantastic day in Skye with a cruise on the Bella Jane which is well worth it along with fantastic views of the Cullin range and a drive along the Bealach na ba to Applecross and had a fantastic meal at the Applecross in. All in all, the cottage was great, Paula greeted us and made feel welcome and the location is great for Skye or other mainland locations


SOME GUEST COMMENTS FROM 2016

* Just got back from an amazing week.

* The cottage was fantastic, exactly as described. Quaint, characterful, dressed in keeping with its age, and spotlessly clean.

The beds were to die for at the end of a long day walking, so comfortable and relaxing, and the feather duvets. . . . . I need to know where they are from, amazing.

You could not ask for a better location, the views are stunning, and changeable with the weather, so you feel you see something new every day.

We would recommend the walk from Letterfern to Dun Totaig, the views of Eilean Donan castle are great, also the loch views.

We also took a trip to Plockton, well worth it.

Another must see was Glenelg, turquoise waters and sandy beaches make you think you're on a med holiday.

If you're up for a challenge, a trip up the mount directly across from the cottage is well recommended.

For the wildlife lovers, the pine marten visited everyday, I did spoil him/her a bit. We also had a badger visit on our first and last night too. The power of a peanut butter sandwich x

Paula, thank you so much for the opportunity to stay in your wonderful cottage and for making us feel welcome and completely at home xx

* Where do I start? We have stayed in the area 5 times now in various properties and for facilities, general comfort and location this is the best property we have stayed in. We had superb weather for the whole week and this combined with the stunning outlook meant that on two separate days we were simply happy to stay on the loch side or use the garden. As advised the Peanut Butter sandwiches worked a treat and brought daily visits from many birds and Mr P Martin. We were also lucky enough to see Seals at Glenelg and 4 Dolphins at the furthest point down the lane heading out to sea opposite Eilann Donan. The lane was very quiet and an ideal way to start and end the day by having a wander with the dogs. The cottage was well equipped,extremely comfortable and as mentioned the beds so comfortable a good nights sleep was guaranteed. We would not hesitate to recommend the property, our first experience of a property through Owners Direct. Paula it was great to meet you, thank you for the opportunity to stay in your wonderful cottage. Some fantastic memories and after being home for a couple of weeks a yearning to be back there in the peace and tranquility. A wonderful holiday we will remember for a long time. There is no doubt that you will be seeing us again in the not too distant future.



SOME GUEST COMMENTS FROM 2015:

Bliss in the Highlands!
Just returned from the most wonderful stay in Saraig. Upon arriving we were immediately struck by the stunning loch side position and the peace and tranquillity...Inside the cottage was welcoming and very comfortable. We have visited Scotland over 16 times and this place is special! The pine martins visited every day without fail, even braving the gales and torrential rain....Many thanks to Paula for renting us her beautiful cottage to celebrate my birthday...one I won't forget in a hurry. The art work throughout the cottage deserves a special mention.....what a talented lady! My children of 10 and 15 also had a marvellous time and the Wi-Fi was a great plus for the teenager!! Many thanks Paula for a memorable and comfortable stay....

What a fantastic place for a holiday.......
Saraig is a beautiful cottage for a relaxing holiday. The surroundings are breath taking. The wildlife that came to visit was very entertaining. We had the good fortune to have visits from a family of Pine Marten's, many beautiful birds too. We even saw porpoises and a seal in the Loch. But our most treasured guests were the Badgers. We never thought we'd see such animals that close up. Make sure you make lots of peanut and jam sandwiches.

The cottage was extremely well equipped. The WiFi access was a nice touch. The beds were amazingly comfortable. Our two dogs loved their holiday too. They're sat sulking as I write because they're missing the beach.

I could continue waxing lyrical about Saraig but I won't. You simply must see it for yourselves we highly recommend it.

Perfect cottage in beautiful surroundings
Saraig is a beautiful, clean and very comfortable cottage. Very well equipped. Especially the wood-burner and wifi are excellent. The views of the five sisters of Kintail are stunning and the house is a perfect starting point for many breathtaking hikes. If you love tranquility surrounded by beautiful nature, this place will fit your needs and more.

Excellent cottage in wonderful setting
The cottage is in an idyllic setting, with spectacular views across the Loch. We were blessed with good weather for the time of year, and enjoyed touring the broad area, particularly enjoying Plockton and Wester Ross.

The interior is imaginatively and tastefully fitted with all necessary facilities. Anyone visiting the area would find themselves comfortably housed after a day's outdoor activity.

An added attraction was the pine marten that visits the garden in the evening!

Stunning Setting.
If you enjoy peace and quiet surrounded by beautiful scenery look no further this is the place for you. Saraig is a clean, comfortable, spacious and well equipped home from home. We found ourselves totally relaxed spending cosy evenings by the wonderful multi fuel burner. By day we spent many hours walking in the magnificent surrounding area. For something to eat or drink KIntail Lodge hotel and Glenelg inn highly recommended. Further afield we enjoyed Applecross via Scotlands highest road and a day on the Isle of Skye taking in the Talisker distillery tour. We fit so much into our time yet a week was not nearly enough. We found Paula (the owner) to be helpful and informative. Hope you enjoy it as much as we did!
Read more