Aberlady Bay - Scottish beach holiday in East Lothian
From Edinburgh or Edinburgh Airport, follow the signs to Berwick on Tweed, take the A1 towards Berwick on Tweed. After about 6 miles watch for signs to North Berwick and follow these. Take the A198, which leads to Longniddry, continue towards Aberlady, drive through Aberlady and the road bends to the left towards the Aberlady Bay. Aberlady Bay, a 5 minute walk away, is a beautiful local nature reserve (the first in Britain) and is renowned especially as a bird-watching venue.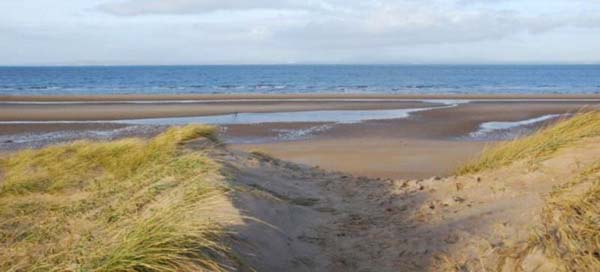 Situated in a wooded estate not far from Aberlady Bay, is ideally suited as a base from which to explore the East Lothian coast. This coastline, stretching from the Firth of Forth to North Berwick, has an abundance of wonderful and ancient golf courses - a real paradise for any golfer.
The local area is steeped in history with Luffness Castle incorporating a 16th century tower house and a walled fruit garden built by prisoners of war from the Napoleonic Wars. There are many other historic attractions nearby notably the spectacular Tantallon Castle which is well worth a visit. There is a popular circular walk which heads through the reserve to take in the fine sandy beach before continuing to the village of Gullane and returning inland.
Nearby North Berwick, a picturesque seaside town that was once very fashionable with the rich and famous, has wonderful views of the Bass Rock, the best place in Scotland to see gannets. A boat trip is a great idea but failing that, the multi award winning Scottish Seabird Centre has live web cams and an interactive Discovery Centre.
The area is served by a regular train service from Edinburgh to North Berwick with Longniddry station being only 5 miles from Luffness Castle. It is therefore easy to explore Scotland's great capital city, Edinburgh, and then return to the peace of the countryside.
Sandy beaches
Walking
Aberlady Nature Reserve
Bird watching
Boat trips
Castles
Whisky distilleries
Watersports
Scottish Seabird Centre
Aberlady 1 mile, Gullane 2 miles
Edinburgh airport, 16 miles
Longniddry railway station, 5 miles
Pubs and restaurants -
wide choice in Aberlady and Gullane
and plenty more in North Berwick
Golf - there are 7 courses within 3 miles,
including the world famous Muirfield
Accommodation:
Luffness Castle is built in the medieval wall forming part of the grounds of Luffness Castle.