Holiday accommodation in Kelso town centre and closeby in Scottish Borders.
Beautiful historic border town of Kelso - you can walk to restaurants pubs and shops. An hour by car or rail to Scotland's capital city of Edinburgh, or 45 mins by car to the East coast where it is possible to enjoy a wide range of breath taking coastal walks and hidden coves.
Holiday homes to rent in the Scottish Borders
Kelso, Scottish Borders
The beautiful historic border town of Kelso. An hour by car or rail to Scotland's capital city of Edinburgh, or 45 minutes by car to the East coast where it is possible to enjoy a wide range of breath taking coastal walks and hidden coves. Kelso is easily accessibly by car and well served by public transport. Perfectly located to enjoy the best of all the Borders has to offer.
The main borders events centre, Border Union Showground, is in central Kelso. It has year round events & activities, including the annual wedding fare, monthly antiques fairs, bikers weekends and dog shows aswell as the main event in July The Border Union Agricultural Show, and the Autumn Ram sales, to name but a few. Within a few minutes of the flat guests will be able to enjoy a wonderful river walk along the side of the Tweed. Maybe buy fish and chips one evening and sit on one of the many benches and enjoy watching the wildlife come and go up and down the river.
Guests will find lots to occupy their time in and around the Borders locally and further afield knowing they have somewhere central & comfortable to return to at the end of the day. Or if you are here for a wedding at one of the many beautiful wedding venues you can be sure we have everything you need to get yourself ready. Taxi services available from local companies.
History: The borders has a wealth of ancient castles, both ruins and occupied, to keep even the keenest explorers busy for days. Some of these include, Floors Castle, hosting main major local events from Food fayres and Art exhibitions to Massed Pipe band displays. Thirlstane castle in Lauder hosts the popular Vintage car rally every year. As well as the ruins of Hume castle and Smailholm Tower. Flodden battlefield, Branxton is just over the border through Coldstream and is part of the Ford & Etal Estate comprising 20 different tourist attractions in and around the area.
Sport: Why not bring your rod and fish the famous Tweed Junction Pool, or one its many other tributaries, or bring your bike & cycle one of the many waymarked national trails or mountain bike the famous Innerleithen or Glentrss course only 40 minutes away by car. Ebike hire available locally so why not try something new. Bring your golf clubs and have a round on a local course or try your skill on the championship golf course at The Schloss Roxburgh golf club. Major sporting events, including Rugby 7's in Melrose, and the National hunt at Kelso racecourse are all easily accessible from Cobblestone Corner. You can also watch the Horse Trials at Floors Castle or Hendersyde Park. Or try your hand at various different shooting, (clay, air rifle, rifle, virtual shooting) at Bisley Braidwood, Selkirk, or join a pheasant/grouse shoot on one of the local estates.
Walking: If you enjoy walking bring your boots and take a stroll, or trek along wooded paths, scale the top of the Cheviot hills or wander along the beautiful east coast paths. If you enjoy walking with others you could try joining in one of the walks during the annual week long walking festival. You could pack a picnic and try walking up the Eildons, a set of 3 Hills just 25 mins by car from us. Or try a section of the Southerland upland way, St Cuthberts Way, Borders Abbey Way or Peninne Way or Berwickshire coastal path. There is a plethora of information and suggested walking routes on the Internet to assist your planning.
Military: For those with a military interest you will find lots to keep you entertained. The town of Coldstream is only 15 mins drive east from Hume and is the home the world famous Coldstream Guards, the only regiment with a town named after it. It has an eccletic army surplus and militaria shop & free WW1 & 2 micro museum. Further on from Coldstream you can find Berwick Upon Tweed and the interesting Berwick Barracks and town wall walk. Well worth a day trip to encompass both of these. About an hour away, heading north west from Kelso is the Great Polish Map of Scotland. Believed to be the world's largest terrain relief map, this huge concrete map. Guests may like Jedburgh Castle Jail and Museum, or the WW2 Stobbs Camp near Hawick.
There is much more to enjoy in and around Kelso, monthly farmers markets and the famous 'Common Ridings'. Held each year during the summer each of the local towns have week long festival of events involving riding round the boundary of their area in a symbolic gesture to the Borders past.
And after a days activities relax & soak up the atmosphere by having a artisan coffee and a rest on a bench in the cobbled market square in the heart of Kelso and take a meal at one of our amazing restaurants in town or even treat yourself to a takeaway.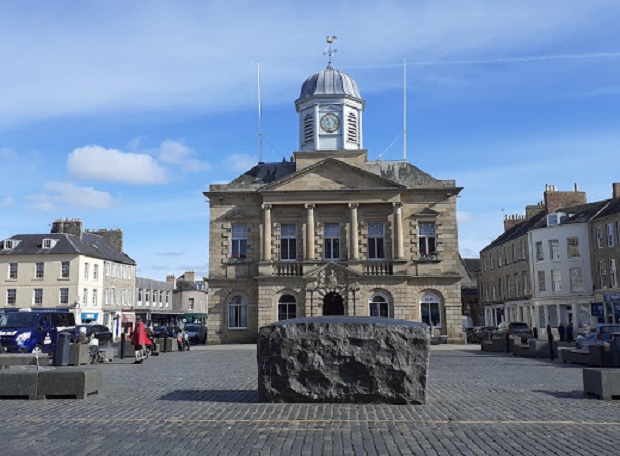 Edinburgh Airport – 50 miles
Kelso Abbey – 0.2 miles
Kelso Racecourse – 1.4 miles
Floors Castle – 1.3 miles
Coldstream / Coldstream Museum - 8 miles
Kelso Golf Club – 1.3 miles
Roxburgh Golf Club – 4.5 miles
Penine Way – 7.5 miles
Mary Queen of Scots Visitors Centre
Jedburgh – 9.5 miles
Melrose Abbey – 15 miles
Philiphaugh Salmon
Viewing Centre – 18.5 miles
Go Ape Peebles – 35 miles
Walk to restaurants, cafes, shops
Shop 20 yards, pub 50 yards and restaurant 10 yards.
Berwick-upon-Tweed 40-minute drive
Beach 23 miles.
Directions:
Kelso can be reached from the north and the south via the A68. From the north take the A699 from St Boswells and from the south the A698 from Jedburgh.
Kelso, Scottish Borders, TD5 7DN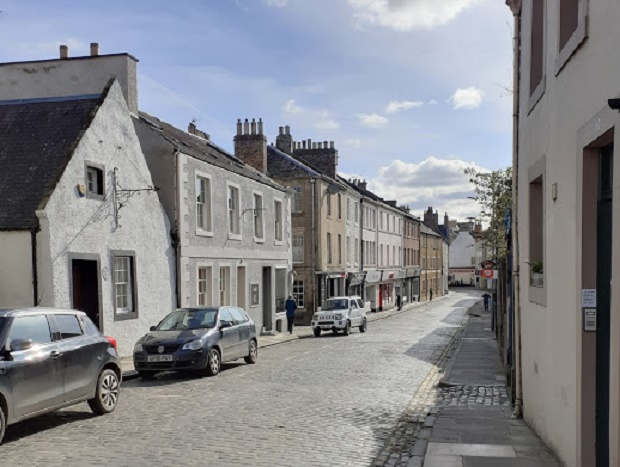 Scottish Borders vacation flat sleeps 2
The ideal base for couples or friends wanting to explore the Scottish Borders. Offering town centre self-catering for two it is a great place to stay for visiting Kelso Racecourse and partaking in outdoor activities from golf to fishing and walking. It is within easy reach of the countryside and within easy walking distcance of pubs and restaurants.