Location of
Tigh Beg Croft, Oban, Oban
Bedrooms: 3 - 1 double, 1 king + 1 twin. Sleeps: 6. Oban. No Pets.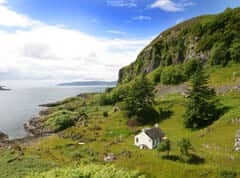 Use the controls on the left of the map to zoom in and out.
You can also drag the picture about with your mouse.
Holiday activities near Oban and things to see around Oban
Owners top 5 things to do /see when staying at Tigh Beg Croft
Boat Trips: -
Unless you'd like a 50mph face-flattening head-blast (kids often do!); we would encourage you to contact Duncan Phillips. He operates the marvellous Farsain from Craobh Haven, a mere 2.5 miles from Grannda Mhor Tel: 01852 500 664. Duncan is a bird-watcher and wildlife enthusiast himself, so rather than whizzing past at speed (other than in the Corryvrechan and the Grey Dogs, which he playfully whistles around to ensure a most memorable of experiences), he tailors his trips with stops to view sea-eagles, golden eagles (if they're around) wild goats, dolphins, porpoise, whales, and anything else that's been recently sighted. Many of these sites are kept a rather guarded secret for the security of the birds, but Duncan works with various organisations (RSPB, National Trust), ferrying their rangers and also working to ensure the protection of all our local wildlife. He's out every day, so has the up-to-date knowledge of what's around - if there's anything about, you'll get to see it with Duncan. And you get a cup-of-tea stop with him! And no, we don't get a commission - it's just great to be able to recommend excellence.

Trail Riding & Lessons: -
Only Ranch Style Stables in Scotland offering this unique Western Trail Riding Experience.

Trail Rides are along incredibly beautiful forest tracks or by the shore with opportunities for photo stops, using your choice of English or Western tack, by the shore or open hill for the more experienced rider. Rides are for the complete beginner through to the more advanced. Half hour lead rein rides along local tracks, individual and group lessons and a Saturday Club for those who want to learn about riding and horse care. A 4-hour ride including a lunch stop at one of the area's top hotels, offering discounted deals. Tailor-made Trail Rides out.

The Lord of the Isles Pub:- (LOTI) does very good pub grub, and offers a warm welcome, good range of beers, wine & whisky (as well as a few whiskies!), phone reception and internet connectivity. Live music most weekend evenings throughout the summer Will & Mollie will look after you and certainly by pre-arrangement they will do all you can to get you home of an evening- where possible!

The Seafood Temple: -
A small but FABULOUS family run restaurant specialising in fresh, locally sourced seafood, prepared for you from the heart. Whether you want to be adventurous and try their renowned seafood platter or enjoy a generous bowl of steaming hot mussels, then the Seafood Temple is the place for you. From the sea to the plate, they guarantee you the freshest of Scottish seafood the West Coast has to offer. After which you can indulge in one of our scrumptious homemade puddings.

This experience is an absolute MUST - enhanced by the panoramic sea view they are privileged to behold. If you are lucky enough to experience a sunset here- it truly will never be forgotten.

And Finally: -
No-one should leave Arduaine without visiting the Arduaine Gardens, now owned by the National Trust. Even if you aren't a lover of gardens or plants, its history is interesting, the layout a beautiful mix of formal and informal gardens, and the view from the seat at the edge of the peninsula emerges along the circular walk - just stunning. Plant-lovers will find some rare Rhododendron, Camellia and Magnolia and more... just ask to speak to the Head Gardener, who will willingly spend time with you if he is not to too busy.