Self-catering availability enquiries for
Kate's Croft, 2 Gartymore, Helmsdale, Sutherland
Bedrooms 4 - 1 double ensuite, 1 double, 1 twin, 1 single Sleeps 7. Wick 40 miles. Pets welcome. Short breaks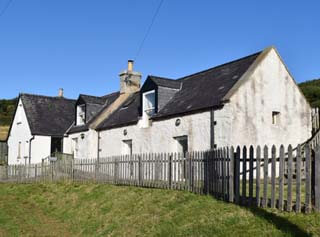 The Price of Kate's Croft varies throughout the year. Weekly prices range from £250 (winter) - £550 (summer), and short breaks from £70-£100pn, depending on the date.

Please ask for an exact price for the date you would like to stay.

We ask for a £100 deposit to secure the booking, and the balance to be paid 28 days before the beginning of your stay.

I don't have any comments about Kate's Croft as a holiday let yet as it is currently my family home. However I do use the master bedroom for B&B occasionally, and below are the most recent comments from my guests:

Rachel (April 2017)
Kate's place is absolutely fantastic, literally a minutes drive off the main road but surrounded by countryside and beautiful sea views. The room was huge, bright and spotlessly clean although Kate was such lovely company we only really slept in it! Waking up to the smell of freshly baked bread for breakfast was the icing on the cake! We would whole heartedly recommend both Kate as a host and her property as a rental.

Myriam (April 2017)
Kate's home is a lovely place and she is very welcoming and friendly. The bedroom is well decorated and it's very pleasant with the private bathroom. The view is stunning and it's very quiet. If you are looking for a B&B in this area go to Kate's.

Jack (April 2017)
Kate's family and her cats are very very very cute~her room is beautiful and clean. It is the house we want to stay again.

Morgan (April 2017)
Had a great stay at Kate's place - she was lovely and welcoming and her girls were adorable. Nice and homely feel to the house and the room was large with good heating and a nice comfy bed! Shower was great and I think the towels were the softest towels I have ever used! View from the house is insanely good.

James & Maddy (March 2017)
After meeting Kate, she made us feel like we were visiting an old friend and couldn't have been more welcoming. Despite us arriving later than initially anticipated (it was pitch black and snowing!), it was relatively easy to find Kate's house. She had to pop out, so told us to let ourselves in and help ourselves to a cup of tea - very much needed after a long drive. What struck me about Kate's house is that it is a family home and has a welcoming, lived-in vibrancy that you just don't get with hotels or hostels. As we settled down with our tea, we were joined by two of Kate's cats. After playing with the cats for a while, we retired to bed for the evening. As we climbed the stairs to our bedroom in the loft, we were blown away with how gorgeous the room was. It appeared to have been recently redecorated and everything was absolutely immaculate. The en-suite bathroom was amazing and the bed was super-comfortable. In the morning, we were astounded by the view from our bedroom, out over the cliffs and across the sea. Something which we had been looking forward to after seeing the pictures. Kate was an amazing host and it was a pleasure to meet her and her daughters. We cannot recommend this host highly enough. Thanks Kate for such an amazing stay.

John Bradley (Feb 2017)
The property is high up on the hill overlooking the coast road as you approach Helmsdale from the south. You go up a steep and narrow road to get there. Kate was very friendly and hospitable. You may also, if lucky, have the company of her two daughters and three cats. The room is really spacious, with a very comfy double bed, rocking chair, and lots of storage space. I found the room warm (although the weather was not). It was also bright, and tastefully decorated, with an impressive view out to sea. The private loo and shower are also brand new [2017] .

Nicholas Wheeler (Feb 2017)
A wonderful coastal hideaway, the room at Kate's place is gorgeous and comfortable, while Kate is a lovely host.

Ugo Buchaillard (March 2017)
Très bel endroit au calme, la vue sur la mer est incroyable. L'accueil est excellent et la présence des filles de Kate étaient très agréable. De très beaux moments partagés dans un logement absolument impeccable. Je ne peux que recommander cet air bnb pour les gens qui veulent voyager et se retrouver dans un endroit typique.
Read more