Location of
Sonas, Portessie, Speyside
Sleeps: 5. Bedrooms: 2 (1 double, 1 family room with double and single). Buckie. No pets. Weekly holiday lets.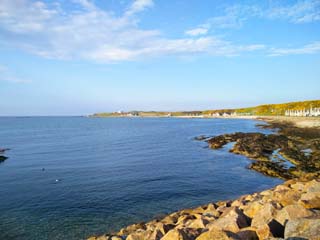 Use the controls on the left of the map to zoom in and out.
You can also drag the picture about with your mouse.
Holiday activities near Portessie and things to see around Speyside
Sonas Cottage owner's top 5 must do things places to visit when staying at Portessie, Buckie, Speyside
Take a 5 minute stroll along the sea front to the lovely Bijou by the Sea cafe and have a coffee while you look out for dolphins and seals and plan the day ahead. Friendly staff and nice home bakes.
Cycle along the old railway line from Portessie to Cullen. This takes you through the villages of Findochty and Portknockie and you can admire the views and the restored fishing cottages.
At Cullen walk along the long sandy beach and finish off with an ice cream at Linda's ice cream shop.
Take the Whisky Line train from Keith to Dufftown- the most northerly heritage railway. This takes you through spectacular scenery and culminates in a visit to the famous Glenfiddich Whisky Distillery.
Visit Johnstons of Elgin cashmere mill shop and cafe- expensive but nice to look at! Combine this with the opportunity to visit Elgin Cathedral- an historic ruin established in 1224- great views from the top.