Location of
Riverview Cottage, Pitlochry, Perthshire
Bedrooms: 2 double bedrooms. Sleeps: 4. Pitlochry 12 miles. Short breaks available. Sorry, no pets.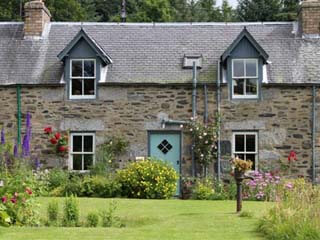 Use the controls on the left of the map to zoom in and out.
You can also drag the picture about with your mouse.
Holiday activities near Pitlochry and things to see around Perthshire
Top 'must do' from the owners of things to do when staying at Riverview Cottage:

Visit the Pitlochry festival theatre just for coffee and cake or take in a show.

Take in a traditional music evening at the Taybank Hotel in Dunkeld.

How is whisky made? Start by visiting Edradour, Scotlands smallest independent distillery, just a few miles from the cottage, and sample the produce!

For walkers, try a section of the Cateran trail, one of Scotlands most famous routes. It covers 64 miles of beautiful Perthshire countryside.

The Strathardle Hotel is a welcoming social hub in the village serving excellent local produce and with a wonderful malt whisky gallery.

Relaxing is easy, just sit at the bottom of the garden beside the river.

There are an abundance of stately homes and castles to visit, start off with Blair Castle at Blair Atholl.

Perthshire is a fishermans paradise, a guided tour can be organised for you.