Location of
The Doocot and The Studio, Dunning, Perthshire
Each property has 1 superking. Sleeps: 2. Dunning. Short breaks available. Pets by arrangement.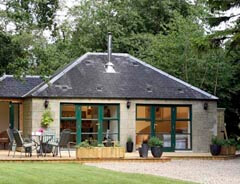 Use the controls on the left of the map to zoom in and out.
You can also drag the picture about with your mouse.
Holiday activities near Dunning and things to see around Perthshire
Brilliant pub - The Kirkstyle Inn with great beers and excellent food within walking distance of both properties.
Very friendly wee golf course in Dunning for 9 holes - with an excellent Tee Room for afterwards.
Around Dunning you can walk in beautiful Pitcairn Den with its bluebell wood and pretty burn, or a climb up Craig Rossie for the stunning view from the top.
Visit the 13th Century St Serf's Church (8th Century Dupplin Cross) in Dunning followed by a cuppa and a cake down at Broadslap Farm Shop.
Cycle throughout Perthshire following some of the most beautiful and well regarded cycle routes starting from your doorstep in Dunning.