Location of
Tay Neuk, Dunkeld, Perthshire
Bedrooms: 1 - double or twin. Sleeps: 2. Pets welcome. Ground floor selfcatering accommodation.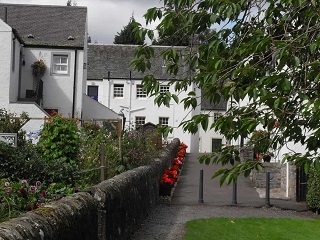 Use the controls on the left of the map to zoom in and out.
You can also drag the picture about with your mouse.
Holiday activities near Dunkeld and things to see around Perthshire
Recommendations from the owners of Tay Neuk holiday cottage in Dunkeld
Where to go and what to do in Dunkeld
1. Walk to Dunkeld Cathedral and walk in the grounds.
2. Bird watching at Loch of the Lowes Osprey watching (2.4 miles) Scottish wild life trust.
3. Walk to Palmerston's in Dunkeld (home baking) - Great cafe in Dunkeld.
4. On the door step, The Scottish Deli Dunkeld (Tapas evenings) - eat in or take away.
5. The Taybank Pub Dunkeld - traditional music & food
6. Aran Bakery Dunkeld
7. Fiddlers' Path walk, Dunkeld
8. The Hermitage, Dunkeld
9. Atholl Woods walks
10. Birnam Arts
Tay Neuk holiday cottage is located in centre of Dunkeld in Perthshire, just 14 miles north of Perth Easily accessible from Edinburgh (1 hour) and Glasgow airports(1 hr 45 mins) and Dunkeld and Birnam train station is one mile away.