Self-catering availability enquiries for
Muirhall Cottages, Auchengray, Lanarkshire
Bedrooms 2. Sleeps: 4. 5 star luxury cottages. Pets welcome. Disabled access.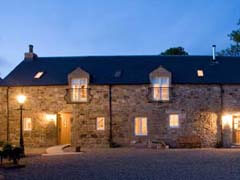 Cost and availability:
PRICES
Weekly rates (7 days min, Sat to Sat) fully inclusive.
Low Season - £ 620 (The Ruin); £590 (Shire/Hayloft); £530 (The Byre)
Mid season - £800(The Ruin); £780 (Shire/Hayloft); £610 (The Byre)
High Season - £970 (Ruin); £940 (Shire/Hayloft); £660(The Byre)
Changeover day Saturday.

Again it was a wonderful stay here at Muirhall Farm,We loved to come back and we will come back again next year,(already booked) It was so cosy to light the fire in the evenings and to spend the days in this beautiful landscape!
Really is now our home away from home.
From all the things to do around here we still have alot to discover,Even though we have already been here twice and both times for two weeks.
Thank you for making our stay so friendly (family) so until the next time,Take care.
Sabine and Anreas (Germany)

Wonderful property - Huge accomodation in the Ruin cottage,Staff were wonderful and their friendly welcome set the tone for our entire visit.We had a grand time exploring Edinburgh,Glasgow.The Tweed Valley and Stirling,the location worked well for our sightseeing frenzy,Close to West Calder train station,and 30 - 40 minutes from most Cities,
Thank you all for a great week.
Herb and Melissa From Texas USA

Lovely cottage-very comfortable,Ideal base for exploring many of Scotlands castles and other attractions.Cory enjoyed his walks over your fields,Thank you for a great week.
Ian & Susan From Tyne + Wear

This was our first visit to Scotland and it wont be the last! We found the surroundings stunning ,Plenty to do and see for all ages!The cottages were absolutely beautiful,every detail has been thought of and we didnt want for anything,Everyone has been very friendly and helpful,Thank you.
Mel & Pete from Derbyshire


"Stayed in the Shire for four nights,Had a great stay in a beautiful cottage,Met staff on arrival and couldnt have been more helpful throughout our stay,Felt happy,comfortable and very welcome,We will definatley be back to Muirhall"
(Clare and Rodddie, Glasgow)27/05/2013


"Awsome Apartment, very friendly staff,Would recommend to anyone 8-)"
Paul,Scotland) 14/05/2013


"Had a lovely time, everyone really friendly, didnt want to leave,felt very relaxed,Our son loved being around the farm,hope to return in the near future with more of our family"
(Angela,Gordon and Connor,Glasgow) 02/05/2013


"We had a fabulous time! Luxury,Peace,Comfort and friends! Our dogs loved it and almost caught a rabbit!! We met sheep, Horses, Donkey and lots of new friends, Our stay was lovely and friendly, We will return"
(Michelle and Damien,USA) Dec 2012-May 2013


"What a wonderful and relaxing place of the highest quality.I read a book for the first time in years and my wife managed to read three,Our dogs loved playing around the grounds and miles of land to walk them, Thank you for the peace and tranquility,We will return..."
(Brian,Elaine,Alfie and Tilly,Tyne &Wear, England)27/04/2013


"Enjoyable week, loved the putting green"
(Barbara, Cardiff) 20/04/2013


"A delightful Cottage in stunning countryside,The warm welcome we were given made our week most enjoyable"
(Micheal, From Wales) 04/04/2013


"Had a brilliant time - we just relaxed in this beautiful setting!! The Shire is so comfortable, but also the attention to detail is amazing. Tumnus (the dog) enjoyed his field walks! Hope to return."
The Cleggs, Bitterne, Southampton (19.06. – 26.06.10)


"The Ruin is a truly amazing cottage and is so suitable for disabled guests such as myself, it is so easy to manoeuvre around in. Every little detail has been thought of and you definitely deserve your 5 Star status. We will definitely be recommending your cottages to friends and family in abundance. We will certainly be returning in the future."
The Langfords, Canning Town, London (24.04. – 01.05.10)
Read more
Ruin cottage
1 double, 1 twin, 2 bathrooms, Sleeps: 4 guests, 5 star luxury cottage. Pets welcome. Disabled access.
Hayloft cottage
1 double, 1 twin bedroom, 2 bathrooms, Sleeps: 4 guests, 5 star luxury cottages. Pets welcome. Disabled access.
Shire cottage
2 double bedrooms, 2 bathrooms, Sleeps: 4 guests, 5 star luxury cottages. Pets welcome. Disabled access.