Location of
Ben Bhuidhe House, Calgary , Isle of Mull
Bedrooms: 4 - twins 2 and kingsized 2. Sleeps 8 + cot. Pets welcome.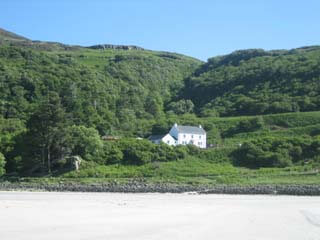 Use the controls on the left of the map to zoom in and out.
You can also drag the picture about with your mouse.
Holiday activities near Calgary and things to see around Isle of Mull
1.Calgary Beach - Right on the doorstep of Ben Bhuidhe House! Stunning white sands and safe for swimming - a paradise for children of all ages. There is also a small ice cream shop on the beach and a cafe and art centre a short walk from the shore.

2. Staffa and the Treshnish Islands - A fantastic day trip landing (weather permitting) on uninhabited Staffa and the Treshnish Islands with Turus Mara, sailing from Ulva Ferry. This will give you the opportunity not only to visit the famous Fingal's Cave, but also to see a huge variety of wildlife including the bird colony and puffins on Lunga (if you go at the right time of year).

3. Ulva - A beautiful, sparsly inhabited island just across the water from Ulva Ferry offering extensive walking trails, a replica croft and 'The Boathouse' which provides delicious lunches, snacks and teas using local produce.

4. Am Birlinn Restaurant - A lovely family run restaurant about 3 miles from Calgary providing lunches and evening meals in the season using local produce served in attractive surroundings - highly recommended!

5. Pony Trekking - A different way to see some of Mull's most beautiful scenery on horseback at Killiechronan. Riding for all ages and abilities on local hills, tracks and beaches with short treks, half day and full day ride options.

6. Ballygown Restaurant - A small, family run and unlicensed restaurant (but you can bring your own bottle!) offering a small menu of very nice home cooked, locally produced food at an affordable fixed cost.

7. Ardalanish Beach and Weaving Shed - a huge expanse of white sand that is 'off the beaten track' near Bunessan. Ardalanish is beautiful with extraordinary rock formations and geology. It is also home to Ardalanish Weavers who use traditional methods to produce high quality wool and tweed products, together with a small shop offering light refreshments.

8. Duart Castle - An ancient stronghold dating back to the 13th century and the seat of the clan MacLean. Near Craignure, Duart provides tours of historical interest, a tea room and gift shop - a fun outing, especially on a wet day.

9. Glengorm Castle - A beautifully maintained fairy-tale castle set in a stunning locations with nature walks, beautiful gardens and a good coffee shop serving home baking and local produce. A fun day out for all the family. 10. Tobermory Aquarium - A relatively new visitor attraction with a large salt water tank, touch pools, quizzes, interactive games and a cinema room covering local history, Coastguard, RNLI, fishing, fish farming, navigation, local wrecks and safety at sea.