Self-catering availability enquiries for
Barracks Cottage, Glenelg, By Kyle, Ross-shire
3 Bedrooms - 1 king, 1 single, 1 single + cabin bed. Sleeps: 4 +1. Pets welcome. Short breaks.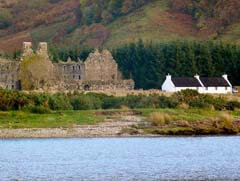 BOOKINGS GOING FAST FOR 2019

QUICK LOOK :- Weeks available for 2019.


Apr. 27th
June 29th
Oct. 19th
Nov. 16th.& 23rd
Dec. 7th. 14th & Christmas Week and Hogmanay.
~~~~~~~~~~~~~~~~~~~~~~~~~~~~~~~~~~~~~

2019 PRICES AND AVAILABILITY

JANUARY. £340. Now fully booked...

FEBRUARY. £360 Nothing left... !!

MARCH. £450 Sorry ! All gone !!

APRIL. £550. 1 week left at the very end of April into May !

MAY. £600. As above !

JUNE. £675 Now fully occupied

JULY. £690. First week of July available !

AUGUST. £690. No weeks left... All gone !

SEPTEMBER. £600. Nothing left for this year... sorry !

OCTOBER. £470. 1 wonderful off season week left... Peace and quiet.!

NOVEMBER. £360. 2 weeks left.. Going.. going.. go...?

DECEMBER. £340. 2 weeks remaining other than Christmas week !.
Hogmanay week also available !

FROLIKING FESTING TIME

WONDERFUL CHRISTMAS AND HOGMANAY WEEKS AVAILABLE !!

MERRY CHRISTMAS. £690. SAT 21st TO SAT 28th DEC. 2019

HAPPY NEW YEAR. £690. SAT. 29th. 2019 TO SAT 5th Jan 2020


2019 charge for a very well behaved and polite dog being £20 per week



SOME VISITORS GENUINE COMMENTS :-
TRANSCRIBED FROM VISITORS BOOK AND EMAILS.


October 2018

WOW !± What an amazing cottage. It was so welcoming and warm with the lights on and cozy warmth as we arrived on a very blustery and wet day. Thank you for the cake and wine and the pop for our grand-daughter, such a lovely touch. We have chilled and relaxed and never once the words, " I'm bored`" quite a feat for a 10 year old girl. Thank you so much for enabling us to say.

The cottage is amazing with simply everything you need. The views from where ever you are in the cottage are incredible and change every five minutes. We have been visited every night by the Pine Martens or the badger.. We have managed to find perfect peace here.

October 2018

This time I returned with 2 friends for a fishing, golf, walking holiday with the occasional local refreshment at the inn including an excellent Thursday night quiz! The cottage has again provided an unique and remarkable home.

Sept. 2018

What can we say that hasn't previously been said ? wonderful, peaceful, relaxing, magnificent views, fantastic location. Nothing can describe this place. One must experience it. Thank you for letting this piece of heaven...we will... like many others... be back.

Sept. 2018

As we drove up from Cambridge, an 11.5 hour drive with storms forecasted and my friends off to Spain and Portugal, I thought.. WHY ? WHY Scotland ? And then.. you arrive to the best located, cosiest cottage in the West of Scotland, you look at the view and drink it in, the peace, the majesty of the mountains. The wild animals at your door and you know, you just know, you've got it right ! We have fed 'our pets' ( The badger and pine marten 2x2 nightly ) and the bossy chaffinches, robins and coal tits at the windowsill and fed ourselves on venison and Stornaway Black Pudding... So many many thanks.

Sept. 2018

THIS IS OUR 8TH VISIT TO B.C. ! It is like coming home.. The weather had been awful, only one day without horizontal rain. We have managed to do some walking, including up the the Forman Ridge, but nothing too long distance like the 18.5 mile walk we had planned originally. Some great times and meals at the Inn, always a fantastic welcome from Iona and a good night of music with Sandra Macbeth on Thursday. Thank you as always to Donald-John and Pamela for all their delights and to Ray and Fiona for allowing us to come every year.. we will, of course, becoming again !

Sept. 2018

Another amazing week and our first during the summer. The weather was a mixed bag but turned out lovely towards he end of our stay. The window feeding station has seen more than its fair share of badgers, pine Martens and birds.. plus many rabbits keeping the grass nicely trimmed ! Can wait for our next visits... already booked !!

August. 2018

Lovely to be back, tons of wildlife, seals abundance of otters, sea eagles, pine Martin, badgers and mice. Visited our usual haunts. The cottage amazing and very comfortable.
Our Granddaughter found whole experience amazing, never seen her so relaxed and slept 10 hrs a night... definitely will be back.. Thank you all for such a Magical stay !

August 2018

This has been the loveliest holiday and the best cottage we have stayed in. We were blessed with lovely weather in the first week. We bought a book of tickets for the Skye Ferry and loved watching the seals and the sea eagle.
Thank you Ray and Fiona for this wonderfully thought out cottage.. everything about it, is perfect.

July 2018

Our second visit with many more to follow..It really is a home from home ! We are now heading home to check out the holiday entitlement for next year.. thanks again.

July 2018

Dear Ray and a Fiona,
Just a quick message to say thank you so much for the fantastic holiday cottage. This has been my favourite holiday.

June. 2018

"The journey from Durham to Barracks was slow...
The dogs in the back, the boat was on tow..
The bay came in view as the hills climb behind
All cares and concerns where blown from our minds..
The dancing 'tin figures' on each of the sills
Only enhanced the view of the hills.
The bonus, we found that made our hearts melt...
The Midgie wasn't present with 'slippers of felt' !
Billy and Maisie, especially Jack barked
Their approval that they want to come back...
So the end is now nigh... and we've finished. our pack..
In the words of that Arnie... " we'll be back ! "

April 2018

We arrived back in West London in the evening having driven solidly throughout the day - journey fine and well worth every one of the 600 miles covered!

I can't tell you what a wrench it was to leave BC and all that it embraces - don't think we've ever stayed at a place that has captured our hearts so much. You have made the cottage so warm and comforting - like living in a big friendly soothing hug. And the sheer beauty and peace...definitely ready for more of that in our lives. Good for the soul.

Thank you for all of the fantastic information and perfect directions; we wanted for nothing. I've no doubt we'll become one of your many returning visitors - I'll have to do some serious advance booking!


Feb 2018

We had such a wonderful time, there's a small chance I had a tear in my eye when we left and promptly dashed to the shop to stock up on Glasgow buns in an attempt to take a little piece home with me.. poor Ben humouring my strange whimsy's!
We'll be in touch to book another February retreat once we're back at work next week.
I forgot to say, on our way back from Corran yesterday we were utterly thrilled to witness a pair of golden eagles in a courtship display. Sat watching them for ages in a passing place between Arnisdale and Glenelg. Once in a lifetime stuff that, and we know it!

July 2017
First time in Glenelg and B.C. will not be our last... Views from cottage are breathtaking, everyday looked different..The cottage is fantastic, the time and effort Ray and Fiona havce put into creating a cosy place and well equipped kitchen etc it really is a home from home ! ( Edinburgh )

November 2017.

That tide clock ! The most useful thing I've ever seen in a Coastal Cottage ! Cottage is spotless... can be no small task keeing it so.... many thanks. ( Borders )

November 4th 2017

I think we have now visited Barracks Cottage on 6 previous occasions..It never gets old or boring...and we dont mind the weather ! We are used to seeing the pine marten on a regular visit but were super excited at seeing the latest visitor, the badger ! He ate a full Scottish breakfast comprising of black pudding, link sausage, square sausage aalong with pea nut butter !! this was by far the highlight of our stay... Depressing that we have to head home...but not to worry we will be back again... and have already booked for 2018 ! ( Livingstone )

Oct. 28th 2017

Spotted Dean and Barracks Badger... along with two white tailed eagles, sea otters, buzzards, deer and seal when coastal walking... See you in 2018 !

Oct. 24th 2017

Barracks Cottage is set in a beatiful location with different views from every window... just stunning .. a lovely place to stay wiith everything we needed and more.Thank you for the opportunity to stay here !

Feb 2017
It's been truly a magical week and we're both very keen to return!
We're going to check our diaries when we get in and I'll pop over some dates to check availability and price. We're thinking mid march next year so we can even try a bit of fishing!
Glenelg and the cottage has captured us hook, line and sinker... I'm afraid you have some new visitors for life!
Once more, what a magnificent week at the cottage, and thank you for the calls, wine and cake - what lovely thoughtful touches.


Its time to pack up and head home....
"We were saying in the car earlier on - this is THE BEST time we have had in Scotland yet and we have been coming for many many years in various types of accommodation (log cabins/cottages). Barracks Cottage is absolutely perfect - the dogs loved the garden and tired themselves silly running around. We loved how it was "remote" with no passing traffic yet just up the road from the shop (if needed). To be able to open the door and stand outside and hear absolutely nothing - sheer bliss.
We did something every day - walking, re-visiting memorable spots (we love this area) and eating out ( we are in agreement that Beth's in Balmacara Square comes out top for food and value followed by the Potting Shed in Applecross).
The cottage was so cosy - all the little lights dotted around (Sarah loves the flickering one in the window!), the nick nacks, the stash of interesting books, the maps, the pictures. Everything we needed was here and everything was quality and worked (we have stayed in dearer properties that are less equipped with things that don't work!).
We made it to Sandaig this morning. ( Frid ) Were down on the beach by 9am. We stupidly forgot the map but followed our noses and made it down the right way. What a beautiful place. We are so glad we made it down there and the weather was just perfect this morning.
Cannot thank you enough for a truly memorable holiday. A MAGICAL holiday. "


What an incredible stay! The cottage was so cosy and beautifully decorated and catered for our every need. Even flasks for trips out and lots of crockery so we could fill up the dishwasher and save our delicate hands :)

The views all around are oustanding and even more so on our trip as we had such varied weather. Two days we woke up to heavy snow which changed the landscape completely and then it melted with the sun and we were able to sit outside with our g and t's.

We visited the local landmarks, the Brochs are amazing and the exhibition at Arnisdale cheilidh house at Corran is well worth a visit as it gives lots of information about the Glen's history. We also took the local ferry over to Skye and visited Plockton which is a must.

Thank you so much Ray and Fiona for providing this haven and thanks also to Pamela and DonaldJohn for the immaculate housekeeping and delicious fruitcake. Sheila and Linda Edinburgh . 29/4/2016.

ps Mr Marten visited us on the first night but we were taken by surprise so did not manage to get any decent video footage 😖😖

We can't thank you enough for having made our week away special. We obeyed all the Barrack rules apart from seeing the sunrise…….. but small sacrifice for the late nights, wonderful food and wine in the cosiest of cottages in what has to be one of the most beautiful and tranquil places on this planet. March 2016

We are terribly sad to be leaving Barracks cottage and Glenelg ...and on my birthday too. Thank you so much .
Thank you again - oh and I proposed to ***** on Thursday and he said yes! So Barracks is responsible for another engagement ! Feb 2016

Ray just to let you know we have arrived! Thank you so much for the wine - we are drinking it as I type! And the lovely biscuits . My goodness what a fabulous cottage! We have all fallen in love with barracks cottage already ! It's absolutely fantastic !
We will look forward to exploring the area and relaxing in the beauty of barracks cottage and glenelg .

We have arrived home safe and sound. Can we just say thank you for a fantastic week we really enjoyed it. Feb. 2016

We had the great opportunity of taking in the scenery and the rare wildlife, we were fortunate enough to see the lovely pine Marten that visited us twice, a golden eagle and the sea eagle and various other wildlife. We really can not wait to book with you again in the near future. Jan 2016

Just a wee note to say thank you for the lovely stay in your cottage. It was perfect! we really appreciated all the little extras you provided to make it a very comfortable holiday. The cottage was beautifully clean, warm and just like home ( only better!) We loved all the little nick nacks and quirky decorations which made every corner a delight to discover. I can see why the place is booked solid and why you struggle to find any spare days to visit.


Hi Ray and Fiona
We have arrived home safe and sound. Can we just say thank you for a fantastic week we really enjoyed it.
We had the great opportunity of taking in the scenery and the rare wildlife, we were fortunate enough to see the lovely pine Marten that visited us twice, a golden eagle and the sea eagle and various other wildlife. We really cannot wait to book with you again in the near future.
We really look forward to a return visit if you would kindly have us. Jan 2016

Just wanted to thank you for another fabulous week last week at Barracks. We had such a lovely, relaxing time and the weather was very kind to us!. The kids had a great time too, they actually cried when we left!!!! Nov. 2015

We have had a fantastic week in this very special place. We are returning home, relaxed refreshed and full of wonderful memories. Aug 2015

High-light of our two weeks were The Misty Isle trip from Elgol and being eye-to-eye with the Pine Marten. Fab Cottage of course ! Aug 2015

We had a fabulous holiday as usual. Love cottage and everything about Glenelg... our little piece of Heaven. Ray and Fiona brilliant, cant do enough for us ! 2015

Fantastic cosy cottage with absolutely everything you may need. Had a great week with lovely weather. 3 whole days of sunshine ! 2015

Another fantastic stay. 3 days of glorious sunshine, the rest a little patchy, but were used to that ! Great days out at Sandaig and we bagged a Groatie Buckie ! 2015


I just wanted to say thank you for allowing Bertie and me to stay in your wonderful cottage. I had the most relaxing and peaceful stay and would quite happily have forgotten my own little house and stayed put! Finally, please pass on my thanks to Pamela and DJ for looking after us so kindly.




Stayed here with my parents last summer and was keen to share with the rest of my family... what a stunning place this is.. all enjoyed... Big thank you !! 2015


Amazing cottage in amazing location. We have compared to other holiday lets in the area and this is by far the best. Andy & Co March '15

A memorable great week and lots more happy memories to take home. Lovely cosy cottage. Fabulous. We're so lucky... thank you for the use of your fabulous home....
ETT & E Manchester March '15

This is our 3rd year in this lovely part of the world, but our 1st stay in B.C.
We have loved every moment of being in this amazing place - utterly delightful... Cosy evening in with the wood burning stove and glorious evenings outside watching the setting sun over Skye. Went out for walks and visited The Glenelg Inn, but also stayed in a lot as we could hardly bear to leave this lovely place.
Really appreciate the effort that goes into making each day perfect, including the cosy comfortable beds.
This really is something very special. C K E Berkshire April '15.





We all had a fantastic time at the Barracks Cottage thanks Ray, and would all love to go back. It is such a lovely cottage in a fabulous location, with every facility you could wish for. Lovely, quiet and remote spot, where all you could hear was the birds.

A.B. ( Surrey ) & friends from USA May '15


We had a fantastic holiday, one never to be forgotten!! Again many thanks for the exceptionally equipped cottage and wealth of information you provided us with which made our stay unforgettable :)

N, M & K Walsall May 2015



2015 Feb.

Will say again how lovely the place is and really did touch our hearts, felt like home as soon as we got through the door. S.H. Plymouth

We had an amazing time, you really have created something special ! C.B. Berkshire

2014

Just wanted to say that we had an excellent time at the Barracks Cottage. As soon as we drove into the garden we knew we'd picked the right place to stay. The cottage was exactly what we wanted; with a great view, cosy decor and a nice big stove to keep us warm.
We hope to visit again sometime soon. We've rented cottages many times, but this was easily the best.

P & L Larbert

March 2014

Oh Ray, I just wanted to say, what a amazing time we had in your gorgeous cosy and interesting cottage!

We had some wonderful walks and days out, but the best thing was knowing we had the cosiest cottage in the world to come back to every night with the added bonus of a pine marten viewing - the latter really made our holiday!! You will see from the log book, that we got thoroughly over-excited about the whole thing! (And it certainly made up for no otter viewings!)

By the way - it makes such a difference to stay in a real home like Barracks Cottage - and all week we were noticing things in the cottage we hadn't seen before! Such a lot of useful info too -walks, maps, wildlife books etc., as well as all the stuff
you told us on email prior to our visit. It's a very
special place - thank you so much for sharing it with us ! ( Wiltshire. )

Fantastic cottage.. wonderful comfy beds and everything you could ask for by way of home comforts.
Great communication from Ray and fiona, really friendly and nothing seems too much trouble.
Hope to get back next year for another peaceful and relaxing week. B S and T. Aug '14

Thank you Ray and Fiona for sharing your little piece of heaven with us and for laying on so much snow !

We take a self-catering holiday in Scotland twice a year and have been doing so for about 14 years – Barracks Cottage was one of the very best combinations of location and accommodation we've experienced thus far. You've obviously put a lot of thought and work into it and it shows.

Grateful for such a comfortable billet. Fantastic! Thrilled with the Cottage, the views, the air and the silence.

A lovely cosy cottage full of character. Enjoyed every bit of our stay here, the view, the wild life and the unexpected 20 degrees wall to wall sunshine. Loved it all, thank you, looking forward to coming back.

Well, the verdict is........drum-roll..... we loved it !

It was everything we hoped it would be and more. We both felt it was one of the most relaxing and memorable holidays we have ever had. You have made Barracks Cottage very cosy and we felt at home from the moment we stepped in.

We thought the cottage was incredibly well equipped, particularly kitchen stuff- every time we looked for something it was there! Bed was really comfortable and, though I realise you're not in charge of the silence, that was also lovely! Central heating was super efficient, we only ever put it on for a short time and the place warmed up instantly and, of course, the wood burning stove is always a lovely treat.

Throughout my life I have had the chance to stay in many holiday cottages, but yours is very special. I have tried very hard to take in and remember the view to last for the rest of the year.

It's lovely here. The Cottage is a great spot to watch the sun drop behind Skye. Thanks.

Great Cottage! Thanks for the welcoming and the documentation for the walks and the environment. We had a great time!

'Had a wonderful time and loved the cottage. Many highlights: taking the Arnisdale Water Taxi down Loch Horne, picnic at Sandaig Bay, boat trips on the 'Misty Isle" from Skye.

Lots of Great walks with stunning views. Surprisingly, we met very few people on our walks– they don't know what they are missing. We will certainly recommend Barracks Cottage to our friends.

Paradise !! Beautiful cottage, amazing location and the weather has been fantastic !! We have been so comfortable and at home here this week... A huge Thank you to Ray and Fiona for letting us use your beautiful home.

After a long drive we arrived to find B.C. to be a lovely well furnished home, not at all like a holiday cottage. Ray & Fiona have done a fantastic job at making sure you have everything you could need for your stay. The area is magnificent with its scenic views and peaceful walks and even a spot of fishing from the beach... what else can you ask for ! Thank you for helping us to have a wonderful relaxing holiday.

Thank you for letting us share a little bit of heaven.

Lovely house, fantastic views, brilliant kitchen. We like your decorations of maritime theme, hope to return. We have all had a great holiday in Glenelg. Thank you Copenhagen.


Loved your cottage... spectacular scenery, would love to return... that says it all ! Edinburgh

Its been a tremendous week, we saw red deer, porpoises, seals.. we feel that this place is a little gem with all its nice carving and so many details that make you feel so very welcome. Thanks Ray and Fiona ! Netherlands

Exceeded our expectations... amazing !! Edinburgh

My second stay and I'm still enthusiastic, what a wonderful cottage, warm and cosy... what a view, even while washing the dishes... I love it very much and enjoyed everything... from storms to sunshine. Germany.

Lovely week, cottage lacked for nothing. Relaxing, cosy .. many happy days. Lovely area with fabulous views and walks. Dog loved it too ! Thank you. Yorkshire

Best holiday eva' Be booking again, lovely clean cosy and breath taking views, thank you. Liverpool

We have been lucky enough to travel to many places around the world, but Barracks Cottage has just jumped to the top of the list. What a wonderful cottage in such a beautiful place. We're planning our next trip back to try to see some otters... Thanks so much Ray and Fiona. Forres Feb 2012

Our second time here at B.C. Enough said...!! Livingston. Jan.

Well, what can I say, a wonderful area, first time and not the last. Cottage is so cosy and peaceful and local people are so friendly. Lots of adventures to remember... Thank you Ray and Fiona, we will be back. Sheffield Jan.

Thank you for a lovely stay … you have thought of everything ! We appreciate you sharing your home from home. Very friendly place, had a lovely meal in the cosy Glenelg Inn. Wolverhampton

A wonderful cottage in a magnificent setting looked after by two attentive hosts. A memorable Christmas with wild weather which Santa somehow negotiated Staffs.

Absolute Idialic cottage and location. 5 * service from Ray and Fiona. The most relaxing 5 days we've had for ages. Houghton le Spring

Such a cosy, comfortable and well equipped cottage, we loved our stay at The Barracks !! We are already planning our next trip here … if only we didn't have to go home.... Edinburgh Nov

3rd time at Barracks and what a week... cloudless blue skies, warm sunshine and wonderful walks across stunning scenery. Already planning our next stay. Oxford.

More lounging, less botanising and a whole weeks holiday ! B.C. Becomes even more welcoming, Im very impressed ! Glasgow

Proper west coast weather in a very cosy cottage with the best lighting for reading we have ever encountered. Thank you for a wonderful week.
Read more