Self-catering availability enquiries for
Dumcrieff House, Moffat, Dumfries and Galloway
Sleeps 18. Bedrooms - 9 (2 superkings, 3 kings, 2 doubles, 2 twins). Moffat. No pets. Min stay 2 nights.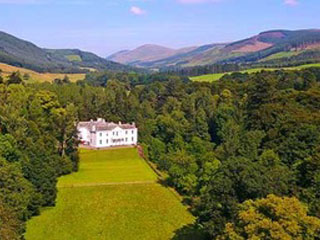 Holiday rental prices for Dumcrieff House:

4 January to 16 December: £995/night
Minimum rental: 2 nights

17 December to 3 January: £1250/night
Minimum rental 4 nights over Festive Season

Contact us for WEEKLY RATES

A 25% booking deposit will reserve your dates. The balance is not due until 30 days before arrival.

Payment accepted by MasterCard, Visa, American Express & PayPal

No extra fees whatsoever when you book direct with us.

Contact us for fully or partly staffed options.



TESTIMONIALS

A wonderful and relaxing weekend with family
By Sharon M. 7-Dec-2018
We booked Dumcrieff House for a surprise 70th Birthday weekend for my Dad. He was blown away as were we all by the house and it's surroundings. The kitchen was very well equipped, every bedroom was gorgeous and the beds all very comfortable. There was so much to entertain ourselves with. A full sized snooker table, a games room, a massive dining room and cosy sitting rooms with wood-burning stoves all made the perfect family getaway...just wish we could have stayed longer! Will definitely book again.


Amazing House, all you could need, very well kept. 10/10
By Dave McGeachan on 19-Jul-2018
Really great two nights to celebrate my 50th Birthday. The house has everything you require, plenty of utensils etc, and only 30 min walk into Moffat. Lovely and perfect place to spend some time with friends and family.


A beautiful period home which was grand and comfortable for our family celebrations
By Janet P on 1-Oct-2018
From the early planning to the actual weekend, Philip took so much care of us to ensure we had a family celebration to remember for my parents' diamond anniversary.

The house was perfect and furnished with amazing antiques while retaining a comfortable home feeling. Every room was well equipped though we brought many of our own kitchen equipment with us.

We stayed just after Storm Ali had passed through which downed trees, temporarily blocking the drive before we arrived and bringing down the phone lines meaning no wifi until Sunday afternoon. But Philip dealt with clearing access and kept us posted about the internet and we enjoyed having no distractions.

We booked a butler for one day and he was fantastic. Duncan quietly kept everything running smoothly and having someone to deal with washing dishes and glasses was well worth it so we could relax after meals. There was plenty storage in the kitchen and pantry, necessary as we chose to bring everything for all meals and drinks with us for the long weekend. There is a small co-op and a range of individual shops in Moffat or a 30 min drive to Dumfries where you can find a range of larger supermarkets and specialist food shops to choose from.

We enjoyed walks around the grounds and along the Southern Upland Way which passes near the estate and watched deer on the front lawn in the evening. Due to the earlier weather we couldn't play croquet and the fallen trees stopped games on the lower lawn but the billiards, table football and air hockey provided plenty of entertainment in the evenings after dinner. There are plenty TVs around the house with Sky but we never switched them on.

The location is ideal, close to the motorway but far enough not to hear or see traffic. This house is made for family celebrations or get-togethers and we will certainly consider staying here again.




Family Party For A 50th
By Mike S on 20-Feb-2018
An absolutely fabulous weekend was had with 3 generations of the family all equally wowed by the surroundings. The property managed to be both grand in size but cosy in feel. The kitchen was well equipped with sufficient fridge space to house the food mountain we brought with us. The level of cleanliness was exceptional throughout and the towels and linen were of a high standard. The pictures don't really do the space justice, each bedroom is huge and offered amazing views over the trees in their autumnal glory. The bench outside was used for afternoon tea with the noise of the river in the background adding to the calming nature of the place. The owner Philip was very helpful with the pre-party arrangements putting us in touch with local kennels, chefs and cleaners. All in all a brilliant weekend and a fabulous property for a party.


Magical Find
By Claire S on 13-Feb-2018
Having booked Dumcrieff House for my sisters hen do, this place and Philip surpassed all expectations ! Philip was excellent at communicating throughout my booking and on arrival, making us feel welcome and explaining everything thoroughly. Now onto the house, words cannot describe how impressive it is! All our guests could not believe the size and quality of all the rooms in the house. We also booked the outdoor activities and the chef, both services I would highly recommend. Overall this place is a total one off, and I can't wait to go back again in the future!




Stunning Property And Great Hospitality
By Matthew J on 07-Sep-2017
From start to finish we had a fantastic 4 day stay at Dumcrieff House. Philip was an incredible host, supporting us with our holiday planning and making introductions to local experts to help us with various activities we were looking for over the weekend, from fly fishing lessons on the Annan to a whisky tasting at the property. We were delayed on arrival due to traffic so Philip and his wife went to the property to let in our grocery deliveries and packed everything away for us so all was in order when we arrived - such incredible service and warm hospitality! We had 17 staying but there is so much room you always had your own space. The facilities are fantastic and we had everything we needed. What better way to spend a Summer evening in Scotland than barbecuing local angus steaks outside the snooker room on the Dumcrieff House terrace, surrounded by woods and pasture with the River Annan running by. Many thanks again Philip for your hospitality, I can't recommend Dumcrieff House enough.



Opulence Galore
By Gill W on 12-Jun-2017
This venue is just amazing. I only wish I could give it 10 stars. It is huge, the rooms are large and well decorated and the bathrooms are fully modernised and luxurious. Everything you need is there and in our case that included the weather which meant we could enjoy the beautiful outside spaces. I would highly recommend.


Brilliant Weekend
By Tauty on 06-Jun-2017
We are a group of 8 couples approaching retirement age. We have stayed at Drumcrieff mansion for a long weekend for the last 5 years. Wonderful house with everything you need for a fabulous break. The house is immaculate and the owners make sure there is everything you need for a wonderful break with family and friends. We will be returning again in 2018 for our 6th visit can,t wait xx



Special Birthday Celebration
By Ian S on 31-Jan-2017
We have just spent THE MOST enjoyable, memorable and luxurious weekend of our lives. We booked Dumcrieff House to celebrate my wife's 50th birthday with our close friends and family - our expectations of the weekend were surpassed in every way possible. Philip and Ian helped with planning the weekend in great detail and helped me to make this such a wonderful experience for my wife. The house, food, rooms, welcome, surroundings, planning and the warmth and support of Ian and his wife - nothing could have been better or improved, everything was just perfect. Thank you also to everyone who came, what a wonderful weekend and amazing memories to cherish. No hesitation in rating this wonderful house and our stay as excellent.
Read more