Self-catering availability enquiries for
Lotus Lodge, Wanlockhead, Dumfries and Galloway
Bedrooms: 6 - 2 family rooms, 2 doubles, 1 twin, 1 bunk room. Sleeps: up to 20. Pets welcome.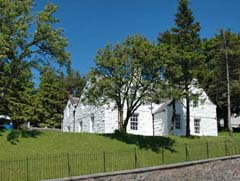 Special offers:
May Late Availability - 25% discount - 3 nights
10 May 2019 - 13 May 2019
Was £1300 Now £975
July Late Availability - 20% discount - 3 nights
05 Jul 2019 - 08 Jul 2019
Was £1300 Now £1040
Lotus Lodge, Wanlockhead self catering rental for up to 20, 2019 Prices

Weekend 2 nights £990

Weekend 3 nights £1,100

1 Week (Sun-Sun or Fri-Fri) - £1,600

Other short-breaks available. Please contact us for New Year prices.

Testimonials
Name: Robyn
Email: robyn.cam****@*********.uk
Text: We are just back from a fantastic hen weekend at Lotus Lodge. I don't think I can put into words how great our stay was in Wanlockhead! Lotus Lodge is a beautiful old house, and we made full use of the facilities with 20 ladies staying - there was plenty of room for all of us. The house is well equipped and spotless and the village is pretty, secluded, and full of wildlife. The Wanlockhead Inn provided a great night out for us when we went for food and drinks - they were so welcoming and we especially enjoyed the live music. Our weekend away coincided with the British Gold Panning Championships and our bride was lucky enough to get a shot herself! How many girls can say they've done that on their hen weekend?!
Thanks so much to Lisa for having us. We would love to come back to Lotus Lodge sometime soon!x

Name: Debbie Constable
Email: Debbie.cons****@********.uk
Text: We came as a group of friends, who mostly met at Edinburgh uni 10years ago but are scattered far and wide now! Back for the third time, we had another wonderful stay. Such a cosy house, equipped with everything we needed for a very relaxing weekend. Nothing was too much trouble for the house owners, Lisa and Richie, and we loved every minute. I'm sure we'll be back again one day soon!!

Name: Donna Walsh
Email: Dwalsh*****@****.com
Text: We stayed at Lotus Lodge for my brother in law's 40th birthday weekend which was absolutely amazing. The kids loved the bunk beds and we hired a hot tub which added to the fun. Lovely place and accommodated all 20 of us brilliantly. We were very lucky with the weather so managed to enjoy the garden and bbq area too. Couldn't have asked for a better place and would love to go back. Thanks to Lisa for all your help.

Name: Karen Nisbet
Email: Kazz***@******.com
Text: Visited to celebrate mum in laws 70th,, there were 12 of us,, we were made to feel welcome, and very comfortable. House is well stocked for everything you would need, kids loved the bunk beds and all the rooms they could play hide and seek,, house is clean, and very comfortable to enable you to relax and just chill. Lovely areas to walk around, and the sight of sheep only a couple of feet away was great fun for the kids especially. Wee walk to the pub was fun and they made us feel very comfortable, especially the kids and my wee dog.. Looking forward to booking to go again with family,, lovely place to escape to.

Name: Hilary
Email: hilary****@*******.com
Text: Were staying at the lodge for a family gathering which was absolutely perfect. Adults and little children enjoyed it equally. Weather was wild but the cosy kitchen/living room area made us forget about that. Log burner was fab and on all weekend, so great not to worry about wood.
Would definitely recommend staying here. Nice feeling of remoteness but also knowing we were still on the mainland. I'm sure it would be quite magical over the winter....assuming you had lots of stores in ;)
Hopefully see you again.

Name: Kirsten Faerestrand
Email: Kfaeres******@*******.com
Text: We stayed in Lotus Lodge for a weekend for a hen. It's a lovely place run by a really friendly couple. Would definitely stay again!
Read more