Location of
The Rookery, Kirkcudbright, Dumfries and Galloway
Bedrooms - 2 (1 double, 1 twin) Sleeps - 4 Kirkcudbright. Short breaks in the low season. Sorry No pets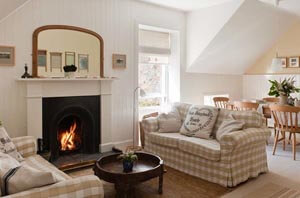 Use the controls on the left of the map to zoom in and out.
You can also drag the picture about with your mouse.
Holiday activities near Kirkcudbright and things to see around Dumfries and Galloway
1. Just three minutes' walk from The Rookery is Ellenbank, the nursery owned by the prize-winning plant breeder Elizabeth MacGregor. Don't miss the wonderful walled garden.

2. Wander round Kirkcudbright, popping into the galleries and the individual shops (there are NO High Street stores). Visit Broughton House, where the painter E.A.Hornel lived, and the delightfully old-fashioned Stewartry Museum.

3. Less than fifteen minutes' drive away is Threave Garden and Estate, with its School of Heritage Gardening, woodland walks and wildlife reserves. Just across the road is Threave Castle with its osprey viewing platform.

4. Follow the coast road out through Borgue towards Carrick, where you can swim in one of the almost deserted little coves or just sit and watch the sun go down over Ardwall Island.

5. Drive up into the hills above Gatehouse of Fleet and find the huge and haunting old viaduct left behind when the railway to Stranraer was closed in the 1960s.

6. Visit the Loch Arthur Camphill Community. Have lunch in their cafe. Try their prize-winning artisan cheeses, organic meats and wonderful breads.