Location of
Bridge Cottage, Royal Deeside, Aboyne, Aberdeenshire
3 Bedrooms - 1 double/twin, 2 twin, 1 sofa bed. Sleeps: 6/8. Short breaks available. Pets welcome.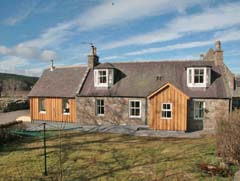 Use the controls on the left of the map to zoom in and out.
You can also drag the picture about with your mouse.
Holiday activities near Aboyne and things to see around Aberdeenshire
Owners top things to see/do from Bridge Cottage, Aboyne:
1. Walking - The Deeside Way goes past the cottage. Also many amazing walks locally - e.g. around Lochs Kinord, Muick
2. Balmoral Castle - open Easter until end July.
3. Cairngorms National Park -
4. Migvie Church - open all hours - an eye-opening, thought provoking surprise
5. Kincardine Castle on open days - cafe on First Friday of most months, garden opening 2nd Sunday in June,
6. Royal Deeside Speed Festival - 16th June 2018
7. In the autumn, watch the salmon jumping at the Falls of Feugh
8. Gardens - Scotland's Garden Scheme has many open locally
9. Crathes Castle and Gardens
10. Dunottar Castle & Fish & Chips at The Bay, Stonehaven.